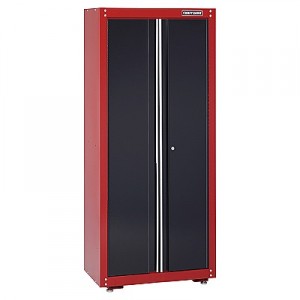 This is the second post in my Craftsman Tool Storage series. Craftsman provided us element from their Garage Storage System, and if you haven't seen it, check out the Craftsman Workbench Review. Today, we focus on the Craftsman 6ft. Floor Cabinet.
The only problem with owning lots of tools is finding good storage for them. The best tool storage is organized, customizable, secure, and rated for heavy equipment. The Craftsman floor cabinet does just that.
Where to Buy the Craftsman 6 foot Floor Cabinet
We are really impressed with this storage cabinet. The all steel construction makes this a high-quality addition to any garage or basement. The cabinet provides lots of space and is competativley priced at $239.99. Craftsman products are available from Sears or Craftsman.com. Here's the link:
Craftsman Floor Cabinet Review
Storage Shelves
This cabinet has a total of three steel shelves. Two shelves are adjustable between 7 different positions for great versatility. Adjusting a shelf location is easy.
Just remove the two fasteners from the front of the shelf.
Rotate the shelf upward and out of the notches along the backside.
Move to the desired location and reverse these directions.
The middle shelf is fixed in place for the door locking / latch mechanism. Unfortunately, that means this cabinet is not suitable for tall equipment (unless you don't install the shelves). Additionally, you can place items inside the cabinet on the base or even on the topside.
Quality Construction
This floor cabinet is made from high-quality, steel with a baked enamel finish. It's very durable. Each shelf is rated to hold 50 lbs. and is secured in place with nuts and bolts for total confidence.
Cabinet Dimensions
Here are the floor cabinet external dimensions.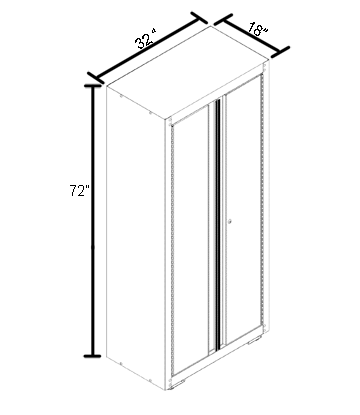 This cabinet weighs 126 pounds so grab a friend before you try to move it. Each shelf provides 32″ wide x 17″ deep storage and with my setup each shelf has at least 17″ clearance.
Assembling the Cabinet
This cabinet went together without a problem. The instructions were clear and easy to follow. You'll need a few tools including 3/8″ and 7/16″ socket, flathead and crosshead screwdriver, and a square. Make sure to hand tighten the bolts until instructed to fully tighten. This allows you to square the cabinet. All of my hardware was included but in case you're missing something, call 1-800-4MY-HOME (1-800-469-4663). There's one thing to keep in mind while you assemble:
There's a wall bracket to ensure the cabinet doesn't tip over. That means you'll want to locate the cabinet near a stud or have masonry screws/bit at hand.
Benefits of the Craftsman Floor Cabinet
Here's some additional features to keep in mind:
The cabinet includes four, height-adjustable, feet so you can make sure it's completely level and up off the floor.
Shelves are easy to adjust and it doesn't require you to move the cabinet.
There's a simple locking mechanism for security. Two keys included.
This cabinet features two holes (with rubber guards) on the backside- perfect for running power to charge cordless tools.
The doors overlap and latch, ensuring they stay closed.
What do you think? Do you own the Craftsman floor cabinet? What's your experience?