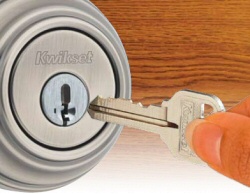 Unless you're a locksmith or a door installer, you probably don't think much about new technologies in door locks. We certainly didn't, until Kwikset gave us the opportunity to review their SmartKey Lock System, the latest in their SmartSeries Locks.
SmartKey System – Rekey Your Own Lock in 30 Seconds
The concept behind Kwikset's SmartKey system is simple: you shouldn't have to buy a new lock or pay a locksmith if you want to change a lock's key.
This system is great for homeowners who want to identically key all their locks, or provide temporary access to contractors, family, or friends. Simply rekey the lock to a spare set of keys for a few days. Then, once access is no longer needed, rekey back to your primary set.  If keys are lost, there's no worries, just rekey each lock to a new permanent key set.
For landlords, the SmartKey system is a huge money saver. Instead of paying for a new lock or locksmith between each tenant, you only need to buy a new set of keys.
How the SmartKey System Works
The Kwikset SmartKey Lock looks just like a traditional door lock, save for a very small slot just to the left of the key slot.  Just like regular locks, they are available in handlesets, levers, knobs, deadbolts, and a whole host of finishes and styles.
In terms of everyday use, the SmartKey system works just like a traditional lock system. The fancy bells and whistles come in when you need to rekey the lock. Kwikset says the lock can be rekeyed in 30 seconds. We were able to master the technique in under 10 seconds (yeah, we're advanced…). It is really simple, and Kwikset provides a great easy-rekey animation on their site. Here's the pictures from our installation test: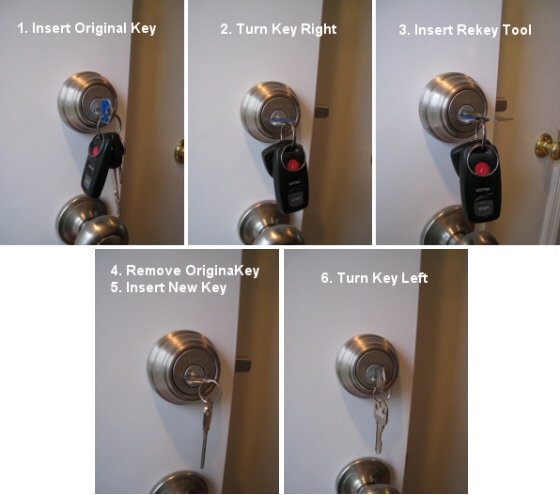 Steps to Rekey the Lock
Insert the original key.
Turn the key 90 degrees right.
Insert the Smart Key rekey tool into the small slot to enter learn mode.
Remove the original key.
Insert the new key.
Turn the new key left… and Voila! the lock is rekeyed.
How Well Does it Work?
Exceptionally well. We were skeptical when Kwikset first contacted us about this lock. Would rekeying really work? (it does) Would it be simple? (it is) Would new keys work as well as the original keys? (they do).
We tried three different sets of keys in these locks, including keys from Defiant brand locks. After each rekey operation, the new key (and copies of the new key) worked great. The old key instantly stopped working. Rekeying took less than 10 seconds each time, and is simple enough that anyone can perform it.
After just one use, we're believers in the SmartKey system.  We'll be buying Smart Series locks for all our future locking needs.
Full disclosure: We encountered one issue during installation: the knob stuck a bit when the screws were tightened on the inside of the knob.  We discovered this was because we hadn't properly aligned the exterior and interior knobs on both sides of the door.  Once aligned properly, we were able to tighten the screws and the knobs moved freely and easily.  While this was probably our fault, a note in the installation instructions to be careful would have been helpful.
Additional Features of the SmartKey System
The SmartKey system features an ANSI Grade 1 Deadbolt, and is both pick and bump key resistant, a feature that we like since key bumping has become a very popular lock defeating technique.
For more information, check out Kwikset's brochure on the Smartkey System.