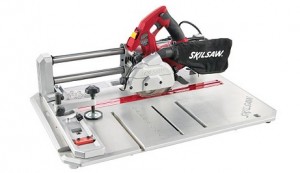 About a month ago, we shared with you that SKIL was unveiling a new saw called the SKIL Flooring Saw. It's designed to be an all-in-one saw for installing hardwood floors– combining a miter saw and table saw. Well SKIL was kind enough to provide us a Flooring Saw as part of a test kit and I've been able to try it out. Read on for a full review.
SKIL Flooring Saw Review (model #3600)
The Good: Versatile saw that can make 0° to 47° miter cuts and lengthwise rip cuts; cuts common flooring materials with relative ease; cuts accurately.
The Bad: Miter and table saws feature different blades. This saw has one blade- not specific to either.
Overall: A great, multi-purpose, flooring saw. SKIL included some nice features like the dual sliding rails; fence adjusts easily; can cut large stock too.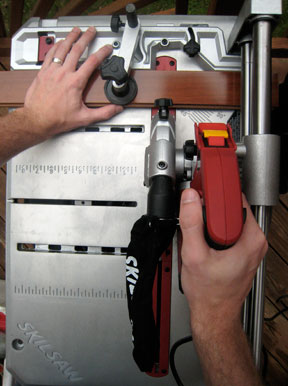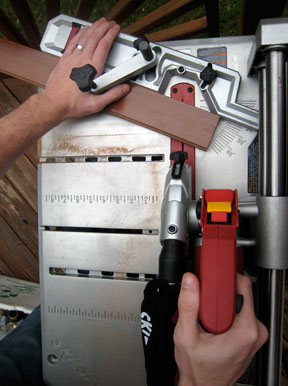 >>Features Review>>
Miter Cuts
The SKIL Flooring Saw can make miter cuts between 0° and 47° with detents at 0°, 22.5° and 45°. It can accommodate 15″ wide stock at 0 degrees and 8.5″ stock at 45 degrees. Adjusting the fence is easy. Simply loosen the fence knob and rotate the fence to your desired angle. There's a vise-clamp that helps hold materials in place while cutting. Check your power cord as it can easily catch on the rail support.
Rip Cuts
To make rip cuts, remove the fence knob and reposition in the table saw guides. Use the shaft pin to lock the blade in place. Make sure the anti-kickback pawls are lowered and the riving knife is properly aligned. The fence can adjust all the way out to 8″ wide- great for cutting planks. The push-stick is stored on the underside of the table. Make sure to use it and keep your hands clear.
Dual Sliding Rails
I was really pleased with the dual sliding rails. The blade moves effortlessly making for a very smooth action. Silicone spray can help keep things loose but try to keep the rails clean as well.
Built-in Features
At 25 lbs., this saw isn't light, but it's easily transported. Plus, there's a great carrying handle built into the table. There's a vacuum bag and dust port for connecting to a shop vac. The cord wrap is a nice touch too.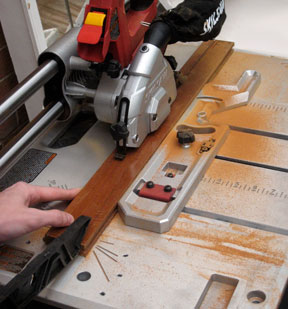 >>Performance Review>>
Switch Cutting Styles
Moving between miter and rip cuts is quick and simple. It's all about repositioning the fence. Undo the fence locking knob and swap the fence location. Use the miter pin to position the fence for miter cuts and the locking knob to set the angle. For rip cuts, make sure to align the lock knob with the block underneath. Use the locking knob to set your width.
Alignment
It's important to align the fence before making any rip cuts. Grab a Philips screw driver and a tape measure. Loosen the two screws securing the alignment plate. Adjust the fence to match corresponding marks on the table and re-tighten the screws. Setup your fence for a specific length and begin making a cut. Use the tape measure to verify the distance was accurate and adjust the align pointer as needed.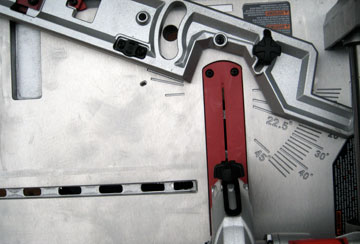 >>Specifications>>
Amperage: 7.0
Arbor Size: 20 mm
At 0 miter/0 bevel: 3/4″ x 15″
At 45 miter/ 0 Bevel: 3/4″ x 8-1/2″
Base Width: 26-3/4″ W x 17-3/4″ D
Blade Diameter: 4-3/8″
Category: Flooring
Dust Collection: Yes
Miter Detents: 0◦, 22.5◦, 45◦
No Load RPM: 11,000
Voltage: 120 V
Weight (lbs.): 25 lbs.
4-3/8″ 40-Tooth Carbide-Tipped Blade
>>Price & Where to Buy>>
You can pickup the SKIL Flooring Saw at a couple locations. You'll find it on Amazon for $199 but Lowes has a better price- $159.
What do you think? Have you used the SKIL Flooring Saw?
First image courtesy of SKIL