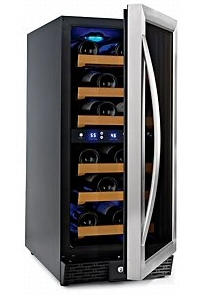 Long term update (as of 2/27/2013): We are fairly disappointed with the overall performance of this unit. It fails to keep temperatures regulated and frequently has trouble hitting targets (e.g, you will set it for 50 and it will achieve only 60). For a while it also made a loud noise like one of the bearings was going, but that has stopped. The unit looks great and the interior lighting and controls are really stylish, but unfortunately, it just doesn't keep wine the way we'd like.
Original Review:
As part of our ongoing kitchen remodel, we knew we wanted to include a wine refrigerator in the cabinet layout. After playing with various cabinet dimensions and options, and considering our tastes in wine and appliance style, we came up with these requirements for the refrigerator:
15 inch width, 36 inch height (standard cabinet counter height)
Dual zone temperature control
Stainless steel look
Ability to hold at least 10 bottles
You might think that there would be at least a dozen wine refrigerators that would meet these specifications. But there aren't. In fact, after two nights of scouring the web for 15-inch dual temperature zone wine coolers, we found only one that met these requirements: Wine Enthusiast's N'Finity 15 inch Wine Refrigerator.
Why are so few available? Because the standard width for built in wine refrigerators is 24 inches. That's what most manufacturers make, and most retailers sell. You can find a handful of 15 inch models online, but only the N'Finity boasts dual temperature control (which allows you to store red and white wines, at their appropriate serving temperatures, in the same refrigerator).
We were pleased to find that at least one company out there was willing to fill the gap in dual zone refrigerators in this special compact width. Read on for our experience with Wine Enthusiast's N'Finity 15 inch cooler.
N'Finity Dual Temperature Wine Refrigerator Review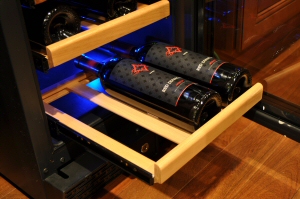 Highs: Great looking exterior; crisp interior blue LED lighting; sturdy wooden drawers; good capacity; keeps wine chilled; easy installation.
Lows: Louder than expected; drawers do not fully extend; temperature setting is a little screwy; wine cooling time is up to 12 hours; cheesy integrated lock.
Verdict: If it weren't so loud, we'd really love it.
Performance Review
Noise: We are currently testing the N'Finity refrigerator in a freestanding location, meaning it has no cabinets on the sides and no countertop covering the top. In this configuration, the refrigerator generates a constant hum (from the internal fan). The noise level gets noticeably louder when the compressor cycles on, with a constant high pitch vibrating noise. We are hoping that when isolated on four sides, the noise will dampen a bit. It's not so loud that it will drive you nuts, but its definitely louder than our Frigidaire full size refrigerator.
Chilling: If filled with 15 room temperature wine bottles, it takes the N'Finity about 12 hours to cool them all down to the appropriate temperature.
Temperature Control: Both the top and bottom of the refrigerator can be set to temperatures between 41 and 60. When we purchased the unit, we figured the bottom should be set for colder temperatures, and the top to warmer. We chose the settings 45 for the bottom (white wines) and 55 for the top (red wines). The unit absolutely would not move the bottom down to 45. The temperatures stayed almost exactly the same (55 for both zones).
After several calls to N'Finity, we discovered that the top of the unit MUST be set to the lower temperature. Once we swapped the temperatures (putting the lower temperature on top) the unit performed fine and generally maintained the temperatures. However, if you load up the unit with a lot of room temperature bottles, the temperatures won't stabilize for about 12 hours.
Drawers: The drawers are made of solid maple and are very sturdy. Unfortunately, they only extend about half way, which means if you are double stacking bottles (putting bottles in the front of the unit facing back, and in the back of the unit facing forward) you will not be able to read the labels on the back.
Look and Feel: The exterior and interior of this unit are beautiful. The stainless exterior door accents are nice looking, and the blue interior LED is stunning (although not too helpful for actually reading the bottles). Even the blue temperature displays and LEDs look pretty good. The combination of light maple shelves on an all black interior makes for a nice showcase.
Installation: This wine refrigerator plugs in (as opposed to being hard wired) which means you need an outlet in an adjacent cabinet and a hole through the side of the cabinet to get there. Wine Enthusiast wants a dedicated circuit for this wine refrigerator, but that seems like overkill given it's low 180 watt power requirement.
Child Lock: There is a hexagonal lock and key included with this unit that can be used to "lock" the wine refrigerator (emphasis on the quote marks). I'm pretty sure that any child old enough to cork a wine bottle could probably break in to this… which begs the question why Wine Enthusiast included it… perhaps for the marketing hype?
Price & Where to Buy
We ordered the N'Finity direct from Wine Enthusiast for ~$700. If that number seems high to you, you're not alone. When first comparing wine refrigerator prices we ran into a bit of sticker shock ourselves. Stand alone refrigerators (@ $200-400) tend to be much cheaper than built-in models, and all we had been pricing before were the stand alone models. Some built-ins can get as high as $1,500! The cheapest models run around $450, but these are all single temperature zone, and would not have stainless accents.