Ryobi introduced a new line of rugged tools in August, 2009 called TEK4. These tools are designed to provide "maximum performance, durability, and run-time" (their words). The line features 10 tools ranging from a laser distance measure, to noise suppression headphones, to an infrared thermometer. You can see the full list of TEK4 tools on Ryobi's site.
The claim-to-fame of the tools in the TEK4 line-up is their use of a common, 4V lithium-ion battery. Each tool or charger in the TEK4 line sells with at least one of these lightweight cylindrical batteries. The 4V cells can be re-charged in a standard charger or (optional) quick charger up to 2000 times and swapped between tools as needed.
Ryobi's idea with this line was to eliminate the need for either (1) repeatedly buying alkaline AA- and AAA-size batteries for small tools; or, (2) frequently recharging small NiMH or NiCD batteries for small tools. A 4V Li-ion cell makes sense to accomplish this goal, because it offers reasonably long performance and much better shelf life than NiMH or NiCD, and since the cell can be swapped between tools, you aren't stuck with a 1:1 battery-type-to-tool ratio.
Ryobi sent us several TEK4 tools to review, and up first is their new digital multimeter. Read on to learn more about the TEK4 multimeter and how we liked this tool vs. other multimeters we've used.
Where to Buy a TEK4 Digital Multimeter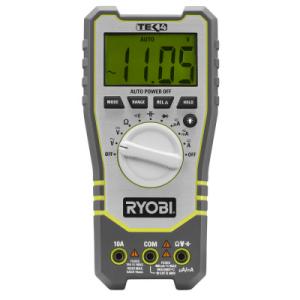 If you're looking for a rugged new multimeter, the Ryobi Tek4 Digital Multimeter is a decent choice. It has excellent battery life and can withstand the rigors of daily use, making it workable even for electricians who would use the tool everyday.
This multimeter can be found at your local Home Depot for about $60.00. This isn't a bad price for a multimeter, but it is by no means cheap. We'd like to see the price target come down into the high $30 dollar in the future to stay competitive with other offerings.
If you're planning a Home Depot shopping trip to buy this, consider picking up a Home Depot coupon before your trip.
TEK4 Digital Multimeter Review
Ruggedness and Durability: Durability is one of the big differences between this multimeter and the competition. Most multimeters feature a thin plastic shell wrapped around relatively fragile components. One drop and it's over. The TEK4 multimeter is impact, dust, and water resistant. In short, it's designed to withstand job site conditions everyday. Ryobi backs this up with a 2 year warranty which we were pleased with considering the price.
Operation: This multimeter provides typical functionality for a mid-level multi-meter. The selection dial makes it easy to choose between 9 measurement modes. The multimeter's modes include:
DC and AC voltage test (most common test used when determining if lines are "hot", measured in Volts)
DC and AC current test (used to determine current flowing through a circuit, measured in Amps)
Resistance test (used to determine resistance across a circuit, measured in Ohms)
Capacitance test
Diode test
Continuity test
We tried the typical voltage and resistance tests across wires and the Ryobi model reported the same values as the prior multimeter we'd been using from Harbor Freight. We don't have advanced equipment to test the accuracy of this tool, but are confident it will work well for home electric use. (We cannot vouch for whether the tool would be accurate enough for typical eletrical engineering uses, though).
Backlight LCD: The TEK4 multimeter has a large LCD screen making it easy to read, and the bright blue back light means you can read it in the dark. Some of the less expensive multimeters will omit a light-up LCD screen, so we're glad to see the TEK4 includes it.
Hook and Stand: Ryobi incorporated a few nice touches for portability. The back of this multimeter has a hook to help keep your hands free during operation. Nowhere to hook it? Extend the kick stand and prop it up on your work bench while conducting tests. While not included on this model, one feature that we'd like to see Ryobi add is a magnetic back plate so that the multimeter can be stored on the side of a large toolbox, or fastened up to a metallic surface near the work location. We've seen this design element become more common on small tools (such as small levels, for example). It would also have the added plus of keeping Ryobi's brand out of the tool box in the work place, so we can't see a reason for them not to go this route.
Probes and Alligator Clips: Misplaced probes are a thing of the past with this multimeter. The backside includes built in storage for these. Plus, Ryobi conveniently included alligator clips, probe covers and probe cover storage with this model. It's not unusual for multimeters to include these, especially in this price range, but we're glad to see them here nonetheless.
4v Battery: As we noted earlier, all TEK4 products feature a 4v lithium ion battery. One TEK4 battery is equivalent to three AA-size batteries, is eco-friendly (less disposals), and provides longer run-time. All products include a standard charger with a fuel gauge, letting you know when the battery is fully charged.
Auto-off Feature: This multimeter includes an auto power off feature to save battery life. Of course, with a rechargeable cell, this is far less necessary. Our current AA-based multimeter doesn't have this feature and we've been constantly burning through batteries until the TEK4 came on the scene. Other multimeter vendors could take a lesson from Ryobi's play book on this extremely-simple-to-implement feature.
Areas for Improvement in Future Releases
We really like the TEK4 line-up of tools, primarily because they'll allow us to purchase and manage less batteries and battery types over the next few years, but also for their rigid, ergonomic design.
The TEK4 multimeter is great for everyday electrical work and would meet all the needs of a do-it-yourselfer. We'd like to see the price reduced about 33% to be competitive with other non-lithium-ion multimeters. And, we'd love for Ryobi to add a magnetic back plate so we could store this on the side of one of our metal tool chests. Other than those, this tool does the job. We recommend it.
Other Reviews for the Tek4 Multimeter
There aren't many other reviews on the multimeter online. We found this helpful one to share. If you perform a solid review of this tool, let us know so we can add it here.