Among Ridgid's latest Octane 18V cordless offerings in Home Depot stores is the new MEGAMax power base system. Along with the new Octane 18V technology, which by itself allows for more power and longer run-times, the MEGAMax power base offers an appealing cost-effective versatility much like the smaller JobMax series. Currently, there are three attachments offered for the MEGAMax power base, a reciprocating saw, a 1/2″ right-angle drill, and an SDS-Plus Rotary Hammer. I've had the pleasure of testing all, but the latter.
Stuff Lawyers Made Us Say: We're are continuing our partnership with The Home Depot to provide candid reviews of tools from a wide variety of manufacturers. The Home Depot is both providing the tools for free and compensating us; however, the opinions we express here are our own. Remember, we'll always be up-front with you when we're receiving a free product, compensation, or both. And of course, we always strive for objectivity in our reviews.
Ridgid MEGAMax Power Base
The MEGAMax power base is the heart of the MEGAMax system. The power base has the same smart technology as the Octane batteries (see below) so it "knows" which tool head is attached and adjusts accordingly. Simply attach an Octane battery and attachment head of your choice and the tool transforms into a reciprocating saw, a 1/2″ right angle drill, or an SDS-Plus hammer drill. There's an audible tone and LED indicator to let you know the tool is ready for use. The power base can also be locked by moving the switch to the neutral position, allowing for safe blade or bit changes.
Hyper Octane 18V 6.0 Ah Bluetooth Battery
Before I delve into how the MEGAMax performs, let's talk a bit about the new Hyper Octane 18V technology and why you should care.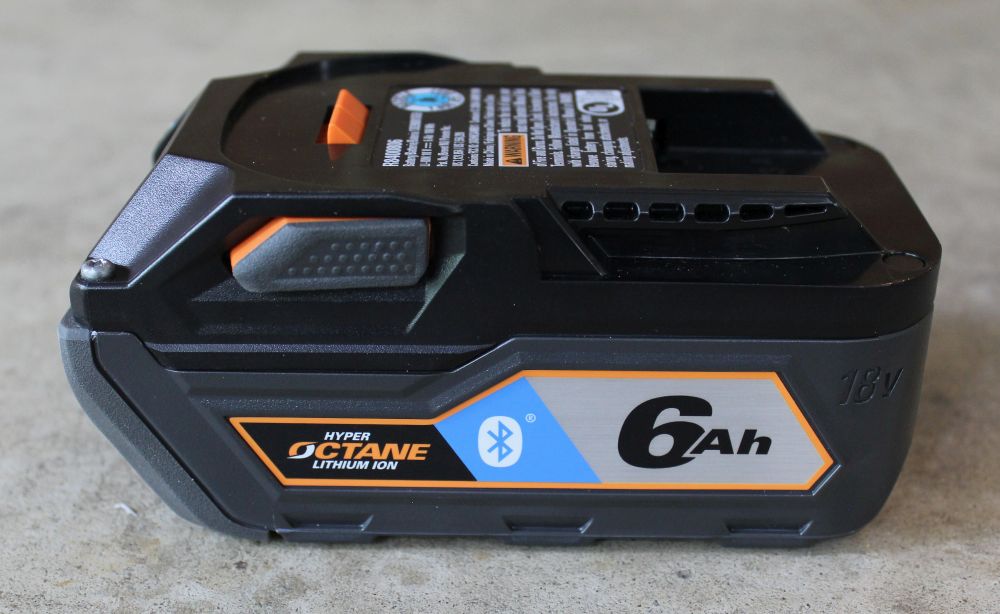 Previously, if you wanted longer run times, you needed a larger amp hour battery. While that still holds true, the new Octane batteries also "talk" to the new Octane tools when they are used together. This new smart technology allows the battery to recognize what tool it is attached to and adjusts power curves accordingly resulting in more power when you need it and greater efficiency.
All of the new Octane batteries also come with Bluetooth technology, which allows the user to track things like battery health, charge level, temperature, and location. Several notifications can also be set so you never have to be surprised that your battery is about to run out. Perhaps my favorite feature is the ability to lock the battery should you misplace it or if it "walks" off of a job site. All of these features are accessed via the Ridgid Battery App on your smartphone.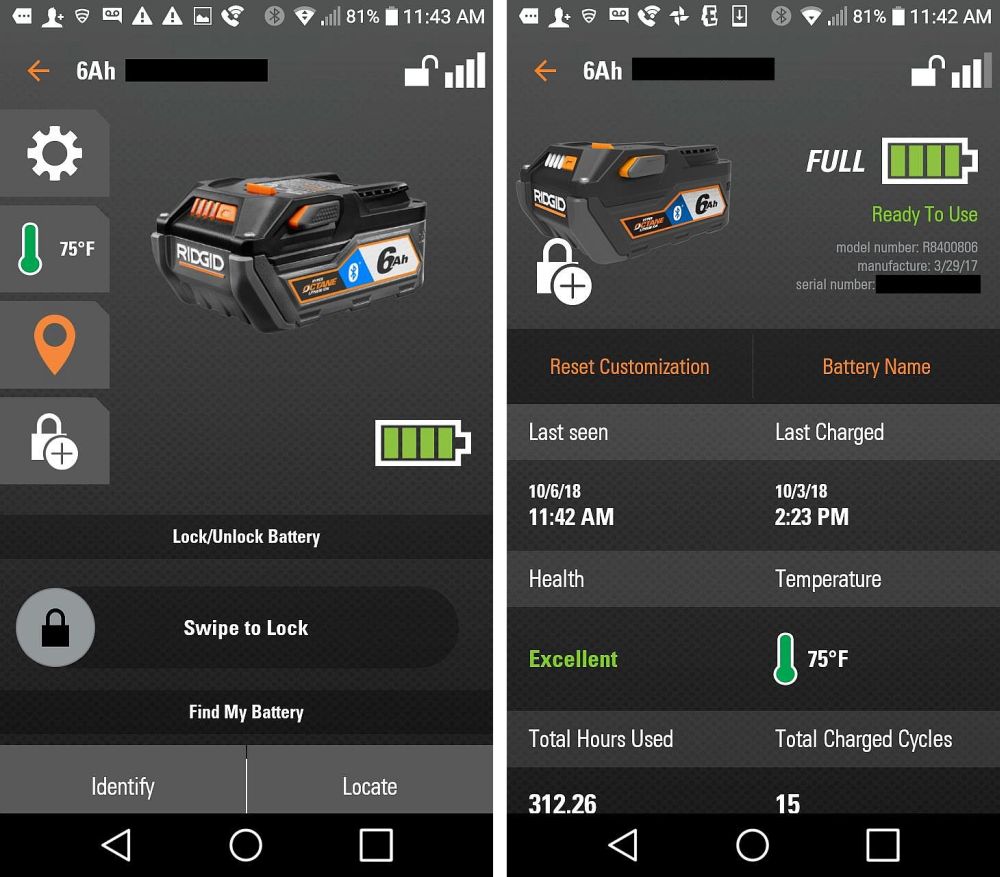 Ridgid MEGAMax Reciprocating Saw
I was most excited to see if the reciprocating saw could keep up with other saws I've used in the past. Right out of the box the saw head has a solid feel. It has a foot that is quickly adjustable with a lever style clamp. Simply release the lever, adjust the foot to the desired cut length, and clamp back down. It also has a switch on the underside that allows the user to switch swiftly between orbital and linear cutting modes.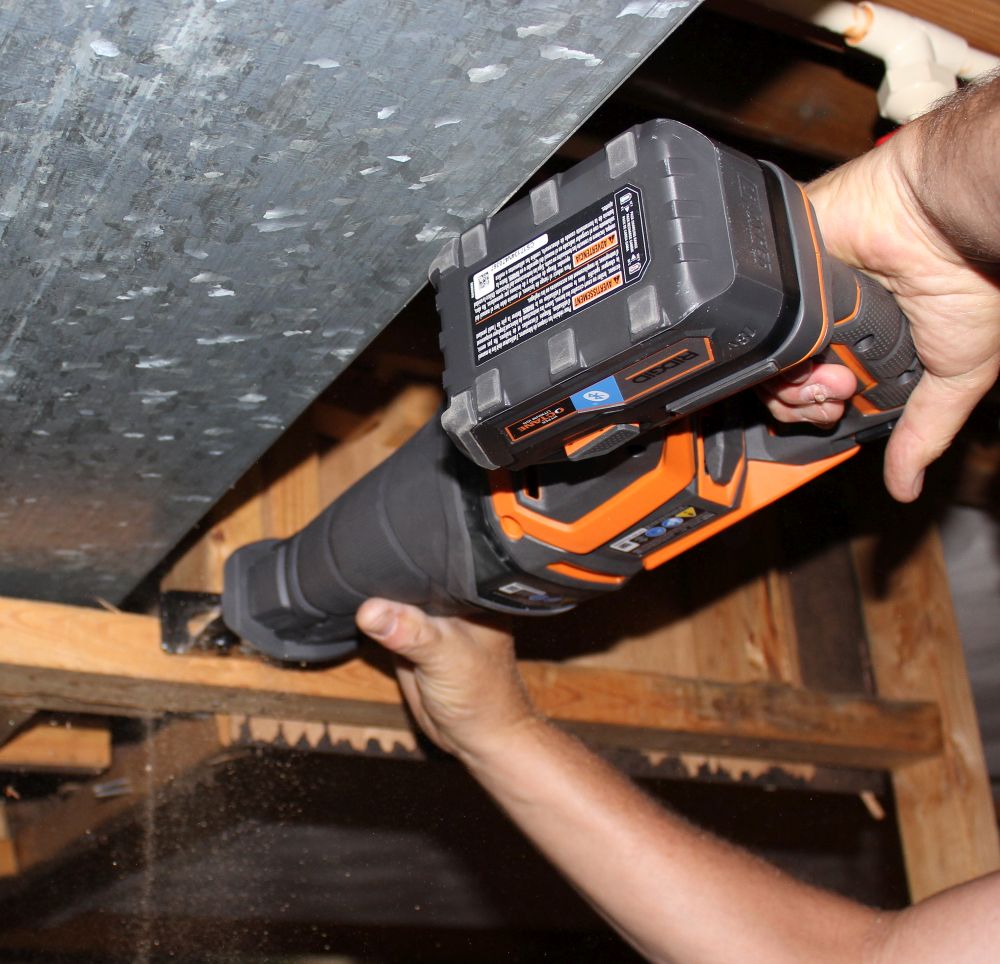 While we were on vacation there was a small leak in our dehumidifier that resulted in some minimal flooding. Fortunately, the affected walls of an 8′ x 8′ storage area in the basement were already slated for demolition so this was the perfect opportunity to put the MEGAMax saw to the test. I installed a new Freud Demo Demon combination blade and got to work. The MEGAMax performed wonderfully, chewing through 45-year-old studs and nails with the ease you would expect from a professional tool. Even after all of this punishment, I still had enough juice left in the battery to demo an old upright piano the following weekend. The only real trade-off I can pinpoint is that the tool is a little heftier than some of its competitors, but it's certainly not a deterring factor.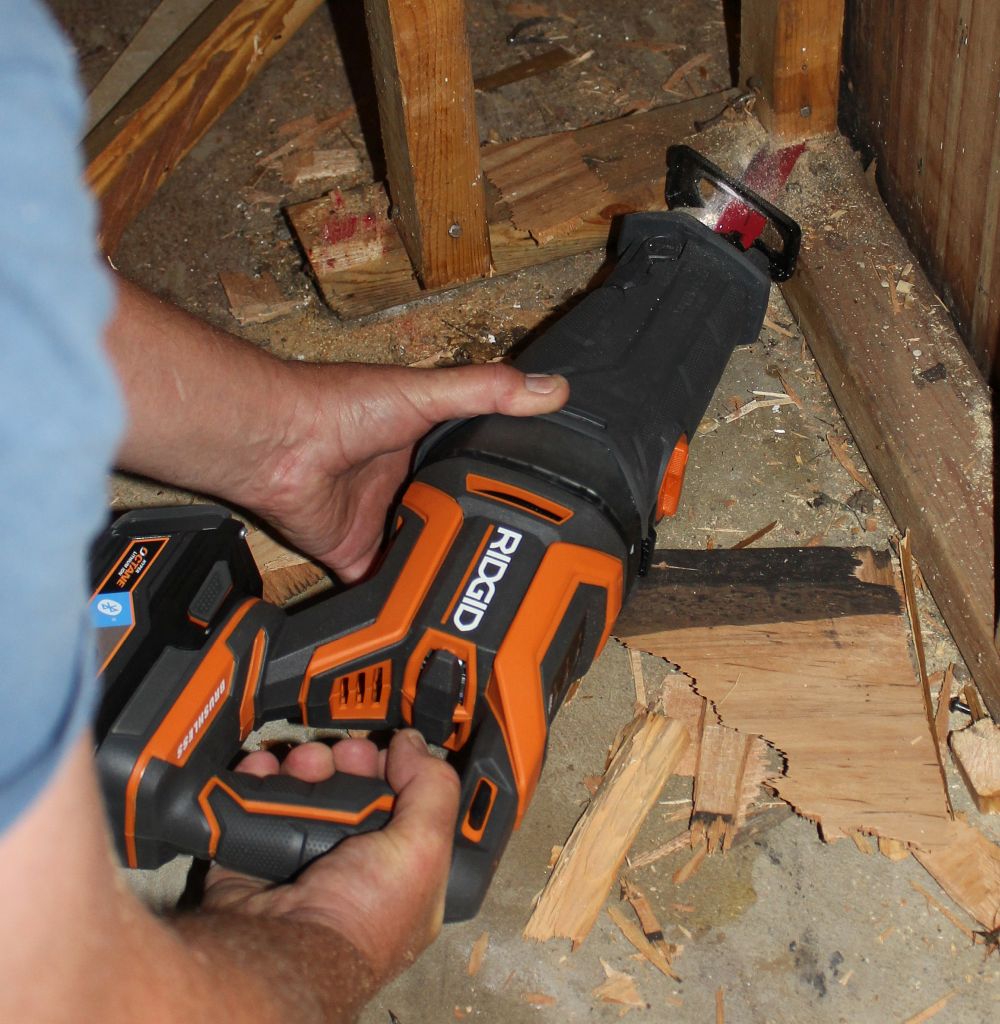 Ridgid MEGAMax 1/2″ Right Angle Drill
The MEGAMax right angle head attachment is another impressive tool. It boasts metal gears, a 1/2″ chuck, and a high torque power curve. While testing the drill I found the startup to be very smooth, while delivering plenty of power to bore through whatever material you might encounter. One of the benefits of right angle drills is that they can fit into tighter spaces such as narrow stud bays. The overhead handle is easily removed with two phillips head screws to afford an extra few inches of clearance for just such applications.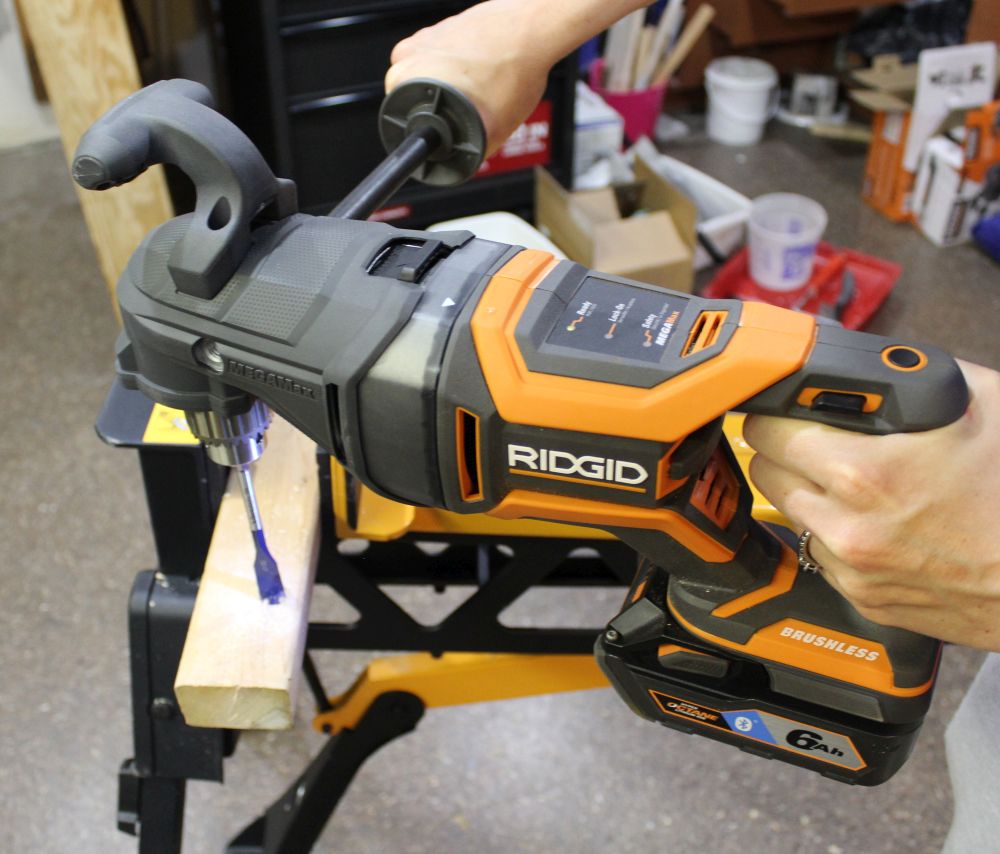 Like all of the MEGAMax attachments, the right angle drill head can also be rotated four directions to increase comfort when working from different angles. While I never experienced any binding during testing, it can happen while drilling with any high torque style drill, so the included extension handle is a welcome addition to the package. While I personally found the handle to be a bit long for comfort, it's understandable, as the longer the handle, the more insurance it offers against potential torque induced injuries.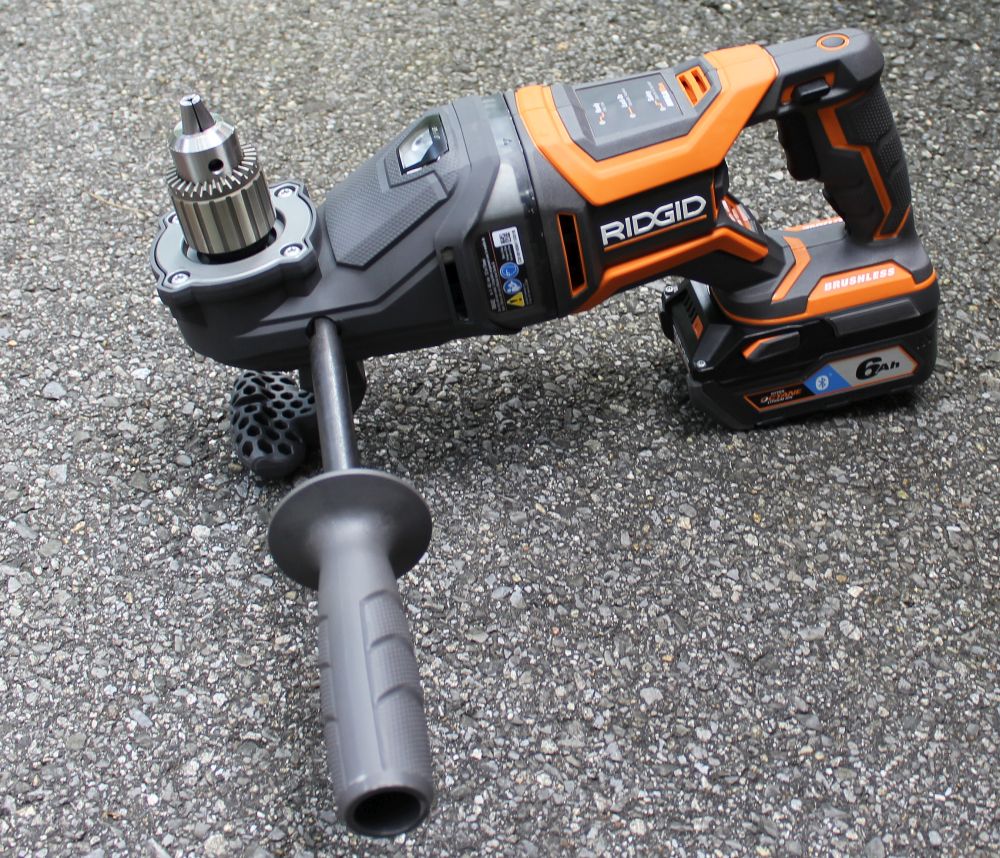 Overall Impressions
All together Ridgid has put together an impressive offering in the MEGAMax system. If you are someone who uses these tools on a regular basis you can get great performance for a fraction of the cost of buying three whole separate tools. The MEGAMax powerbase even comes with a handy tote bag that easily fits the base and all three attachment heads with room for bits and blades.
Ridgid MEGAMax Power Base $99
Ridgid MEGAMax Reciprocating Saw $69
Ridgid MEGAMax 1/2″ Right Angle Drill $99
Ridgid Octane Bluetooth 6.0 Ah Battery $129