Today as part of our PROSpective partnership with The Home Depot we're taking a look at a tool we've been waiting to review for some time: Ridgid's new Gen5x 18V Cordless Brushless Impact Wrench.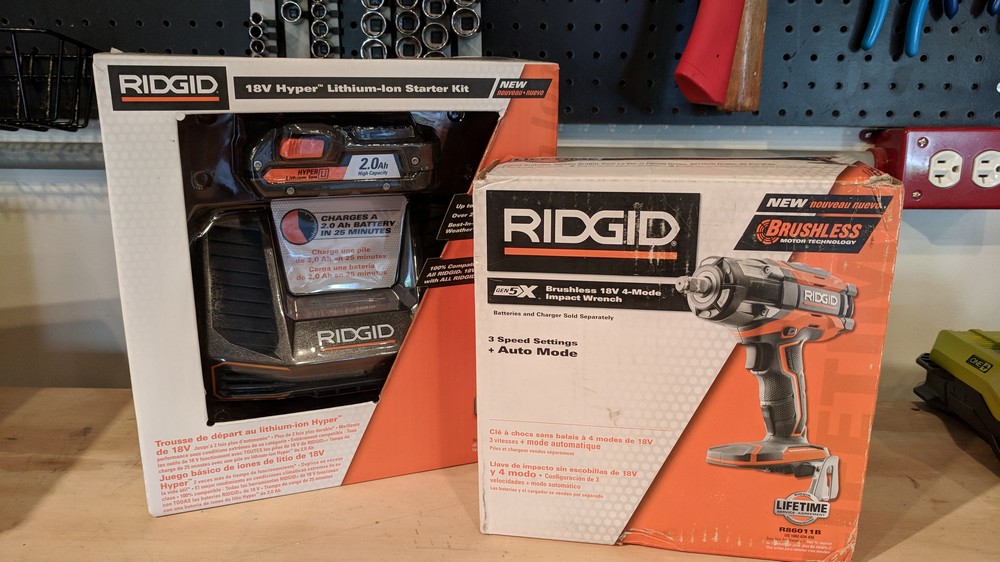 Stuff Lawyers Made Us Say: We're partnering with The Home Depot to provide candid reviews of tools from a wide variety of manufacturers. The Home Depot is both providing the tools for free and compensating us; however, the opinions we express here are our own. Remember, we'll always be up-front with you when we're receiving a free product, compensation, or both. And of course, we always strive for objectivity in our reviews.
Overview of Ridgid's New 18V Brushless Impact Wrench
Ridgid's new Gen5 Brushless Impact Wrench delivers no nonsense high torque performance for tough nut-driving applications. The tool features:
A respectable 450 ft. lbs. (5,400 in. lbs.) of maximum torque. (Pretty good for the $149 price point.)
A brushless motor that claims 50% longer run-time vs. standard brushed motor equivalent.
1/2 in. square drive socket receiver for use with impact-rated sockets.
3 speed settings (Low: 1,300 RPM; Medium: 1,900 RPM; High: 2,600 RPM) to match driving needs.
A useful "auto-mode" setting (2,100 RPM) that shuts off immediately when the tool starts impacting (allows the wrench to be used for pre-tightening nuts before driving them to a particular torque.
3-light LED surrounding the 1/2″ receiver casts light directly on the work surface.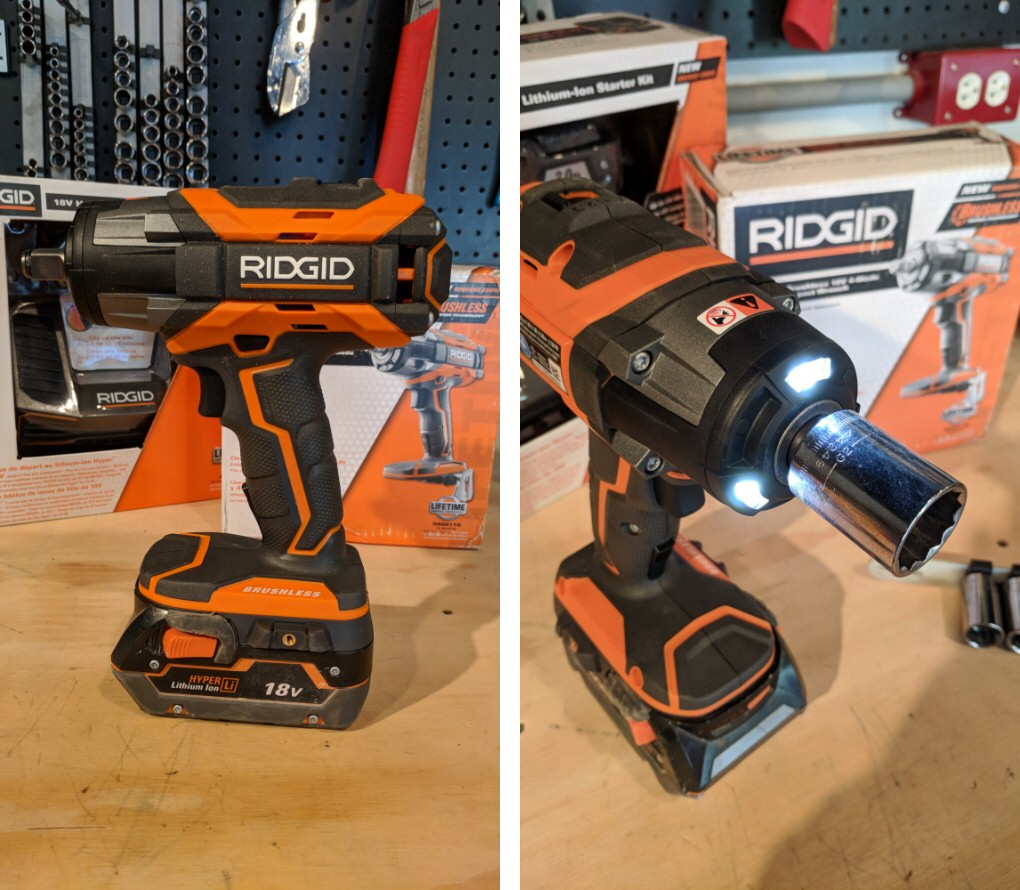 Using the Ridgid Impact Wrench
Lug Nuts: There are plenty of uses for a cordless impact wrench, but certainly the most widely recognized is loosening and fastening lug nuts on vehicles. In order to fasten lug nuts properly, you should have some type of torque-limiting device (such as this set of Husky Torque Sticks) to ensure you don't over-tighten and strip or otherwise damage the lugs. We didn't have a set of torque sticks immediately available, so we limited our wrench testing to loosening lug nuts that had previously been fastened with a torque wrench and re-tightening them manually. As far as loosening went, this tool had no trouble impacting a lug nut off very quickly.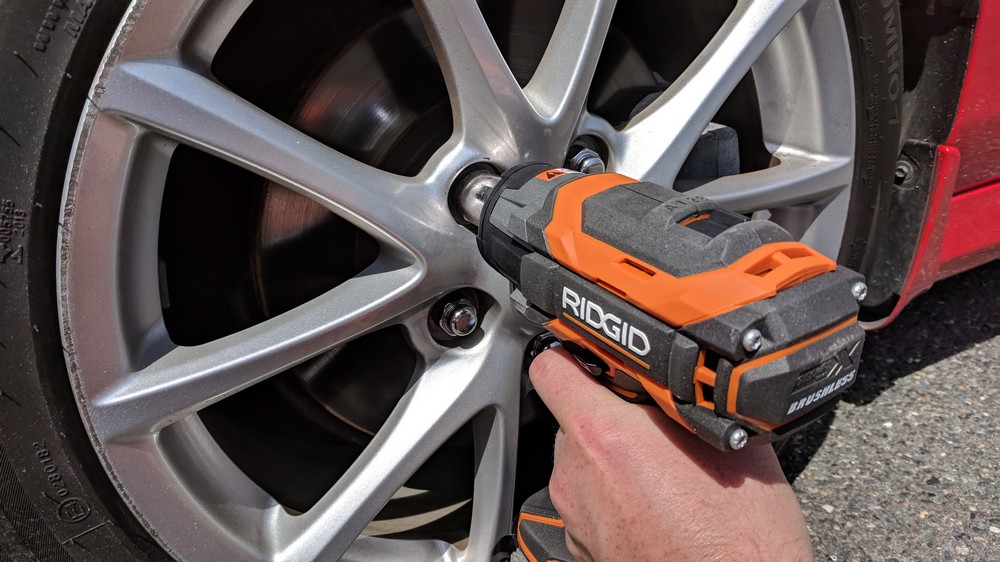 Other High Torque Applications: While lug nuts are the most popular application for this type of tool, the Ridgid 18V Impact Wrench can certainly be used in any situation where high torque is needed, even with traditional impact-rated screw drive bits using adapters such as this Milwaukee adapter that converts 1/2″ square drive to a 1/4 in. hex. But be warned: most impact rated hex drive bits are designed for impact drivers with maximum torque in the 2,000 in. lbs. range. The Husky Impact Wrench, running at 5,400 lbs, could easily overdrive and break the bit or fastener.
Ridgid Impact Wrench vs. Impact Driver
So what's the difference between an impact wrench and impact driver? In essence an impact wrench is a higher torque, more powerful version of an impact driver.
We've long used Ridgid's 18V Impact Driver on all types of carpentry and construction work. It's been a go-to tool for most of our fastening activities for nearly a decade. The latest Ridgid Gen5 Impact Driver features a 1/4 in. hex drive and will drive up to 2,000 in. lbs of torque, or a little less than half of what this impact wrench will deliver.
Pictured below is the current Impact Wrench and a prior version of Ridgid's Impact Driver we've been using for years.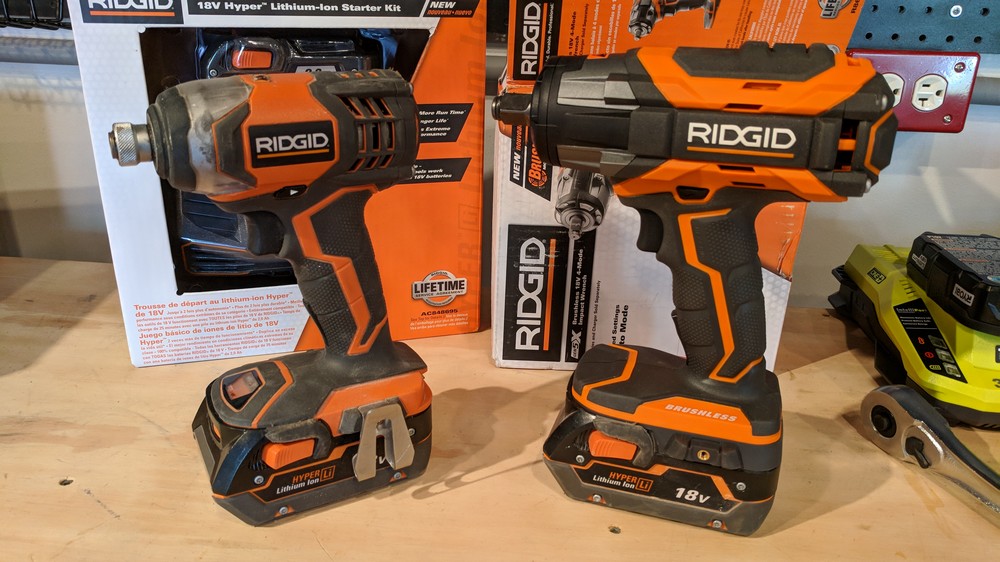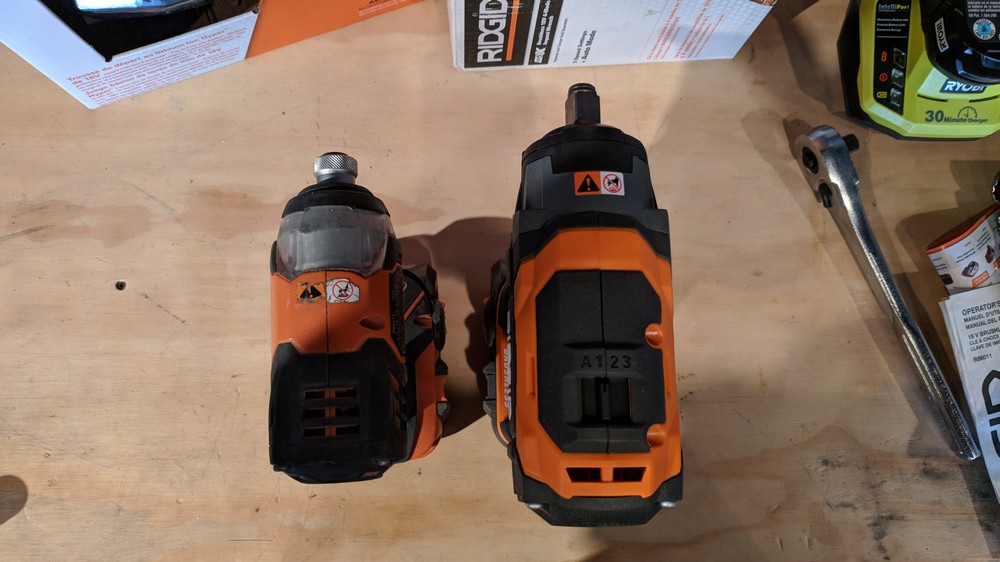 Lifetime Warranty
The best part about all of Ridgid's hand power tools is that they include a lifetime warranty when you register the tool within 30 days of buying it. If you buy this tool, you should absolutely take the time to register it. If you do, it'll be the last impact wrench you'll ever have to buy.
Price and Where to Buy
The Ridgid Impact Wrench (linked first below) is sold as a bare tool for $149. This means you'll already need to own a Ridgid battery and charger to make use of the tool. If you don't own other Ridgid cordless tools, you can obtain a Ridgid 18V battery either by buying a tool with a battery charger and battery included (The Impact Driver linked second below has this), or you can buy a separate charger and battery (third link). We think buying the tool/battery combo makes the most sense because you get another useful tool for the same price. The difference appears to be that the separate battery and charger kit is a fast charger (rather than a standard charger).