I'm excited to share the next tool in our on-going partnership with The Home Depot #ProSpective. Today we are taking a closer look at the Ridgid R350PNF Palm Nailer. If you've ever used a palm nailer before, you know how invaluable they are for applications like nailing joist hangers. The small size makes it great for working in tight spaces. The R350PNF operates at 70-120 psi and drives fasteners ranging in length from 1-1/2 – 3-1/2″.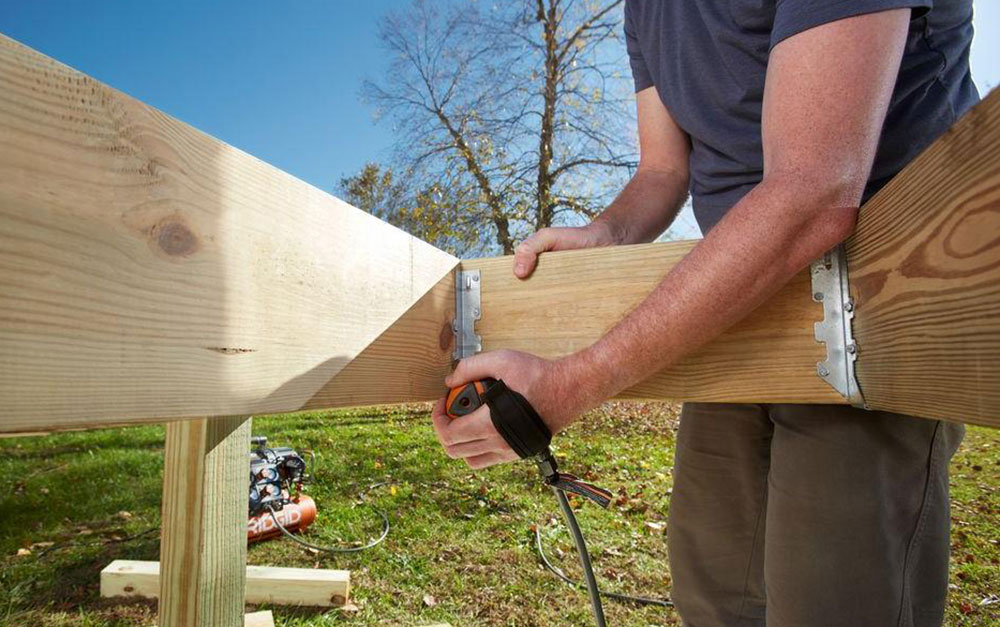 Stuff Lawyers Made Us Say: We're partnering with The Home Depot to provide candid reviews of tools from a wide variety of manufacturers. The Home Depot is both providing the tools for free and compensating us; however, the opinions we express here are our own. Remember, we'll always be up-front with you when we're receiving a free product, compensation, or both. And of course we always strive for objectivity in our reviews.
Tool-Free Depth Adjustment
We are big proponents of the tool-free depth-of-drive adjustment. This allows a user to set the nail to the appropriate depth depending on the application. All you have to do is turn the depth selector left or right, and it's a good idea to drive a test nail afterward.
Aluminum Housing and Zinc Top Cap
Durable materials are an important consideration for any quality tool. Ridgid also built the R350PNF for optimal weight (2.6 lbs.) and reduced vibration (reduced user fatigue).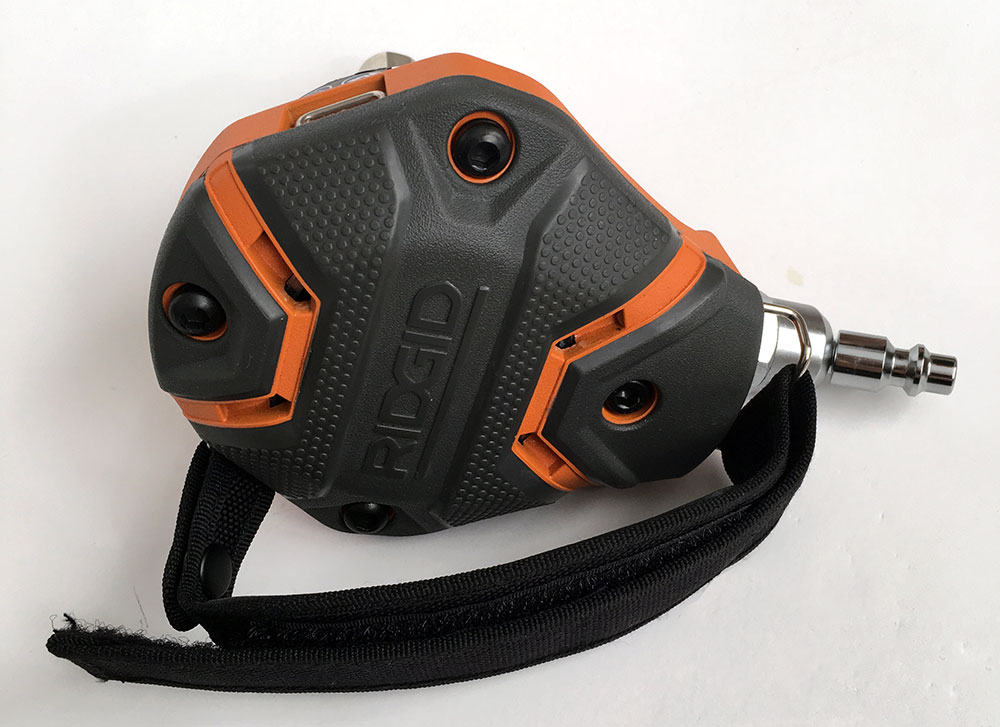 Textured Grip
The micro-texture hex is comfortable and makes it easy to maintain a secure grip. This is true for just about all Ridgid products, and it's why their tools just feel good in your hand.
Nail Magnet
When you load a nail, the magnetic nail guide holds the fastener securely in place
Adjustable Strap
The strap is useful because it helps reduce user fatigue. Not only is the hand strap length adjustable for different sized hands, it can also be switched for left or right handedness.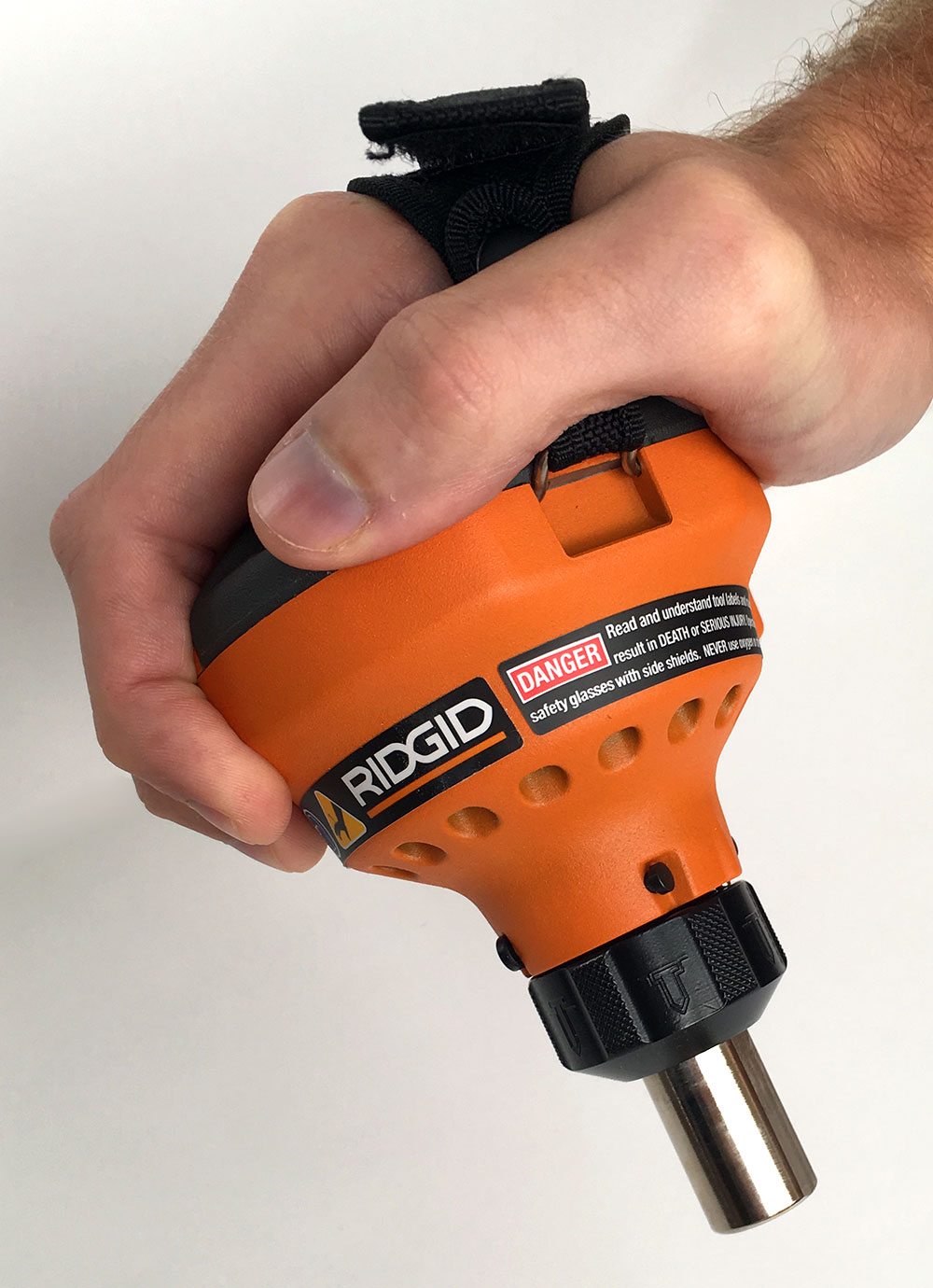 Swivel Quick Connect
Like a lot of air tools these days, Ridgid included a 1/4″ swivel quick connect. This helps keep the air hose in a comfortable orientation.
The Ridgid R350PNF is a great palm nailer, enabling users to drive nails up to 2x faster and with less vibration than mini palm nailers. It's available from The Home Depot at the competitive price of $59.98. Of course it comes with the amazing Ridgid lifetime service agreement.

Additional Features
Self-cleaning inlet filter
Includes R350PNf, installed quick connect, oil, wrench, manual
Fastener Type: Bulk Nails
Fastener Rage: 4d – 16d