If there's one thing we really appreciate here at OPC, it's multi-purpose tools. There's something great about having a tool that can address multiple projects and tasks without cluttering up our work bench or using too much of our limited storage space.
Over the last few weeks, we've been testing Rockwell's SoniCrafter, a multi-tool modeled after the Fein Multimaster, and one of many entrants in a highly competitive market created by the expiration of Fein's Multimaster patent (others include the Dremel Multi-Max, the Bosch PS50, and Craftsman's NexTec).
Rockwell shipped us this tool as part of a test kit about 6 weeks back. We've used the SoniCrafter to make precision cuts in wood, cut PVC pipe, cut aluminum ductwork, and sand painted and unpainted wood surfaces. Throughout our projects, the SoniCrafter has turned out to be an exceptionally useful tool–one that we're happy to make space for in an already crowded tool collection.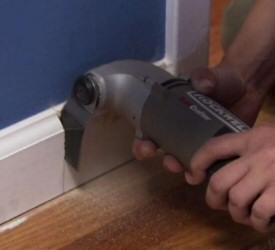 Rockwell SoniCrafter Review
The Highs: Very useful on a wide variety of projects; low vibration doesn't create quick hand fatigue; variable speed motor is quieter than other models; can use blades from other multi-tools with adapters; very solid construction; reasonable price.
The Lows: High cost for blade/pad refills (typical in this genre of tool).
The Verdict: A must have tool for every serious DIYer.
Features Review
Variable speed motor with max 20,000 oscillations per minute (OPM).
Integrated hex-wrench for swapping blades (takes about 15 seconds to perform a blade change).
6 foot cord.
All kits include the following accessories (larger kits include more variety and more quantity):
1 Semicircle Saw Blade
1 Universal End Cut Blade
15 Sanding Sheets
1 Sanding Pad
1 Hex Key
SoniCrafter adapter
Performance Review
Cutting Performance: Precision cutting is one of the SoniCrafter's strongest suits. The pattern and speed of movement of the tip results in a few very advantageous features:
No kickback. This was evident immediately as we started cutting dimensional 2x lumber and moldings. Because the Sonicrafter doesn't kick like traditional rotary tools, it allows for very precise control of the angle and depth of the cut.
Only rigid, solid materials can be cut. We like this feature of the Sonicrafter because it makes the tool much safer for use. The SoniCrafter will power through wood, PVC, and even metal, but would have a hard time cutting flesh. We should note, though, that it means if your material is loose, you may have a tough time cutting it depending on the circumstances. Wood doesn't seem to be a problem, but less rigid materials could be.
Work in tight spaces: The position of the multi-tool blade down and in front of the motor is key. This tool is excellent for tight spaces, like cutting door jambs on the inside of a closet in preparation for a hardwood flooring installation.
Scraping Performance: The Sonicrafter's scraping blade makes quick work of difficult surface-preparation jobs (like scraping up old ceramic tile, for instance). It works well when you need to decouple two rigid surfaces that are either glued or cemented together. In fact, the more rigid the connection between the materials, the better the Sonicrafter's scraping performance. You can also use the SoniCrafter to scrape away old paint.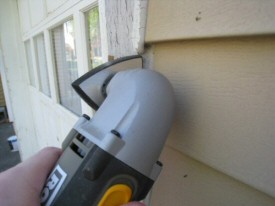 Sanding Performance: The SoniCrafter sands much like a high speed orbital sander with a very small footprint, which means it's great for finishing and detail work, especially in tight spaces, but it wouldn't be appropriate to strip down a whole piece of furniture or any other large area. You would want to use the SoniCrafter and a larger sander together for that job.
The sanding blades are triangular-shaped, which we liked since it enables sanding deep into corners. They attach to the sanding pad using standard hook-and-loop backings, which means they don't slip.
Grout Removal: The half-moon grout removal tool is designed to dig out 1/4″ grout lines to enable re-grouting or tile removal. We didn't get a chance to use this accessory but would imagine its performance would be very good on standard ceramic and porcelain tile — although you'd need to be careful not to nick the tile. Note, though, that it can't be used for removing smaller grout lines (such as those found in bathrooms and showers) as the tool tip is too wide.
Polishing: We also didn't get a chance to use the polishing pads with the Sonicrafter, but would expect them to perform very well considering the sanding performance.
Overall Impressions
We're very impressed with Rockwell's offering in this increasingly competitive space. The combination of versatility, ease of use, and safe operation make this one of our tools of choice. (Incidentally, over many other tools, we think the novelty and usefulness of the Sonicrafter make it a good gift idea… if that's something you're considering). We haven't had the privilege of using the original Fein Multimaster, a very expensive tool that the Sonicrafter was modeled after. We've heard very good things about it, but are loath to part with the $300+ price tag the Fein commands.
Price & Where to Buy
The SoniCrafter retails between ~$125 – $200 depending on the kit. You can pick up the best Sonicrafter kit on Amazon, at Home Depot, at Lowes, and at many other retailers.
Other Reviews
Several other folks have written about the Sonicrafter. For their takes, here's a few links:
What do you think? Do you own Rockwell's Sonicrafter? Let us know your experience on the comments!
(First photo credit: Amazon. The second is ours.  One of the SD cards that contained the pictures for this review is in a stack of boxes do to a remodeling job that required moving stuff. We'll update the photo when we locate it and post some additional pictures of the SoniCrafter in action).