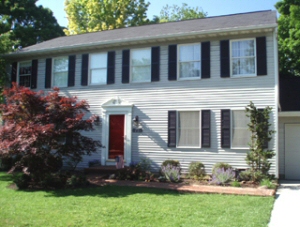 Do you know what the coolest thing is about blogging? It's the interesting connections you make with people that live down the street or across the country. We hear from do-it-yourselfers all the time who are tackling projects just like ours. They're usually working in their own homes and facing similar challenges as we did on a project.
For instance, at least twice a month we get a question on self leveling cement from an article where we described our challenges in getting it level in our basement radiant heating installation. Turns out a slotted squeegee will go a long way to helping you solve this problem.
But there are few more interesting connections we've made than finding someone half way across the U.S. who lives in the exact same house as us. Apparently, Ryan Homes gets around. Back when we wrote about removing non-load bearing walls from our first floor, Shannon from Mason, Ohio contacted us with this message:
A friend forwarded me this link to your blog: https://www.oneprojectcloser.com/how-to-remove-stud-walls-to-create-an-open-floor-plan/

I seriously laughed out loud when I scrolled down and saw the room that I'm sitting in right this very minute. Apparently, we also have the "Shenandoah A" floorplan! I'm dying for more pictures of what you've done, specifically with the kitchen. Have you knocked down the hanging cabinets yet? [We did!] Have you thought about tearing down the wall to the laundry room, moving the washer/dryer somewhere else, and expanding the kitchen? (This is my biggest dream!) [We thought about it, but decided not to…]

We purchased this house five years ago from the original owners… who had lived here since 1978 and apparently didn't like change. Since then we've ripped down ALL the wallpaper (some of which I'm convinced was original to the house), finished the basement ourselves, replaced the vinyl, brick-look flooring in the kitchen and the carpet in the dining room (yes, carpet in the dining room) with hardwood, painted just about every wall and cabinet in the entire house and (of course) knocked down all the spindles. I'm in the middle of a family-room redo at the moment.

Anyway, thanks so much for the inspiration! I'd love to see some follow-up pictures if you have them!
So Shannon and I exchanged several e-mails about our house, and I always forward her articles when we complete projects. And then she said:
By the way, I was thinking of you guys the other day when we were cleaning our basement. We have the original blueprints to this house tucked away somewhere. Not sure if you could benefit from having a copy or not, but if you'd be interested, let me know.
The original blueprints! Wow! Absolutely we want them!
I had actually called Ryan Homes about 5 years ago and asked them if there was any way we could get a copy of the blueprints since we intended to do a lot of work on this house. Unfortunately, they said they didn't have them anymore because this model pre-dates their current electronic database system.
Shannon was nice enough to send us the blueprints totally free! Here's a copy of them sprawled out on our floor: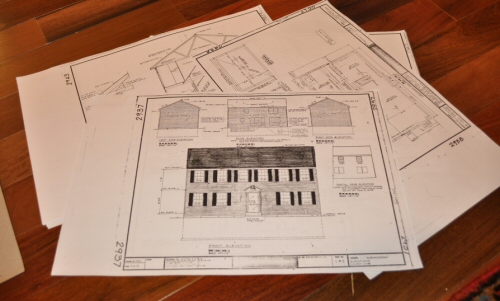 There are so many interesting details here, and the house is extremely similar to ours. Shannon's house was built in 1978 and ours in 1985…
In seven years Ryan didn't make many changes. Our front windows are a little larger than Shannon's. You can even see this on the Shenandoah marketing materials we found when we moved in vs. the picture above.
It was also neat to see that there are some options that our original owners didn't choose. For example, there was an optional door between the Master Bedroom and the second bedroom to make that more usable as a nursery. We're glad we don't have that in this house, but when the kids are old and move out, maybe we'll add it in and put a bigger bathroom and closet off our MBR 🙂
Anyhow, we wanted to say a big, public Thank You to Shannon for sending us these plans. I also wanted to offer these to anyone else out there who lives in the Ryan Homes Shenandoah A and wants a copy. Just look in the Related Content section below.