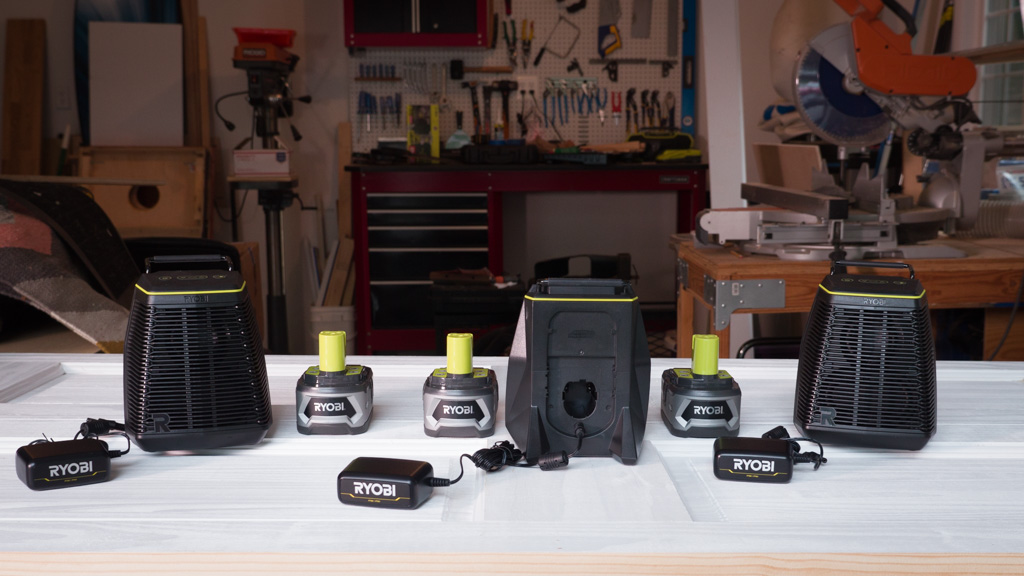 We are exited to introduce to you one of the One Project Closer family, Chris Paulis. He is Jocie's father and lives on the same street as Ethan and Jocie. English teacher and lifelong artisan turned professional photographer, Chris is a DIY guy at heart. Chris is sharing his experience with the Ryobi Hybrid Score Speakers in exchange for the product. This sponsored review is honest and 100% his own thoughts and impressions! Thanks, Chris for guest posting here on OPC.
Ryobi Hybrid SCORE Primary and Secondary Speakers
I recently had a small project to complete – preparing two solid-wood half doors to hang between my family room and laundry room. The job included routing the edges for hinges (done with the help of the Ryobi Door Hinge Installation Kit, but that's a different story!) and painting. When I work on home projects, I like to listen to music. Because I would be doing this project in my son-in-law's workshop away from my sound system, this provided the perfect opportunity to try out my new Ryobi 18-Volt Hybrid SCORE Primary Speaker and two Secondary speakers, which proved to be everything I was hoping for.
Ryobi's Hybrid SCORE speakers ship in a combo kit of 1 primary and 1 secondary speaker, along with A/C power bricks; you can also expand your setup by purchasing secondary speakers separately. The primary speaker serves as a digital hub for up to 4 other secondary speakers, and you must have that; secondary speakers will not work without a primary driving them.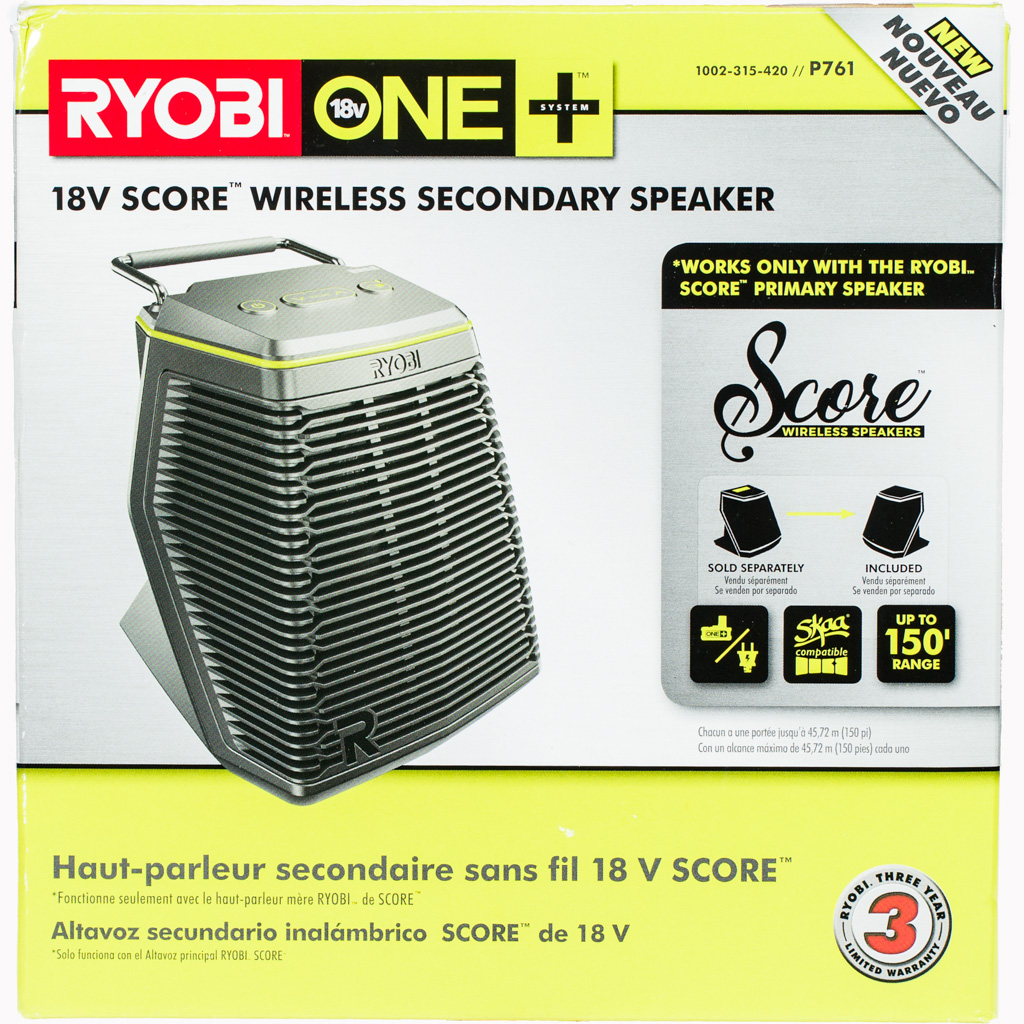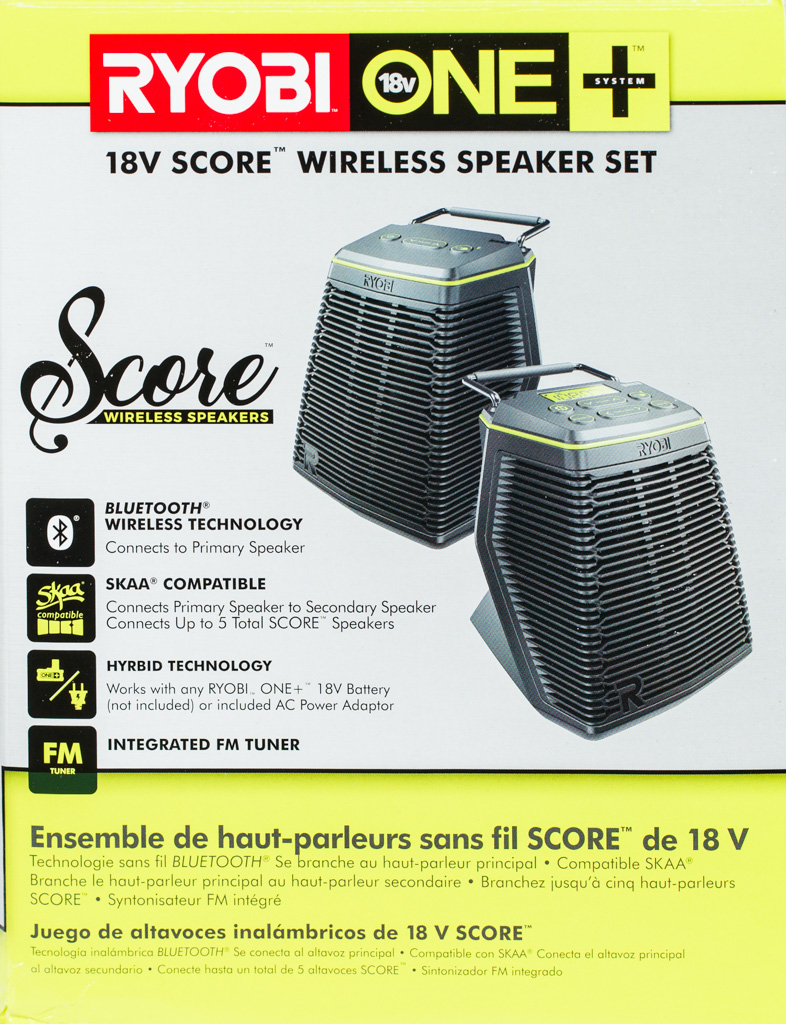 My first impression of the Ryobi Hybrid SCORE speakers was that they were incredibly light-weight and solidly built. I have no doubt that they would fare very well moving from work-site to site, being tossed into a box, and handled roughly. They have small handles on the top to make it easy to grab them, and they don't take up much space.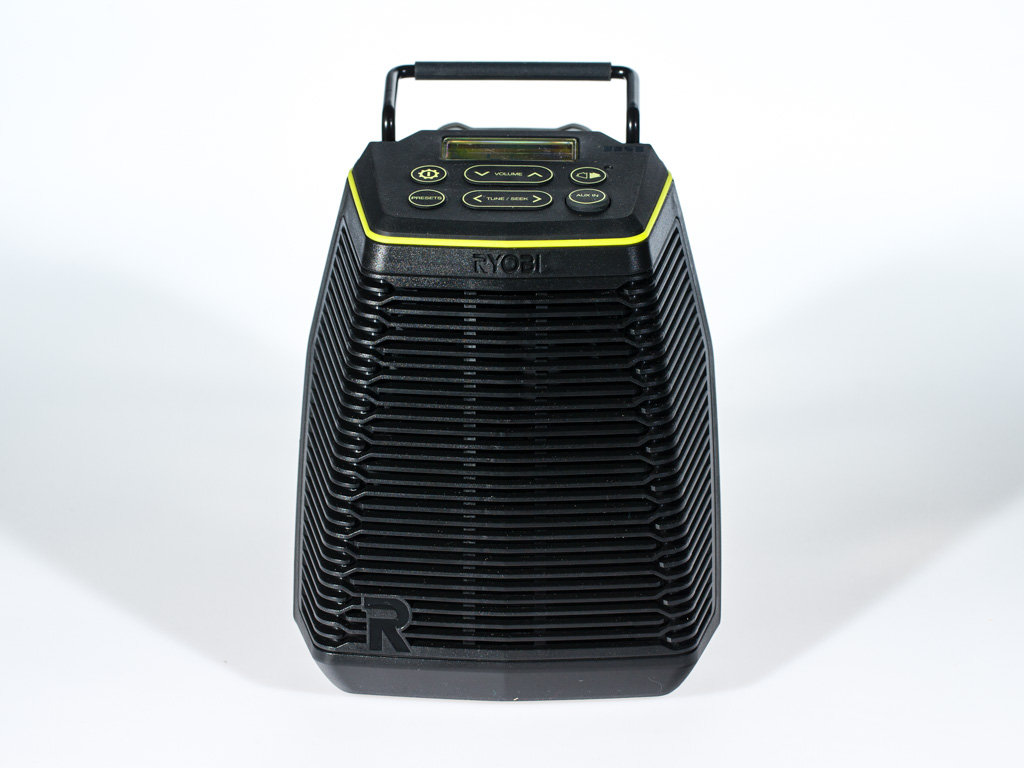 As I unpacked my new speakers and laid them out on my project door, my first thought was that using them with A/C power could be inconvenient and even compromise what is often a needed resource – electrical cords.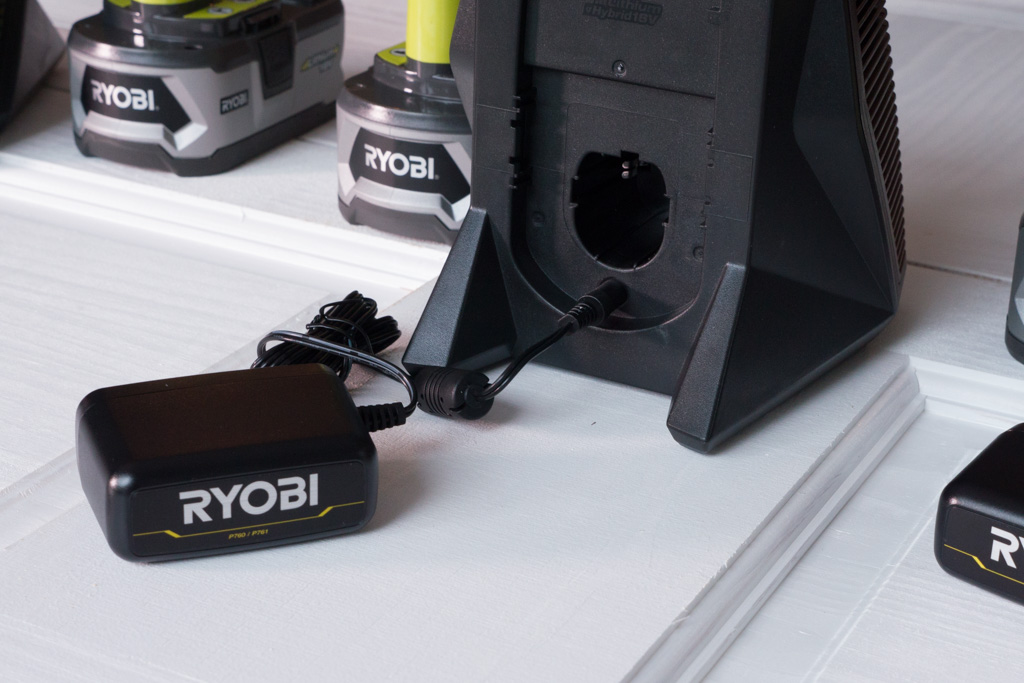 That's when the genius of their design emerged. Ryobi Hybrid SCORE are HYBRID in how you can power them: If you don't want the clutter of power bricks and extension cords, AND you have some of Ryobi's 18-Volt ONE+ batteries handy (and you are not planning to use them on one of their great tools), then you can just pop one into the back of the speaker and power it up!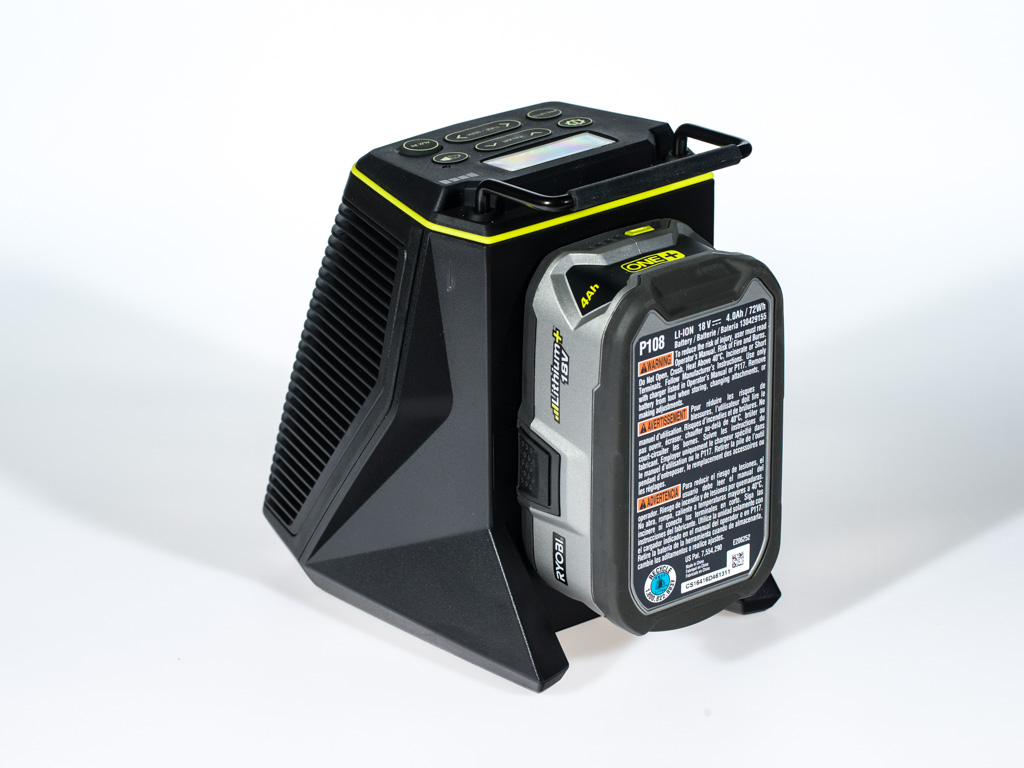 Once I got working, I used the 18-Volt ONE+ battery to power the Primary speaker and plugged a second into the wall socket on my son-in-law's work bench.
Once I figured out how I could power the Ryobi Hybrid SCORE speakers, I did what most of us would do in that situation – I skipped the manual and decided to see how intuitive they are. And I was not disappointed. I powered up the Primary speaker by pressing the power button (marked with a gear icon). On powering up, the LCD displayed the letters "bt" along with a flashing bluetooth icon, which I correctly interpreted to indicate pairing mode. So I went to the settings on my iPhone and paired easily with the speaker.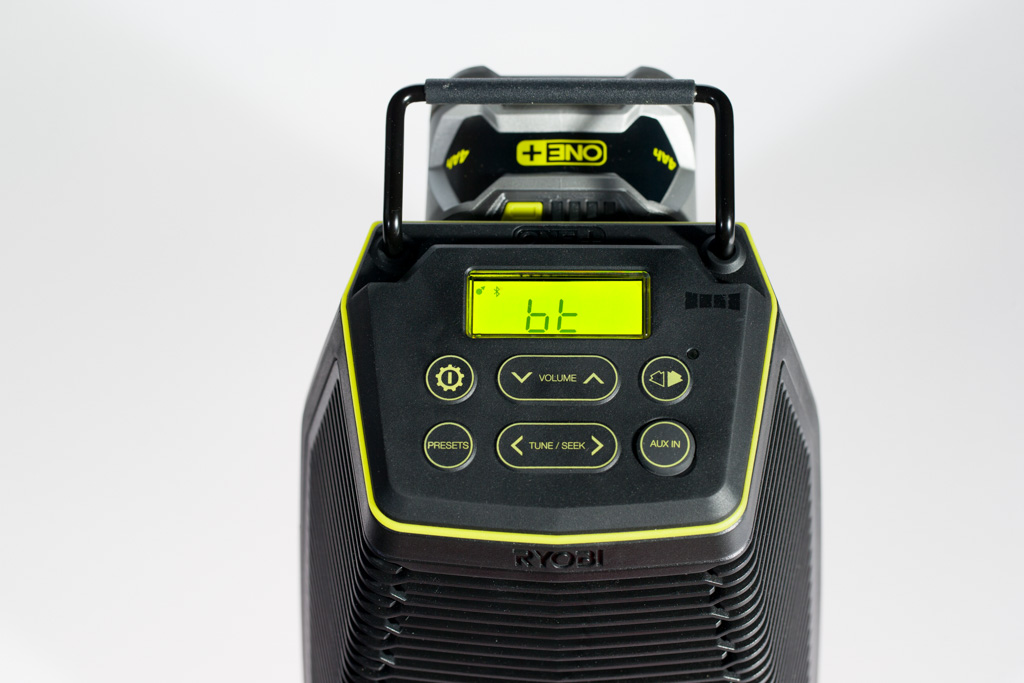 Finally, I turned on the Secondary speakers, noted the indicator light was yellow, and pressed the double-arrow button to pair them with the Primary, turning the indicator green.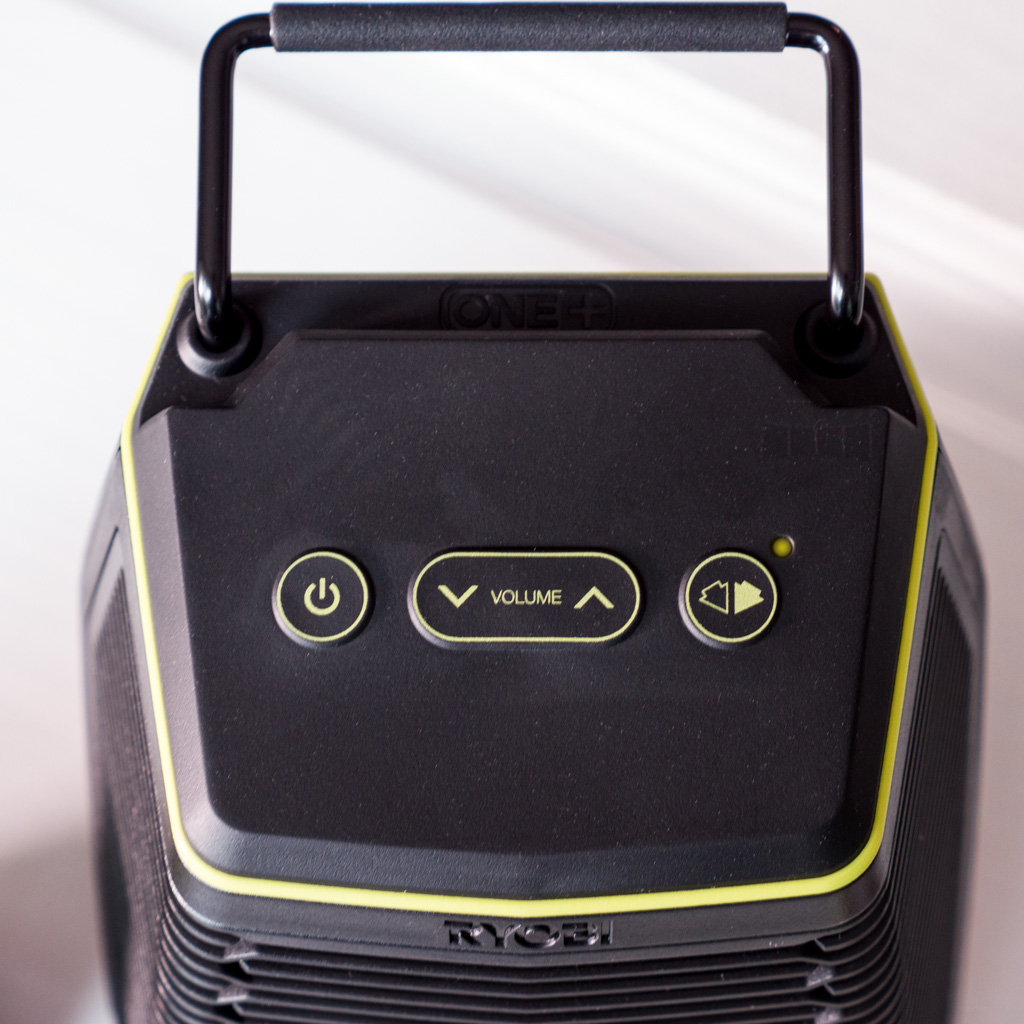 At this point I fired up a favorite song from an iTunes playlist and took the Ryobi Hybrid SCORE speakers for a test drive. I set the volume on each at 10 and used my iPhone's volume controls to modulate the sound. I was delightfully surprised at how loud and clear the output is on these. Check out the video I shot while adjusting the sound from my iPhone.
Do they match the dynamic range of my expensive Bluetooth Denon speaker? No, but their advantages outweigh that competitor. Beyond the rugged build, flexible power, and the ability to connect up to 5 speakers, the Primary speaker also offers options beyond Bluetooth: A touch of the Gear button cycles through Bluetooth, FM radio, Auxiliary, SKAA® modes. The last is Ryobi's technology for connecting speakers, and in this mode the Primary speaker can be used as a Secondary speaker, driven by another Primary.
In all, Ryobi Hybrid SCORE Primary and Secondary speakers offer a great complement to a worksite, whether or not other Ryobi One+ tools are used!