Ryobi's line-up of 18V tools has reached the "breathless" mark, with well over one hundred individual tools that all operate using Ryobi's 18V ONE+ battery system and more tools coming to market every quarter. No other tool company has made a bigger investment in innovative cordless products targeted at do-it-yourselfers than Ryobi.
This month, as a part of our ongoing #prospective partnership with The Home Depot, we're taking a look at the iconic neon green tool maker's new 18V Cordless Shop Sweeper aptly named the "DEVOUR".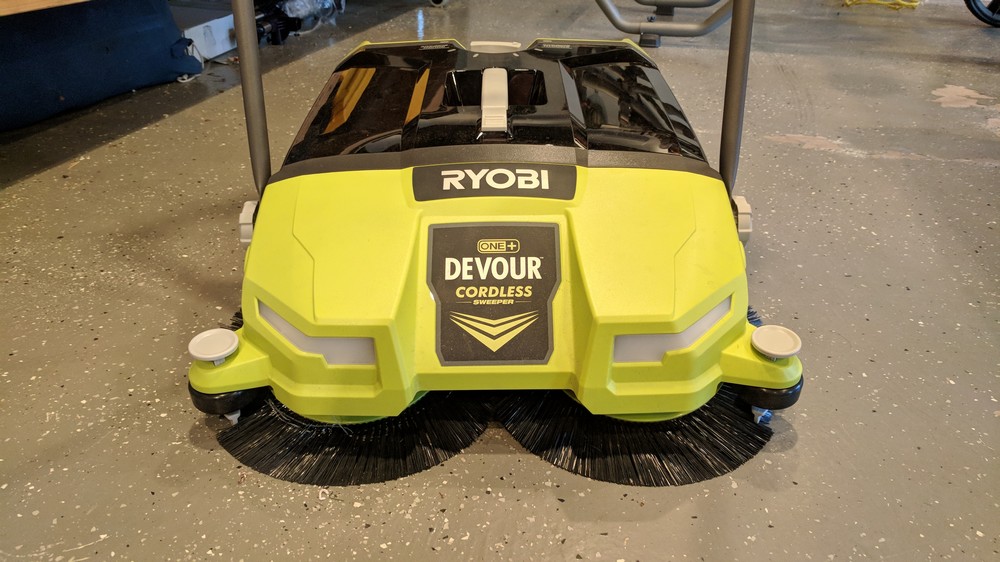 Stuff Lawyers Made Us Say: We're partnering with The Home Depot to provide candid reviews of tools from a wide variety of manufacturers. The Home Depot is both providing the tools for free and compensating us; however, the opinions we express here are our own. Remember, we'll always be up-front with you when we're receiving a free product, compensation, or both. And of course, we always strive for objectivity in our reviews.
What Exactly is a Cordless Shop Sweeper?
As far as we know, Ryobi is the first company to come to market with a tool like the DEVOUR. Essentially it's a sort of vacuum replacement that sweeps up small to mid-size debris (including saw dust, small pieces of wood, and even nuts and screws) off of your shop or garage floor after you're done working. The DEVOUR works by using two spinning bristle brushes that sweep the floor and usher debris up into a large container that can be easily lifted out and emptied when you're done sweeping. Unlike a traditional vacuum, the DEVOUR doesn't use air pressure or air movement to draw in debris. It relies only on the brushes and the plastic channel on the bottom of the device to draw debris into the unit.
What's in the Box?
The DEVOUR ships almost fully assembled. The only extra pieces in the box are the instructions and the handle assembly. Total assembly time is less than 3 minutes. If you've already got a Ryobi battery charged, you'll be up and running 30 seconds after you get the handle installed. We wish all tools could be this easy.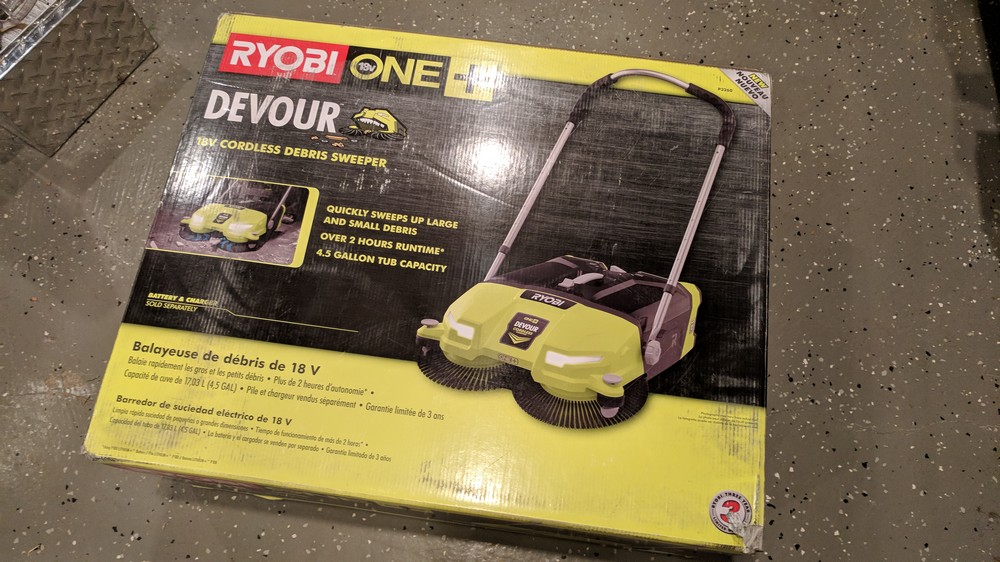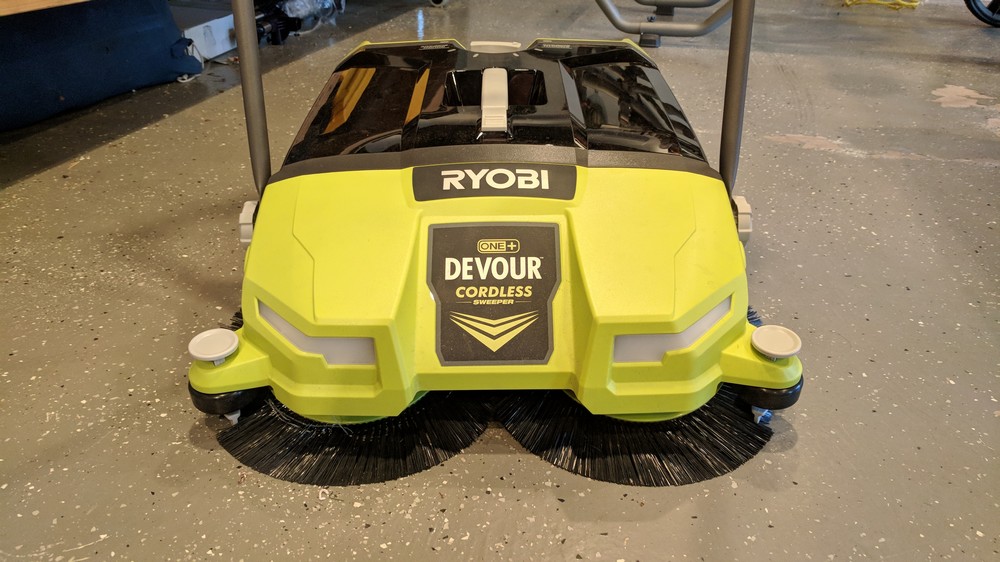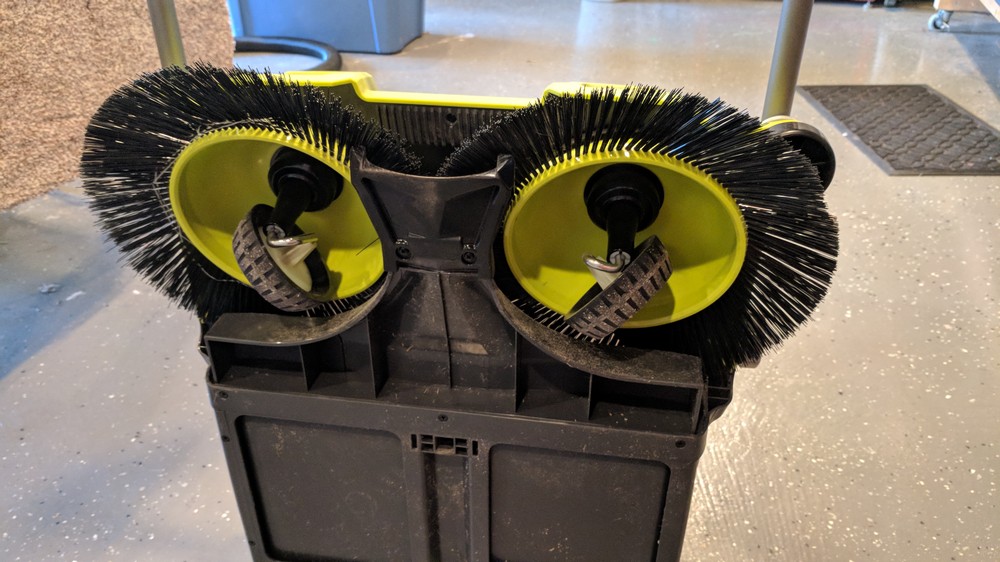 How Does the Ryobi DEVOUR Perform?
In short, pretty well. Our shop was quite messy when we pulled the DEVOUR out of the box. It easily swept up the majority of the leaves, saw dust, and other small debris that was scattered about on our floor. With that said, we noticed two things to keep in mind: first, the DEVOUR works better at drawing in material in the center of the unit (where the brushes are sweeping inward) and can have a tendency to kick dust away on the outer edges of the unit, and second, you're always going to have a ratio of about 95% swept in and 5% kicked out when going over debris, less you are right against a wall.
The advantage of the DEVOUR over a more traditional vacuum is it's speed, width, and ease of emptying. The DEVOUR is not designed to pick up every small bit of sawdust on the floor. Instead it's designed to sweep the floor mostly clean, similar to what you would get if you were brush sweeping yourself. The large debris container is bigger than what you're going to see on many small shop vacuums, and there's no filter to change out.
Design Features Worth Mentioning
1. Folds Flat & Stands Up for Easy Storage – One of the drawbacks of a large tool like this is the shop floor space is might consume. We were pleased that Ryobi thought of this and made the DEVOUR so it can stand up vertically in a corner, or fold flat and be stored underneath your workbench.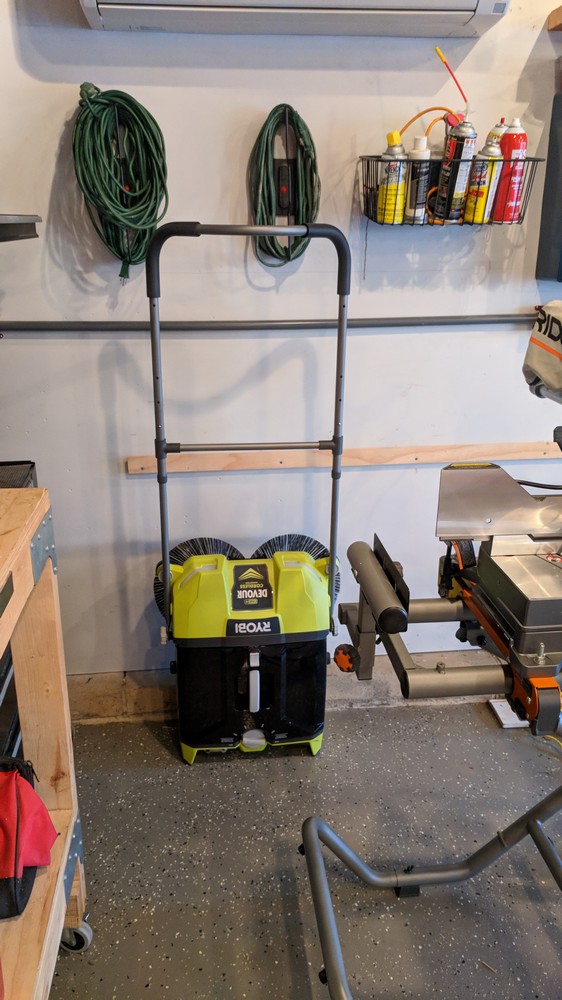 2. Kick Start On/Off Button – Starting and stopping the DEVOUR is as easy as (gently) kicking the large backside on/off button. No need to bend over!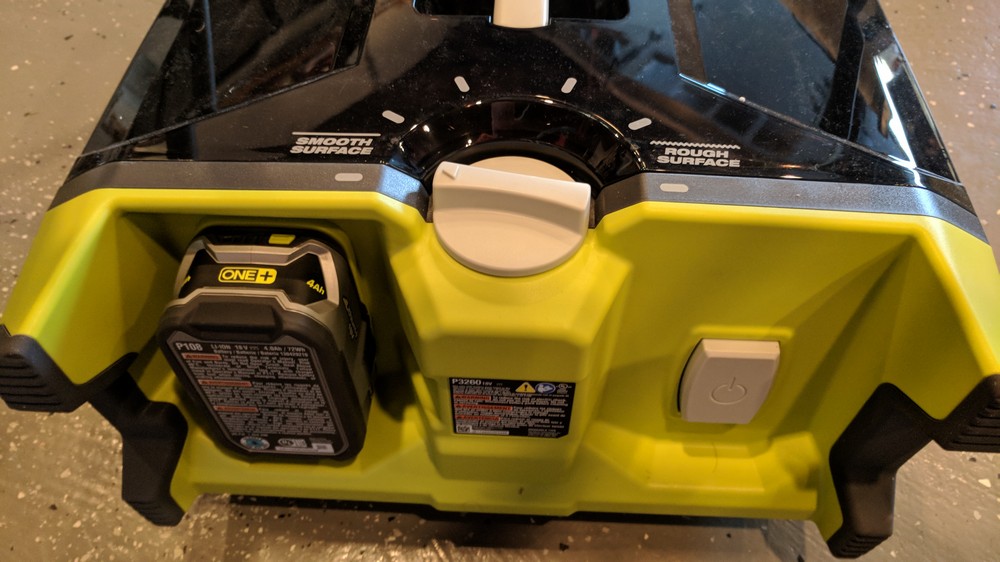 3. Easy Lift-Out Debris Container – It's super simple to empty the DEVOUR after sweeping.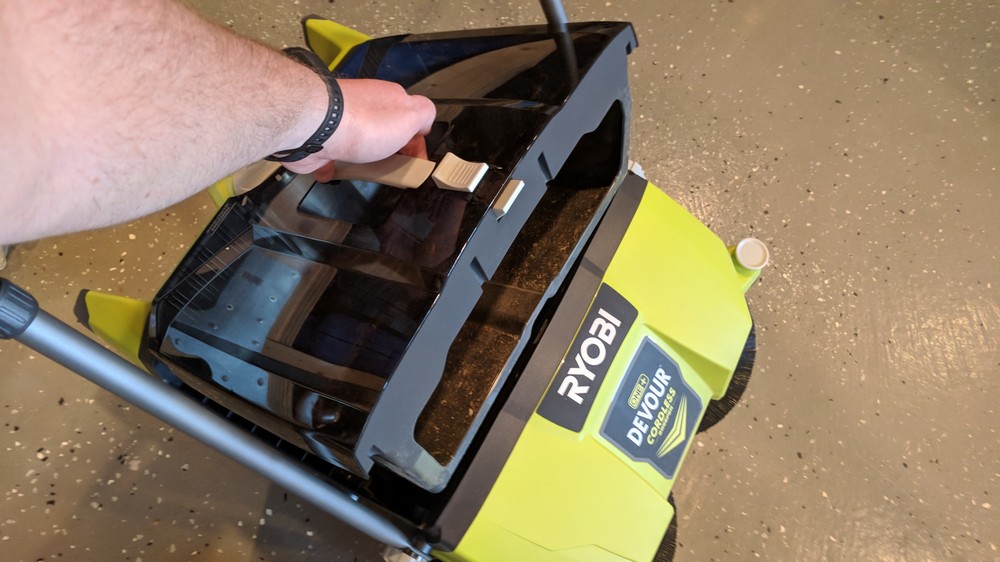 4. Brushes on the Front Edge Make Cleaning Under / Next-To Objects Easier.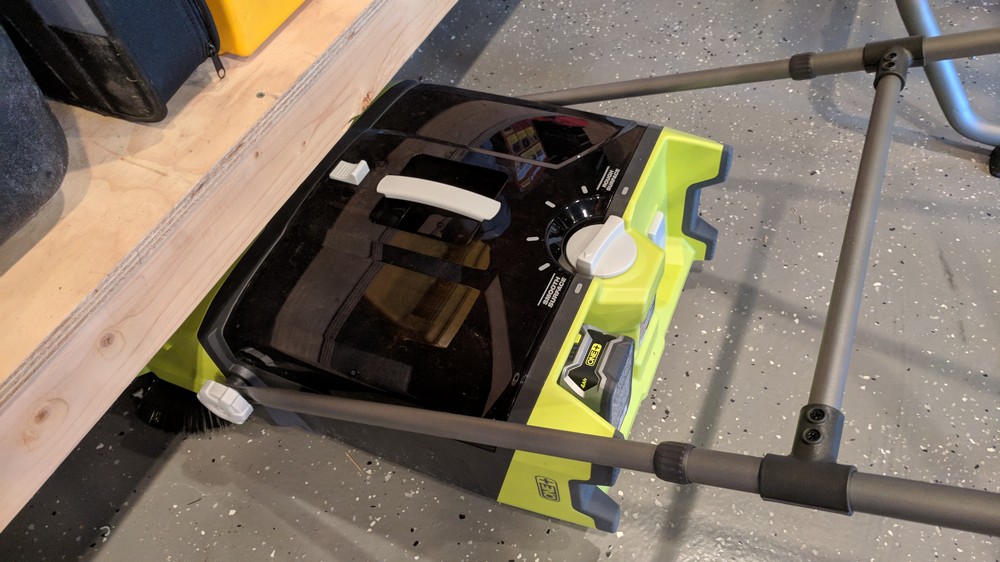 Who is This Tool Right For?
We think folks who don't have access to a full dust management system or find themselves frequently sweeping up their shop floor are ideal candidates for this tool. It especially helps if you're already invested in Ryobi's 18V One+ Line, since this is a bare tool (i.e., no battery or charger included). If you're not invested in Ryobi's One+ line, you probably should be. We love the huge variety of tools Ryobi offers on the line and the innovation they keep bringing.
Price & Where to Buy
The DEVOUR is priced at $139 and available at The Home Depot at this link – Ryobi One+ DEVOUR Floor Sweeper.