This review originally appeared on our tool review site, Toolbox One.
Ryobi continues to advance the ONE+ tool lineup with the recent addition of the P601 palm router. This trim router is a great option for projects where you don't need the power of a full-sized router, and that makes this cordless option even more appealing. We found the P601 ideal for creating eased edges, dadoes, door hinge mortising and more. Read on for a full review of the Ryobi P601 palm router.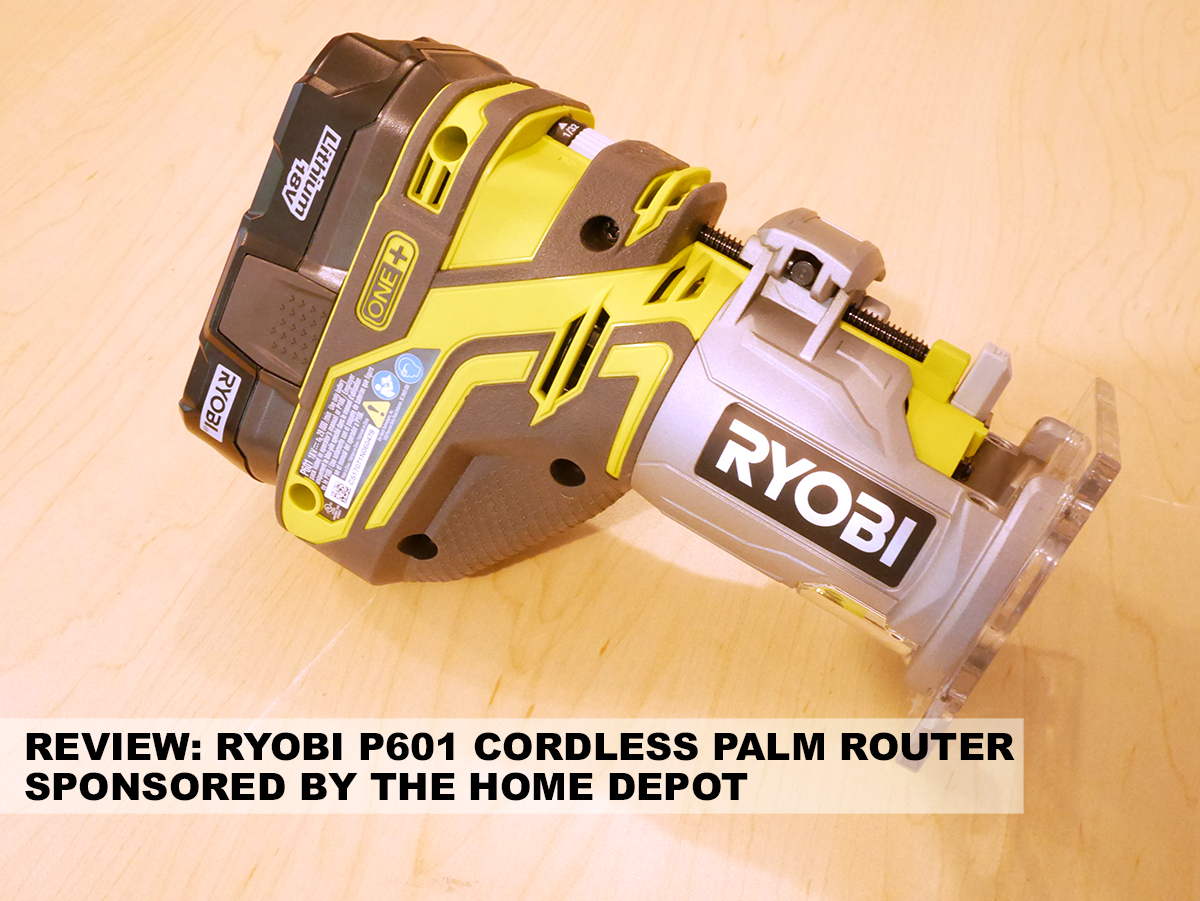 First Impressions
The box contains the P601 bare tool (no battery), collet wrench and manual. The clear, square sub-base is factory installed, and you can be up and running very quickly. A Ryobi 18v ONE+ battery snaps on top and gives a nice balance to the router. The On/Off switch is conveniently placed and readily visible, and the base is standard die-cast aluminum. The GRIPZONE over mold wasn't very helpful as we tend to grasp the base for better control. The collet accepts 1/4″ shank router bits. If you're looking for accessories, you can purchase a circular sub-base and edge-guide separately.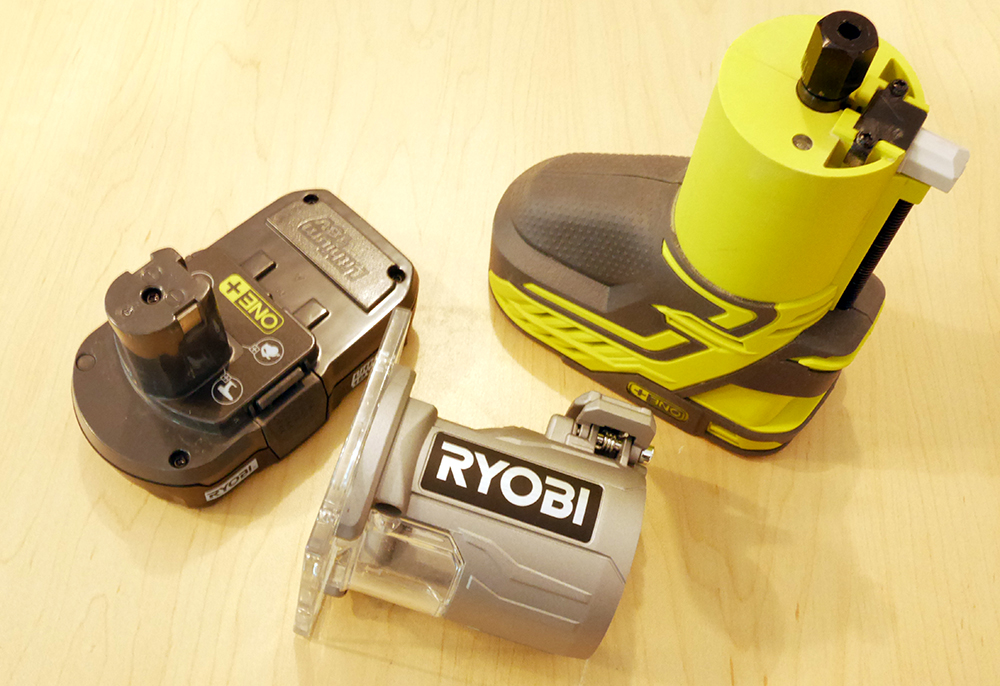 Power and Runtime
Ryobi boasts an impressive 600 linear feet per charge, and most applications won't come anywhere near that. Remember, the P601 is for specific work like a cutting a chamfered edge or decorative flutes, or trimming veneer. This router is more than powerful enough for those types of projects.
The P601 is a fixed-speed router that maxes out at 29,000 RPM (no-load). Not having a speed adjustment can make avoiding burn marks more of a challenge. Wood species, moisture level and depth of cut all come into play. Usually you can compensate by controlling how fast you cut your workpiece, and we recommend cutting a piece of scrap first.

Depth Adjustments
Making a depth adjustment is straight-forward. First, pull the quick release lever. Use the micro depth adjustment knob for small changes and depress the motor release lever to quickly slide the entire base. If you press the spindle lock, you can remove the base from the motor entirely.
Visibility
An important consideration for any router is how well you can see your workpiece. We really like the integrated LED light right by the collet. This is a great feature that more and more manufacturers are starting to include.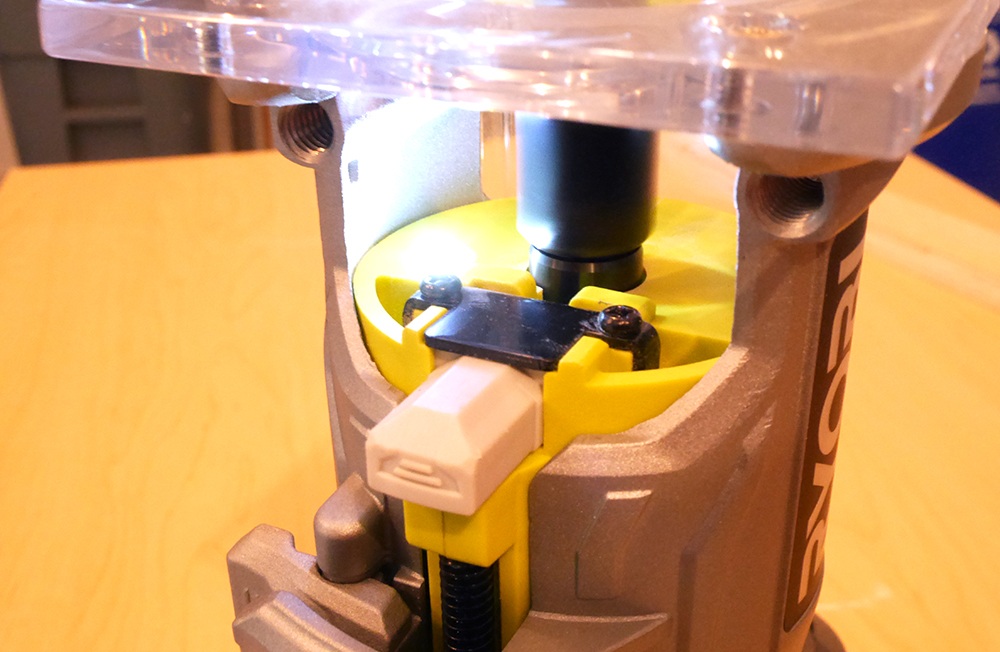 Pricing and Where to Buy
The Ryobi ONE+ trim router cost $69 for the bare tool. This is amazing considering comparable options cost $100+, and if you've already bought into the ONE+ 18v battery line, this trim router is a welcome addition. Ryboi gives you a lotta tool at a great price. Buy it from The Home Depot at the link below.

Ryobi P601 Router Specs
Model: P601
Battery: 18V (sold separately)
Light: LED
Collet Size: 1/4 in.
Speed: 29,000 RPM (No-Load Speed)
Weight: 2.8 lbs. (No battery)
3-year limited manufacturer warranty