Second up in our series of reviews on Skil's latest 18V Lithium Ion Cordless tool set is the Skil 18V Circular Saw.  Skil's latest offering in the handheld circular saw market still bears the name of its 80 year-old predecessor: SKILSAW. According to Wikipedia, The first portable worm-drive cicular saw was invented by the Michel Electric Handsaw Company in 1924.  The company later renamed itself SkilSaw, Inc.  Later still the company changed its name to Skil, and it is now a subsidiary of Bosch.  (That's right — Skil products are actually made by Robert Bosch, GmbH.)
So how does the latest SkilSaw fair?  Pretty well, although we'll have to admit it isn't a suitable replacement for a corded circular saw.  It does sport the convenience of battery-powered operation, and for that it gets big kudos.  Keep reading for our take on the latest in this lineage of titans.
Cordless 18V Lithium Ion SKILSAW Review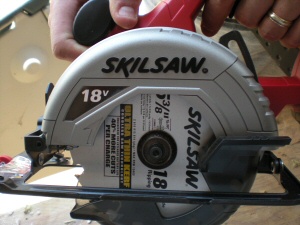 Portability is King
Like all of Skil's other 18V products, the Lithium Ion SKILSAW really shines when you need to use it in a place where electricity is a scarce commodity or would otherwise be a hassle to setup. The SKILSAW is great for quick cuts where the circular saw isn't the focal point of the job. Need to quickly cross-cut a few boards for shelves? The saw will work just fine, and save you a little hassle in the process.
Plenty of Power, Of Only for a Few Minutes
On standard pine (our test wood of choice), the SKILSAW performed just as well as our corded models through 2x4s and 2x10s (our two test pieces of choice). SKIL claims the saw can cross cut up to 50 2x4s on a single charge, and we think that's a pretty reasonable estimate. On larger jobs where you'll be cutting a substantial amount of wood (perhaps including plywoods), you'll want to invest in a corded model as well.
Blade Changes are Simple
Blades changes are made simple by a spindle lock system that speeds the process. All the other components that can be moved are controlled by wingnut-style pieces that tighten and loosen the various axes on which the saw rotates.
Grip Feel is Good
The SKILSAW is easy to grip and easy to control.  The grip is at a slightly higher angle than most other saws we've used.  We were originally skeptical but later found this to be a fine working angle that maximizes visibility and is probably more ergonomically correct than the other versions.
The Final Word
All in all, we're happy enough with the SKILSAW to part with a competitor's 18V NiCD version we'd been housing for several years.  Given that the cordless circular saw adds only a small cost to the 2-piece package and you get a second battery, we think picking it up along with the drill driver makes good sense.
Father's Day Is Coming!
Just like I said in the drill driver review, if the Skil 4-piece kit ended up being my Father's day gift this year, you'd hear no complaints (and you'd get a big smile!)  If you haven't picked up something for your Dad, Granddad, or Hubby yet, the Skil is worth a look.
What do you think? Do you own a SKILSAW? Weigh in with your own experience.