SKIL recently powered up their handheld tools collection with a new set of four new 18-volt cordless lithium ion tools.  To help get the word out, they sponsored our May giveaway, and they let us test drive the complete set which includes a drill/driver, reciprocating saw, circular saw, and a flashlight.
This four tool kit provides the basic power tools needed for many popular DIY projects at a great price, with the convenience of portability, lithium-ion power, and fast battery recharge times.
Up first for our review is the most common and essential cordless power tool in every DIYer's tool box: the cordless drill/driver.  Read on for what we liked most about SKIL's offering in this competitive tool class.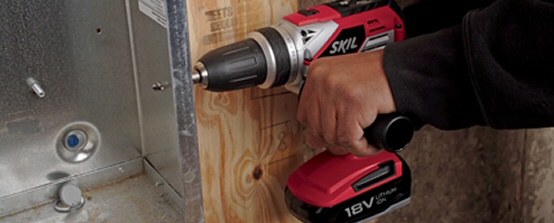 SKIL Drill Driver Review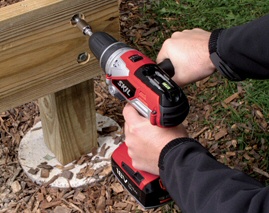 We put SKIL's 18V drill driver through several days of DIY work.  Overall, we really like the drill.  Here's the features we liked most:
It's Lightweight, Especially Considering the Power
We've been using a competitor brand's NiCd-based 18V drill/driver for the last 6 years.  One of the biggest drawbacks of that model is it's weight and balance.  It's very heavy, and requires extra work to hold steady.  SKIL's 18V Li-ion batteries are half the weight of typical NiCd versions. Not only does this reduce overall weight, it provides better balance.  For instance, when driving a screw straight down into a board, you want the bulk of the weight over the screw, not hanging off the back of the driver (and thus pulling the driver at an angle).
18V of Lithium-Ion Power Was More Than Enough
The SKIL driver boasts 400 in. lbs. of torque served up by an all metal geartrain.  We had no trouble driving 2.5-inch #10 exterior galvanized screws through 2.5 inches of pressure treated wood without pre-drilling.  The drill features a two-speed gearbox (high torque, for driving; high speed, for drilling) coupled to a variable-speed motor.  The speed of the motor adjusts with the pressure on the trigger.  Motor acceleration is even across the full range of the trigger pull, making it easy to control the speed of the drill with no jerky starts and stops.
1/2″ Keyless Chuck, 20+1 Clutch, and a Side Handle
We especially liked that SKIL incorporated a 1/2″ keyless chuck (as opposed to the typical 3/8″ chuck found on most cordless drills).  The larger chuck enables use of larger drill bits, and would allow the drill to be used for other applications, like mixing.  The 20+1 position clutch gives the ability to precisely regulate power delivery to avoid over-driving screws, making it suitable for almost every material.
The drill also features a side handle, which is good when you need to add a little extra pressure (when driving screws), or steady your hand (when driving spade bits, for instance).  We did find that if the side handle was a little loose, it could slip when applying pressure.  Keeping the handle tight abated this problem.
Fast Recharge Times & Longer Battery Shelf Life
The SKIL's Li-ion batteries recharge to full strength in under an hour.  SKIL claims the batteries hold a charge between uses as much as 4 times longer than similar NiCd models (we weren't able to verify that claim).
A Great Price (and a Great Father's Day Gift, too!)
At $244, the SKIL combo kit is more than $100 cheaper than most competitors' 18V Li-Ion offering.  That alone would be reason enough for us to consider SKIL's product if we were window shopping at the local big box store.
Where to Buy Skil 18V Li-Ion Tools
If you're in the market for a four tool combo kit, the SKIL set makes a compelling case to be your tool set of choice.  The SKIL combo kit costs only $244.00 for all four tools, plus two Li-ion batteries, and a carrying case (not shown above). This is about $100 cheaper than most competitors' offerings.
SKIL products are available at a variety of home improvement stores and sites and are being featured at Lowes.  Here's the relevant links if you decide to buy online:
Skil 4-Piece Combo Kit
Skil Drill/Driver Only:
Remember, Father's Day is just around the corner, and we think Dad's would love to get this as a reward for all their hard work this year!
What do you think? Do you own the SKIL 18V combo kit?  Let us know about your experience in the comments.