Another Thanksgiving has past. I'm a little sad it's over because it was filled with so many good memories, laughs with the family, and of course, yummy food. In our family, holidays aren't usually just one day, but the holiday itself and all the days around it. lol. More like the 12 days of Thanksgiving…okay, maybe not THAT many.
We started with the evening before Thanksgiving celebrating with Fred and Kim and their family. Then, we hosted a mid-day meal at our house on Thanksgiving. Friday, we went to Ethan's sister's house, and finally celebrated for a second time on Saturday with my family! Phew! On Sunday…we slept! haha (well, actually we went to church then watched football, but you get the idea).
Prior to the day, as most women in America, I spent a lot of time planning, prepping, and decorating, some of which I shared on the site.
My favorite decoration was my gold, glittered pine cones that I used for place card holders. They were super cute and even prettier because of my grandmother's beautiful china.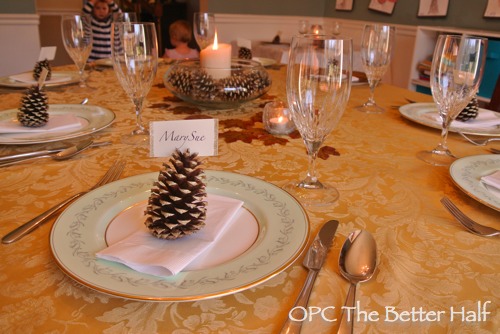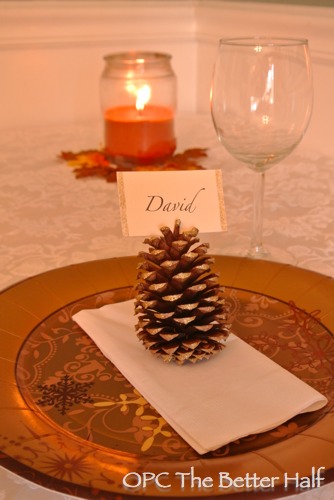 I also used the pine cones for a centerpiece, along with candles and cheapo glittery leaves from Walmart.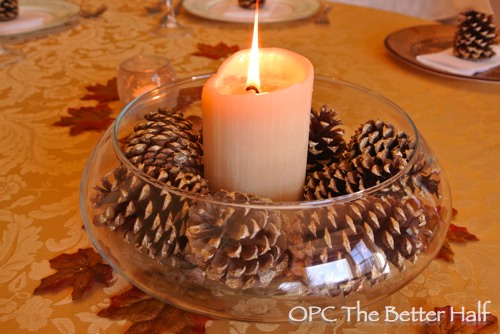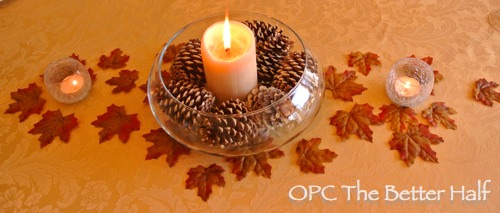 The other big piece of the decor was my fall mantle and Thankful tree. I was shocked my pumpkin lasted until Thanksgiving, but when I threw it away this morning, it still had not rotted! WIN!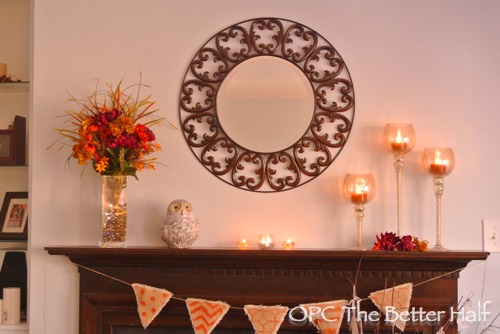 While not decor, the most time-consuming and yummy aspect was the Turkey. With the consultation of my very talented friend, Chris, I brined the turkey the day before using Alton Brown's recipe and roasted it the morning of. I cooked it for 2.5 hours, thinking that would be the minimum time needed since I had such a large turkey, but I wish I had checked it earlier because it could have been more moist.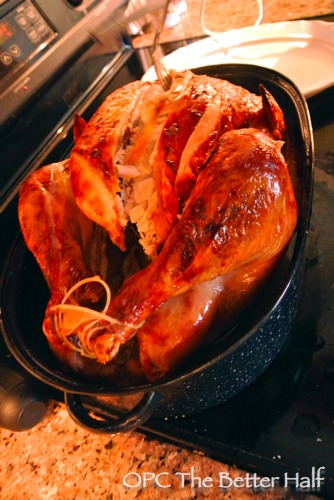 And here's Ethan doing the honors!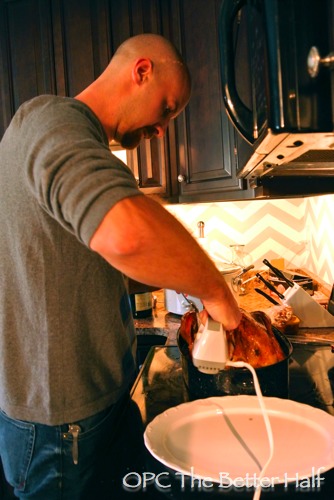 The turkey was really delicious and we all went into turkey coma afterwards…Dad especially! haha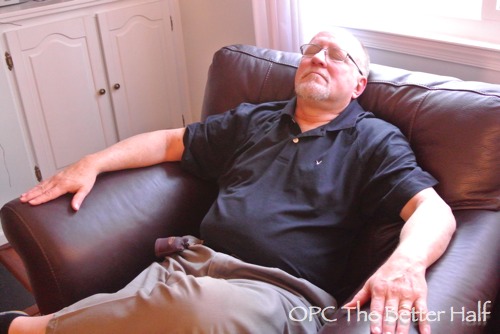 In addition to the main course food, I also prepared a few appetizers for people to munch on before dinner. I made this cute cheese and grape skewer turkey using a large yellow squash for the body and a potato for the head. The skewers were kinda hard to get into the squash – we joked that we should have had Ethan pre-drill some holes. lol.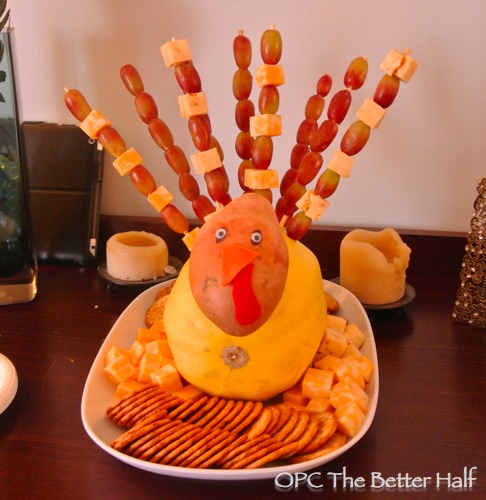 I also cut up some Granny Smith apples and laid out a caramel apple bar with chopped peanuts, chocolate chips, and jimmies.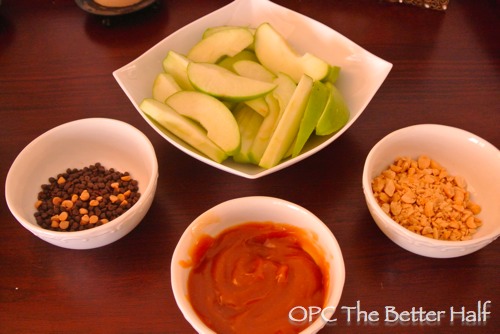 For fourth Thanksgiving on Saturday, my sister brought apple pie shots for the adults. OMG, they were soooo good and you couldn't even taste the alcohol. She also made a kid version, don't worry my niece is not doing alcoholic shots!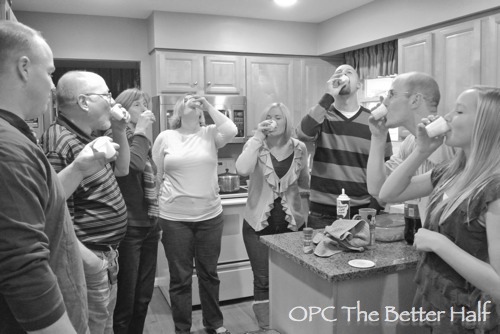 Later when we all went outside to watch the kids play, we warmed up some in mugs and sipped it. It may have been even better warmed, if that's possible.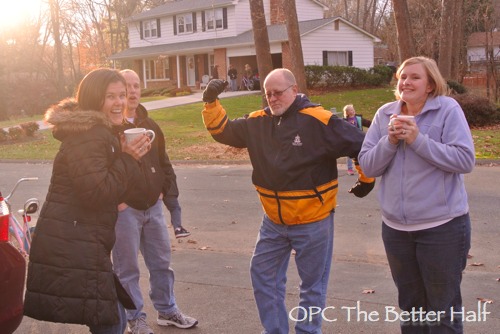 The food, drinks, and decor were wonderful the family really made the holiday! I love that I have a family filled with loving, kind, and funny people. I am so thankful for them.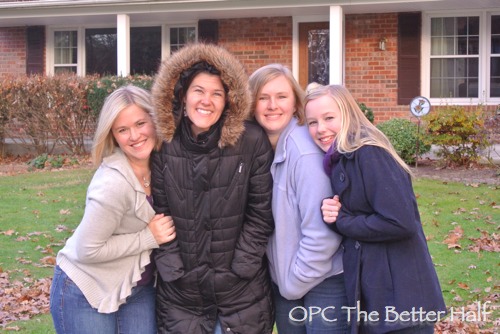 So even though Thanksgiving is over, I am glad to have Christmas to look forward to – not for the gifts, but for more family time!
What are you thankful for? What was the best part of your Thanksgiving?
As Always, thanks for reading!