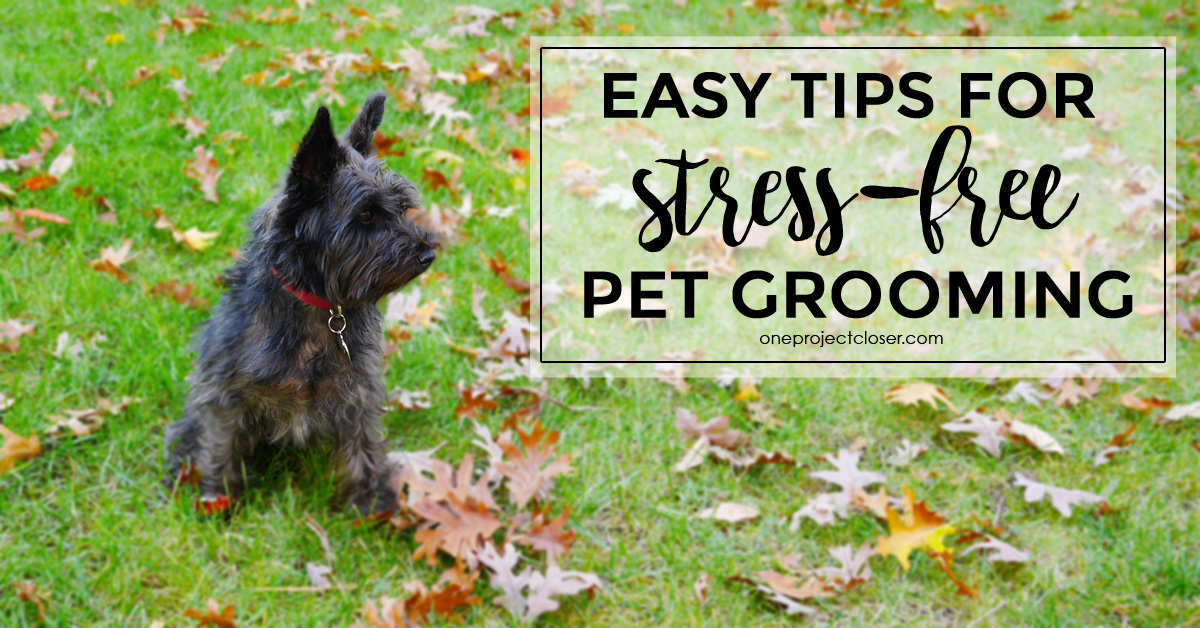 Thank you for tuning in to One Project Closer for these Amazing Tips for Stress-Free Pet Grooming! We hope you find them helpful and stick around to see what else we've been doing here at One Project Closer. This post is sponsored by The Home Depot Prospective Campaign and may contain affiliate links. Posts like these help us keep giving you great content for free and 100% of thoughts and opinions are my own!
My mom loves dogs and has owned and fostered many dogs over the years. She's an amazing pet owner, but also super thrifty. I don't think she would ever consider paying to do something she could DIY. I guess that runs in the family. LOL She and my dad do a great job of grooming and let me hang out to steal some super helpful, stress-free tips for DIY pet grooming.
Cutting dog's nails can be traumatic for both the owner and the pet, but it doesn't have to be. Here are some tips to try before spending money on a professional groomer!
Trim Monthly
It's really important to not let the nails get too long, otherwise the quick (the part of the nail that bleeds) will also grow out with the nail. So if you wait too long between grooming the nails, you will end up hitting the quick in order to trim the nails as low as they should be.
Mom's Quick Tip: Write it on your calendar and plan for once a month!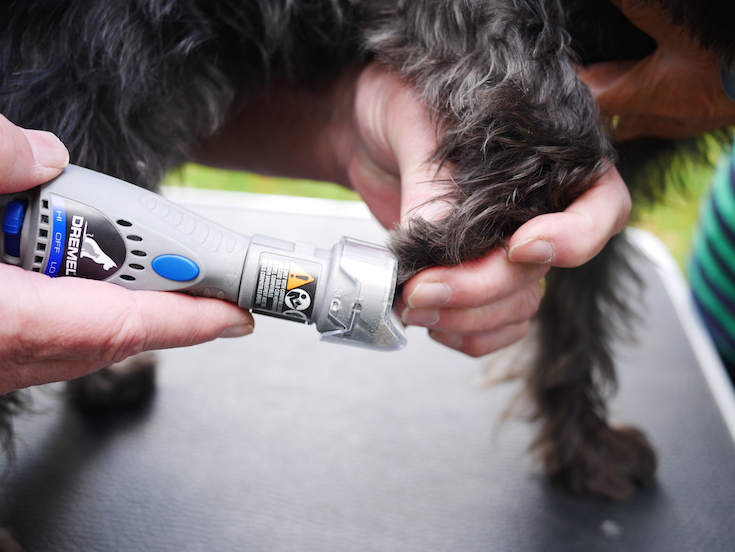 Trim the Fur, too!
Before getting started on the nails, trim the hair/fur around the nails. This is improve visibility and precision for you and prevent the fur from getting caught in the tool. A pair of hair scissors makes it quick and easy work.
Set the Scene
Dogs can be nervous and therefore avoidant of grooming, so it's important to provide structure and consistency (just like kids, right?). Grooming in the same spot and on a table lets the dog know it's time to be groomed and makes it difficult for them to escape if they are nervous. Grooming on a table also gives the groomer (that's you) a better angle for grooming, and keeps you from squatting on the floor or ground.
Mom's Quick Tip: Get a second person to help stabilize, distract and soothe the dog.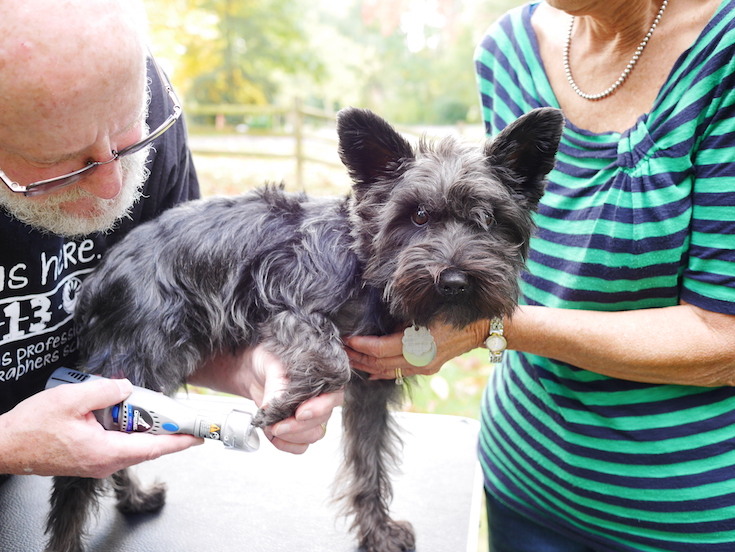 Use the Right Tools
Clippers are traumatic! It's a lot of guesswork on where to cut, especially black nails. The Dremel Pet Grooming Kit allows for trimming the nails, a bit at a time, without the trauma of clipping! It's a game changer!!!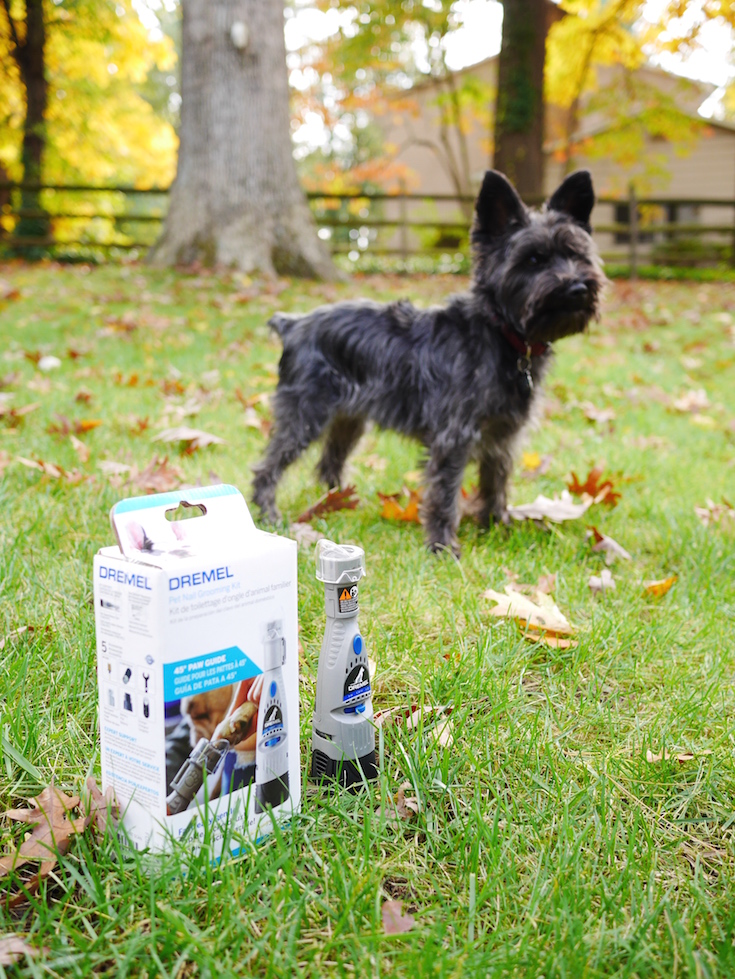 The Pet Grooming Kit ($39.99) is an awesome tool, just like all Dremel products. If you are familiar with Dremel, this will feel natural and like riding a bike. But regardless, it is not by any means a steep learning curve or hard to use. Where this pet grooming steps up with Dremel game is with the dust and paw guard. It keeps the paw from getting sanded, along with the nail. Also, it collects the nail dust (which, let's be honest, is pretty gross). So who wants to inhale that?
It's also battery operated, which doesn't seem like a big deal. But it allows you to groom in the yard without running extension cords and prevents you and the dog from getting wrapped up in the cord. YES!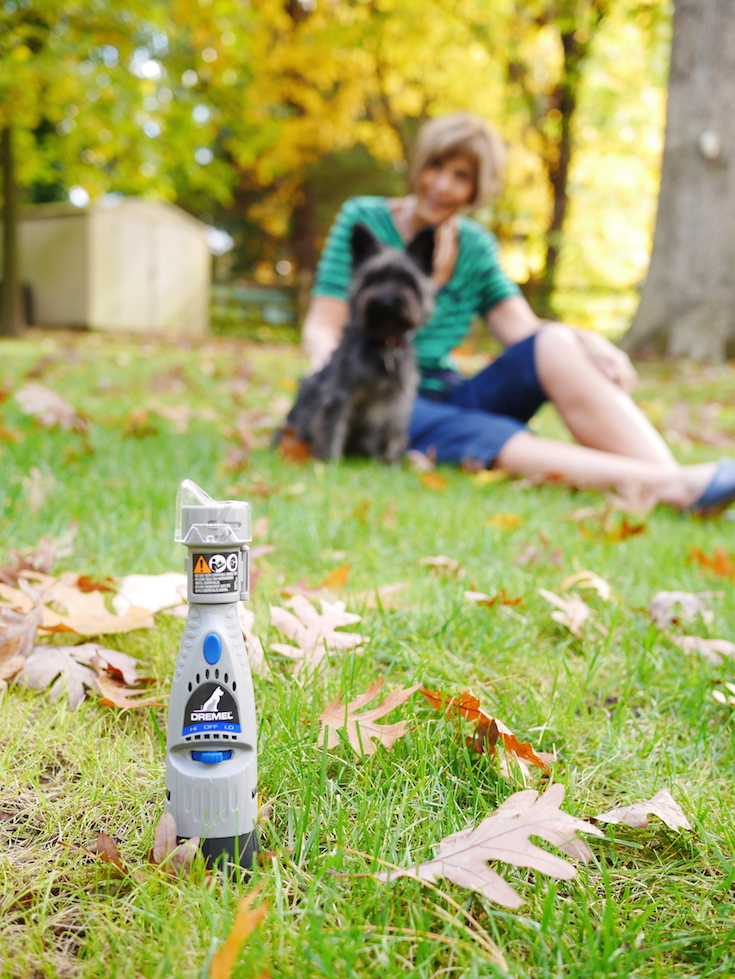 If you are new to using a Dremel to groom your dog, it may take some time for the dog to adjust. Mom recommends letting the dog sniff and investigate the tool while it is both off and on. Also, help your dog get used to having his paws touched and handled.
Dad's Favorite Features: Battery operated, easy to use, drama free, Dust Guard, Multiple Speeds
Like this post? Share it with your friends and save it for later. Pin now!