Over the last two years we have phased out almost all white flour and most of the processed foods that we so heavily relied on for daily staples. But its foods like these supper yummy whole wheat mini donuts, that make the switch easy. Honestly, my 4 and 6-year-old girls don't know that their food is so much healthier and feel like they get plenty of "treats." They are so delicious its hard to believe they are whole wheat. Plus, they make for a quick morning breakfast that you can pull out as needed from the freezer.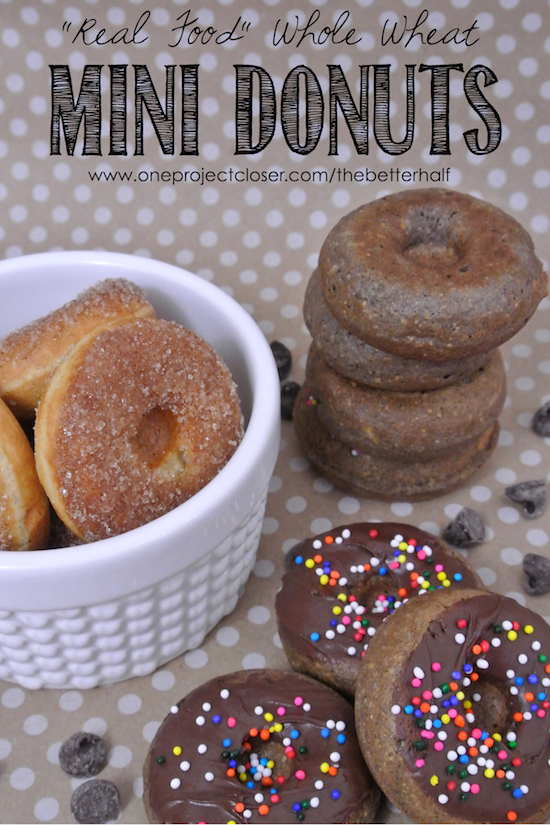 I love almost all recipes from 100 Days of Real Food, including her new cookbook (which you should go buy now!), and was eager to try out her recipe for donuts. Fortunately, my good friend, Gail lent me her mini donut maker and I was ready to go. I'm ashamed to say I made lots and lots of donuts the first couple days. We even packaged some up for our pediatrician.
At first, we just made plain donuts and added a few sprinkles (I know they aren't "real food" but sometimes its fun to have fancy food). Then I started to play with the recipe and make variations of my own. The girls favorite are the chocolate topped mini donuts with sprinkles. And I expected those to be my favorite too, but both Ethan and I really loved the cinnamon and sugar ones! But once you get the basic recipe down, the variations are endless.
The donuts have been a big hit with the kids and have broken up our morning breakfast rut of granola, yogurt, whole wheat toast, etc. I don't tend to buy cereal because its expensive and full of sugar, so the girls are always eager for a special treat. Now, while these are whole wheat, it doesn't mean we will have them every morning for breakfast. But they are great on the go and freeze wonderfully.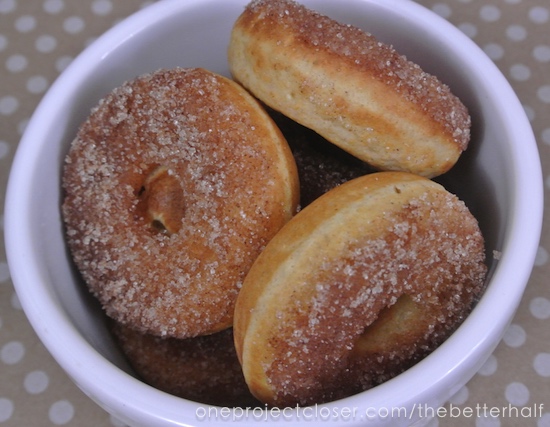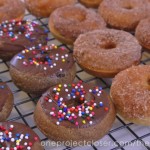 Whole Wheat Mini Donuts
2015-03-10 16:20:06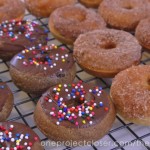 Super Yummy Whole Wheat Mini Donuts
Ingredients
1 - 1.5 cups Whole Wheat Flour
3 tsp Baking Powder
1 egg
1/2 cup Milk
1/3 cup Maple Syrup
1 tsp Vanilla
4 Tbsp Melted Butter
Instructions
Plug in mini donut machine to pre-heat.
Mix together dry ingredients. I mill my own flour, so I use closer to 1.5 cups but start with 1 cup and then add more at the end if needed. Create a hole in the center of the dry ingredients and add wet ingredients and mix with a spoon until just blended. Do not over mix. Batter should be thick, almost to the consistency of brownies. If too thin, add more flour.
Put batter in plastic ziploc bag, seal, and cut off one corner. Use bag to fill each donut pan in the maker halfway. Cook about 5 minutes or until donuts are golden brown in color. Remove carefully and place on cooling rack. ENJOY!
Chocolate
Add 3 Tbsp Unsweetened Cocoa (I like the special dark cocoa) to dry ingredients.
Melt 1/4 cup of chocolate chips, then after the donuts are just cool enough to handle, dip in face down, then flip face up to cool.
Berry
Add 1/4 c. berries (crushed) or 3 Tbsp of fruit preserves to batter.
Cinnamon Sugar
Add 1 tsp of cinnamon to dry ingredients, before mixing in wet.
Separately mix 1/4 cup sugar (I use raw sugar) with 1 tsp cinnamon. Melt 4 Tbsp of butter, then after the donuts are just cool enough to handle, dip in face down in butter then dip again in the cinnamon sugar. Flip back over and allow to cool.
Adapted from 100 Days of Real Food
One Project Closer https://www.oneprojectcloser.com/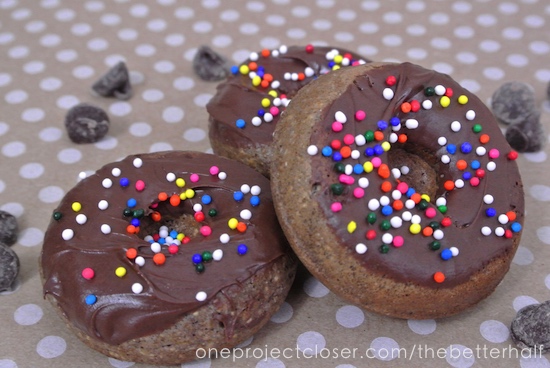 Got the donut fever and want to try some more recipes? Check out these from some of my bloggy buds:
What do you think? What should I make for my next variation of this delicious whole wheat mini donuts?
As always, thanks for reading!