If you're like me and you like to work hard, you're no stranger to aches and pains that leave you feeling like an old-timer. In fact, most people assume I'm older than I really am. (If you jump to the end of the post, I'll share my real age.)
Anyway, every now and then I'll do something foolhardy that you'd expect from some kid who thinks he's young and invincible (like eat a raw onion on a dare). I had one of those moments when I was asked to test "Liquid Nails Heavy Duty Construction Adhesive's exceptional holding power."
Here's when I warn everyone not to try this at home.
According to Liquid Nails, their Heavy Duty Construction Adhesive (LN-901/LNP-901) is formulated to fill gaps and provide exceptional holding power. It creates a waterproof and weatherproof bond for even the heaviest materials.
That sounds great, but I wanted to really put Liquid Nails to the test. Their website lists recommended applications like countertops, brick veneer, treated lumber and most common building materials (concrete, lumber, etc.).
It does not list hanging people upside-down.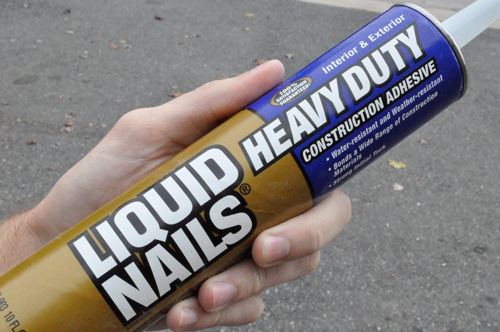 To test Liquid Nails exceptional holding power, I devised a plan to glue a pair of shoes to floor joists and then see if I could dangle from them. I grabbed an old pair of shoes and made some plywood inserts. I screwed the shoes to a pair of 2 x 4's and used Liquid Nails Construction Adhesive to glue the 2 x 4's to some floor joists.
I gave the Liquid Nails over seven days to reach full cure, and then I made this video.
I glued the boards and put in a couple screws to hold them in place while it cured. When Fred backs those screws out, all that's holding me up is the Liquid Nails adhesive. I really felt like I could hang there for hours if it weren't for the fact that I was slipping out of my sneakers. Next time I'll use high-tops.
Liquid Nails offers a 100% satisfaction guarantee on their product. I doubt my little stunt would be covered. Even so, I'm a happy customer. Oh, and I'm 28 years old.
Disclosure Language:
Liquid Nails partnered with bloggers such as me to make a short video showing a creative use of Liquid Nails. As part of that program, I received compensation. They did not tell me what to say about their products or how to demonstrate Liquid Nails Construction Adhesive. Liquid Nails believe that consumers and bloggers are free to form their own opinions and share them in their own words. Liquid Nails policies align with WOMMA Ethics Code, FTC guidelines and social media engagement recommendations.