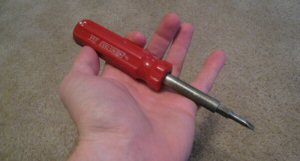 Traditional manual screwdrivers aren't the sexiest of home improvement tools, but they are essential… A good screwdriver can speed along simple and complex home improvement projects alike. While there's a myriad of combination screwdriver options on the market competing for your hard-earned cash, there's one version of this tool that we think every home improver ought to own: the 6-in-1 combination screwdriver. There's a number of manufacturers who make this tool or one very similar to it (some versions are only 4-in-1). If we had to own just one screwdriver, this one would be it.
So what makes this combination screwdriver so special?
It includes the 4 most common head sizes (2 phillips, 2 flat), covering 98% of all fastening jobs.
Doubles as a nut driver for the 2 most common nut sizes.
Sports

extremely

fast changeover times, especially from flat-head to phillips-head, without sorting through bits that fall on the floor or easily get lost.
Self-stores all the pieces inside an easy-grip frame.
How the 6-in-1 Screwdriver Works
Take a look at how this screwdriver is built..



With little effort, you can change from phillips to flat head in just 3 seconds. Even the most complex change which involves turning the shaft and an individual bit takes about 6 seconds. Try to get those times with screwdrivers that come with separate bits… especially those with a screw-top handle where the bits are stored.  This 6-in-1 model is a big improvement that eliminates sorting through bits.
Where to Buy?
Just about every home improvement store offers a version of this tool… You can find them at Lowes, Home Depot, and online at Amazon.
What do you think? Do you have a favorite screwdriver or other combination tool? Let us know so we can highlight it here!