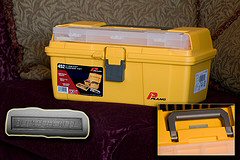 Keeping hand tools organized and accessible on the go is tough. The lionshare of portable toolboxes on the market come with a deep bottom storage bin and one or two removable shelves (like the one shown at the right). These solutions aren't bad per se, but we find that they're better for hauling power tools and associated accessories rather than a host of hand tools.
In larger traditional boxes, the bottom storage area becomes a well for all the hand tools that don't easily fit in the trays. And the trays… well, they're usually divided in less-than-helpful ways. You have to remove one or both of them to get to the tools on the bottom, and you can't quickly assess the contents of an opaque box when you're rushing to the next job.
Of course, not all tool boxes suffer from these drawbacks. There are side-drawer toolboxes, and those with organizational inserts, but we think for many jobs there's a better choice altogether.
The Tool Tote Alternative
The better choice: a tool tote, like this Sears Craftsman Tool Tote we recently picked up. It's designed with plumbers, electricians, and carpenters in mind, but it also works great for everyday DIY use. This tote sports tool storage all the way around the perimeter on both the interior and exterior of the tote. It has a confidence-inspiring aluminum handle wrapped with a comfort grip.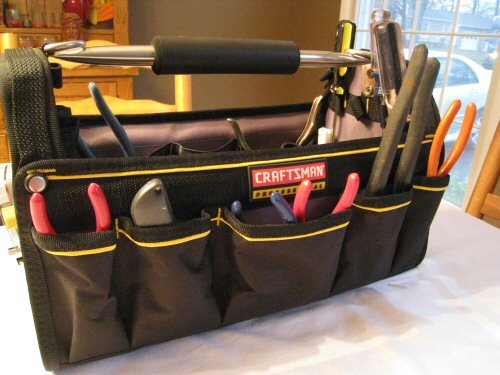 What makes a tool tote so much better than a toolbox? Here's a few ideas…
Hand tools are stored handle-up for easy access.
Tools are stored in holders on the inside and outside of the box (on most totes), making optimum use of the space.
Center bin remains accessible without clumsy shelves.
Open-top totes enable easy assessment of tool contents without opening anything.
Most are available in a variety of sizes, just like tool boxes.
So what're the drawbacks? High quality totes tend to cost a little more than plastic tool boxes; open-top totes aren't weatherproof; and totes usually don't lock. But, even with these drawbacks, we think tool totes make a lot of sense for the occasional DIYer or serious weekend warrior, especially if you're drawing and returning tools to a large work shop tool box.
Where to Find Tool Totes?
All the major home improvement and tool stores offer totes in various shapes and sizes (including ones that will fit over a standard 5-gallon bucket). You can find a healthy selection online too. Amazon offers hundreds of tool totes at prices ranging from $20-$60. You can also browse around Home Depot, Lowes, and any other home improvement retailer to find their full selections.
What do you think? How do you move your tools around?
(photo credit for first photo: ocean yamaha)