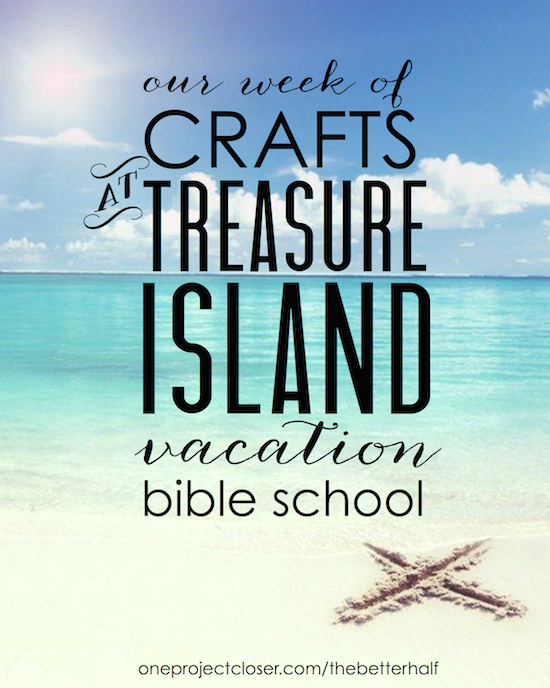 I know you haven't heard much from me this summer. Its been busy – starting out the summer with our Florida vacation, then coming home to start planning Treasure Island VBS crafts! (plus a lot hanging at the pool and sleepovers with the cousins)
This was my third, maybe 4th (I can't remember), year leading crafts for our church and each year it seems to be more and more fun. Some of that is probably because I have more practice and that helps things run a little more smoothly. But this year was maybe the most special for our family because it was the first year Izzie was able to attend VBS!
While I only got to see her during crafts, it was wonderful seeing her joy and excitement over learning Bible verses, songs and stories about Jesus, plus some great games and snacks along the way.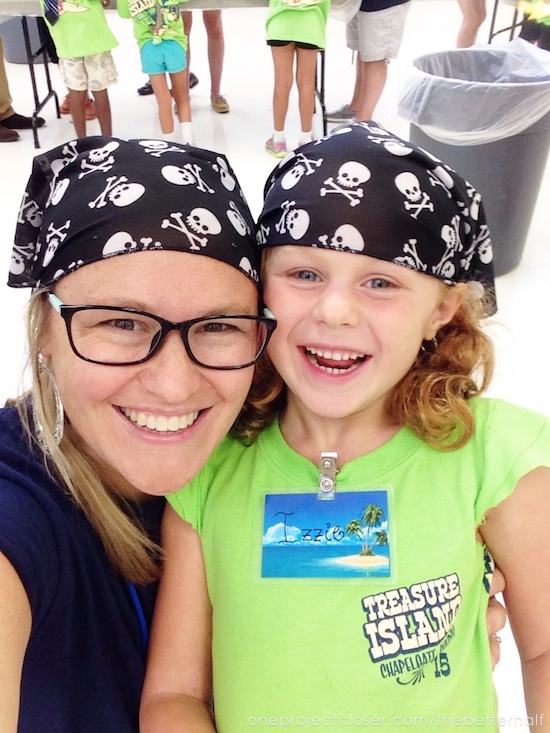 Our church goes all out for VBS, mainly because we live in a suburb of Baltimore where lots of families look for summer camps because both parents work. Chapelgate sees this as a big chance to reach the community and kids for Christ. Like I said, they go all out and its a pretty amazing week.
This year, an incredibly talented artist in the church headed up the decorations (with a lot of help from some men in the church building her vision) but it was jaw-dropping! When the kids walking into the building, it looked as if they were getting off a boat on a tropical island and walking the dock to shore.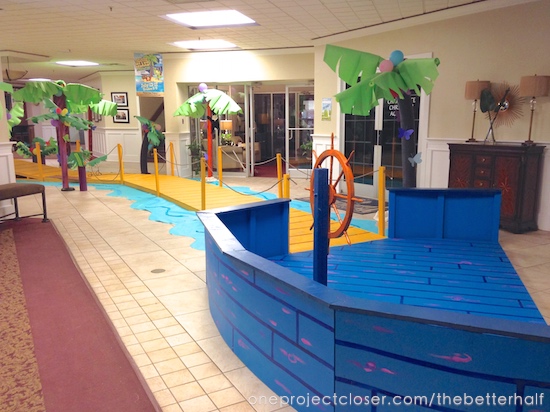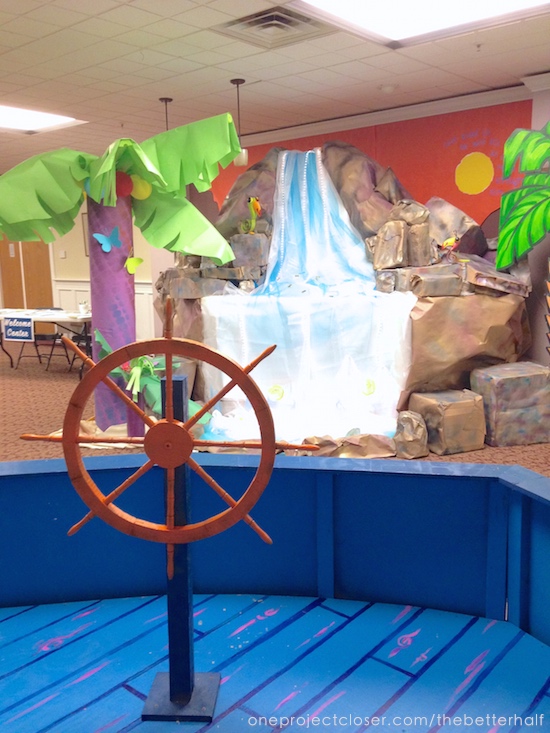 Here are my two beautiful girls in front of the water fall on the day pirates took over the island!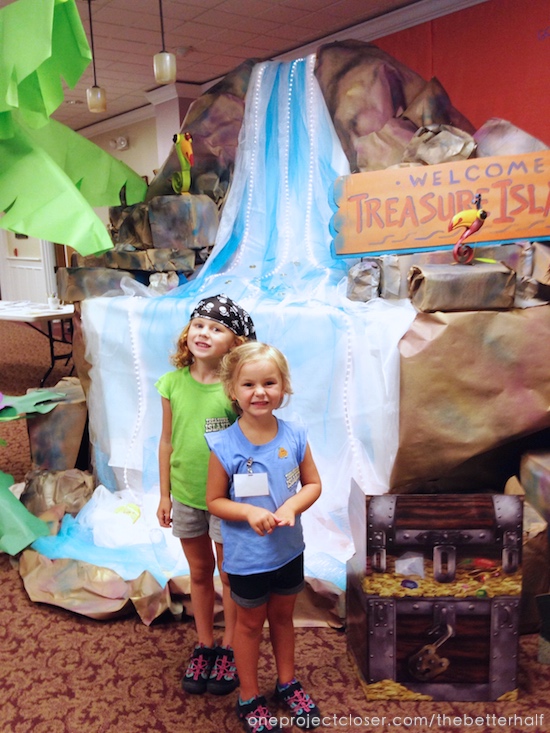 So before I tell you all about the crafts we did that week, let me start by saying that I had the BEST group of volunteers. Every year, I say that, but it's always true. Lots of women (and young women) who love the Lord and love these kids so well. And it's not always fun. IMHO, VBS crafts class is the most intense place to be because there is no time between each of the classes so everything has to be prepped and planned! Seriously, most days I didn't even have time for a drink of water or potty break. But I love it all!
Some of our awesome volunteers are missing from this pic, but here's most of the crew.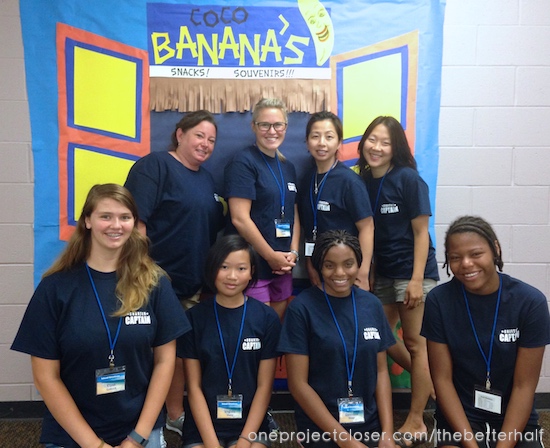 A small disclaimer: most of these pix are my samples I made, along with my niece who came to help me prep.
Day 1: Sand Castles
On the first day of VBS, Monday we made sand castles with Sand Clay. It was a TON of prep work, making the clay in advance, but the kids had so much fun! This is a great activity for at home (maybe not if you have 150+ kids)
The recipe was simple: stir on stove top over medium heat 4 cups of sand, 2 cups of cornstarch, 2.5 cups of water, and 2 Tbsp of extra fine glitter (optional) until very thick like clay (haha helpful, I know). Allow to cool to the touch then divide into 3 sandwich baggies and store up to 3-5 days.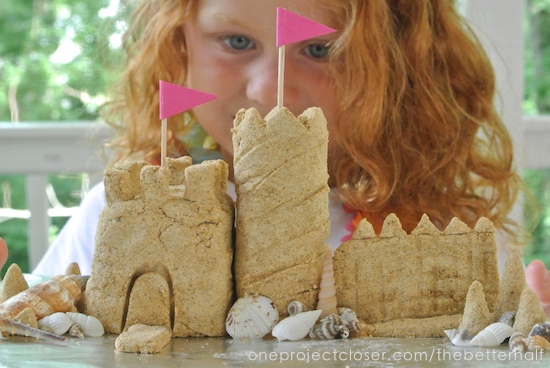 Day 2: Tropical Leis
I ordered lei kits from Oriental Trading Company and they turned out to be a great deal and the kids loved them! I will say that I was surprised that this was the craft that the volunteers had the most trouble with (not my craft girls, but the teachers and helpers that came with each grade), so just something to consider if you do this for your VBS.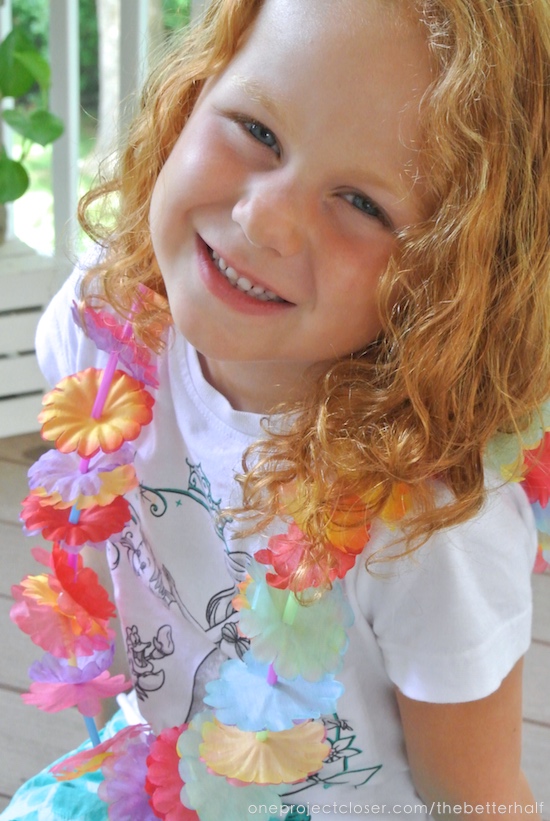 Day 3: Island Chimes
This was my favorite of all the crafts, but probably the most time intensive to prep. In the given craft book, the kids are supposed paint their pot AND tie the wooden dowels underneath to make the chimes. There is no way we would have had time for this!! So my wonderful volunteers worked so hard to get all this prepped ahead of time. And they looked amazing!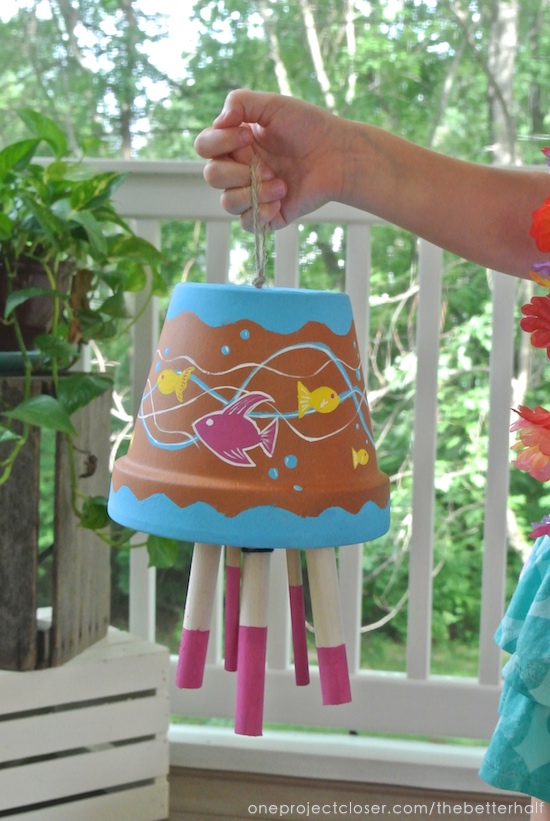 And here is Isabella's!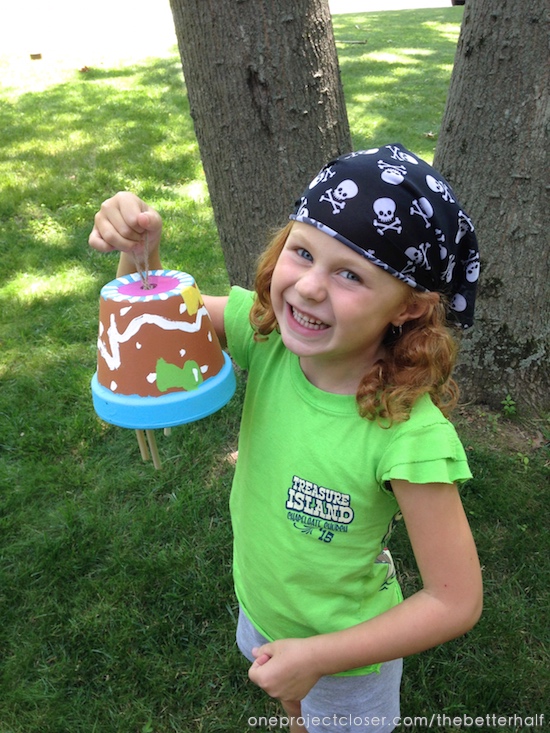 Day 4: Scuba Masks
Not the most difficult or crazy awesome crafts, but the kids loved having something to wear. We happened to make them on the day pirates took over the island, so I told the kids that they could use their scuba masks to swim to shore in the event that they were made to walk to plank. haha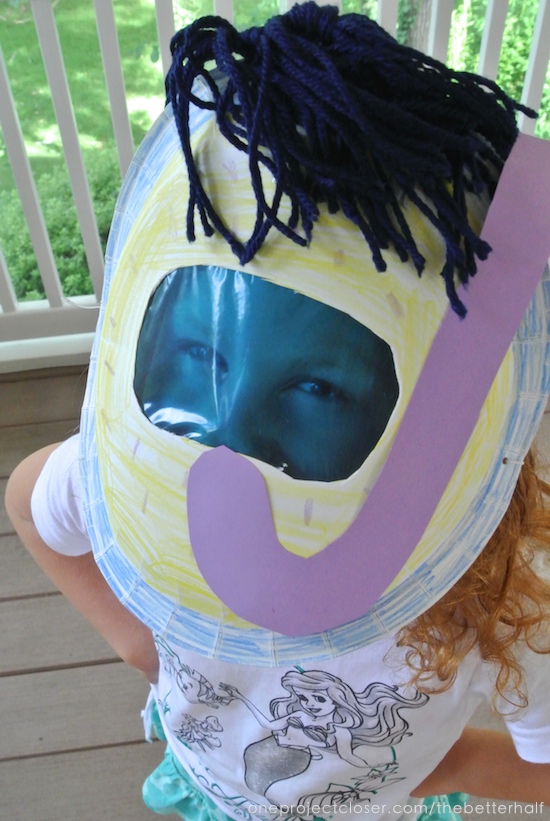 Day 5: Aquarium Globes
We wanted to save the best for last and we were not disappointed! This was by far the favorite craft for most kids. I also want to send a big shout-out and thank you to Ball Jars for giving us the wide mouth quart jars for this craft!!! It made it affordable and gave the kids something that will last a long time to help remember their time at VBS. THANK YOU!!!
The kids cut out foam shapes that were affixed to paper clips onto the lid. Then they went to the "filling station" to add glitter, mini sea shells, and aquarium gravel to their water (with glycerin). The effect being like a snow-globe! LOVE.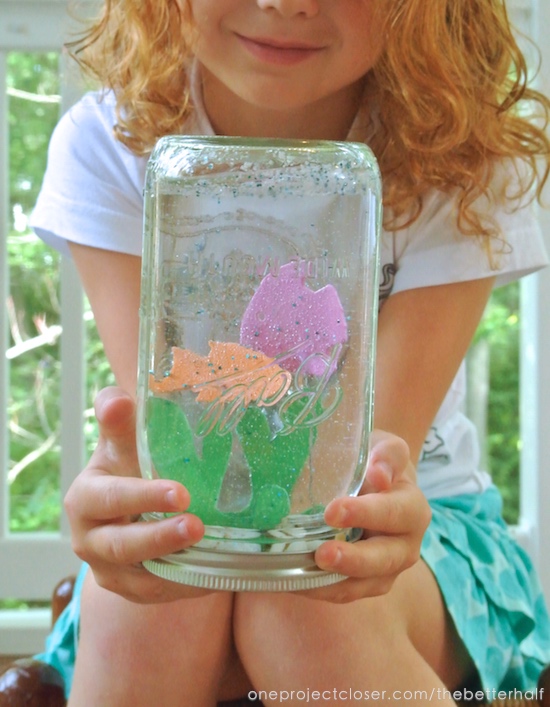 By the end of the week, I had most of the kids brainwashed that "crafts are the best!" Joking aside, it was a beautiful week talking to kids about Jesus and showing them a little love.
What do you think? Any more suggestions for friends out there doing Treasure Island VBS crafts?
As Always, thanks for reading!
Don't forget to check us out on Facebook, Pinterest, and Instagram!