Want to see the ultimate tropical outdoor bathroom?
About a month ago, Kim and I took our boys on vacation to Guatemala. We visited as much of the highlands and lowlands of the country as practical in 8 days, camera in tow the entire time. Most of the trip didn't feature home improvement blog-worthy posts (although you can read a whole group of posts over on Kim's adoption blog, including one where we climbed an active volcano).
One of our stops on the trip was Valhalla Farm, a neat little all-natural macadamia nut plantation that not only features some top-notch macadamia chocolates, but also helps millions of indigenous people worldwide through donations of macadamia nut trees. Valhalla promotes reforestation in many areas of the world, training indigenous people to farm using sustainable methods.
Besides their philanthropic focus, Valhalla has some great buildings, including the best tropical bathroom we've ever seen. If you're looking for some inspiration on making your own tropical bathroom, consider this the perfect source…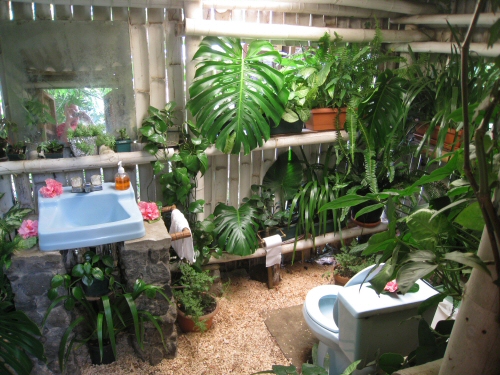 Of course, most of you probably don't live in a climate that would support this type of outdoor bathroom, but we are still inspired by how the space integrates a modern toilet, sink, and mirror in a way that doesn't look like its "trying too hard".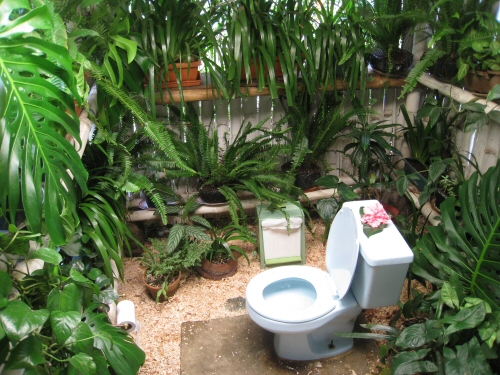 Unfortunately, we didn't get a shot of the outside of the bathroom, but it's really nothing more than a small outhouse house made of wooden slats and a door. If you're ever in the area of Antigua, Guatemala, be sure to visit Valhalla, if for nothing more than a pit stop 🙂