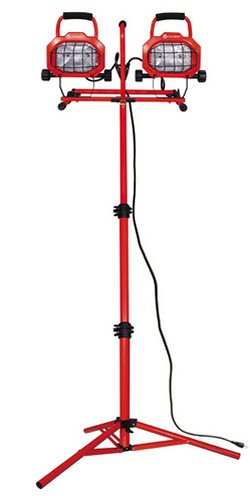 We're just about finished the electrical rough-in of our basement game room.  One of the final steps is to remove the original lighting circuit that powers four ceramic keyless overhead fixtures that the builder installed in the original unfinished basement. We've run Romex drops for can lights to be installed post-drywall, so once the existing circuit is removed, we'll be in the dark.
We decided to head to our local Lowes and pick-up the closest thing we could find to good temporary work lighting.  Our choice: two UtiliTech 1000 watt, halogen dual-lamp work lights.  Now, to be sure, these lamps are a bit overkill for our basement project. You don't need 2000 watts of light for a 1000 sq. foot work area. But at $45 each, we figured we could use them in the basement now, and for any future projects (including outdoor and garage remodeling projects).  Plus, we thought it'd be fun to review them for you all…
UtiliTech 1000 watt Halogen Tripod Work Light Review
The UtiliTech 1000 watt tripod work lights are part of a family of work lighting that also includes single 500 watt ground-based lights and a more powerful 1300 watt dual-lamp version similar to the version we purchased.  We opted for the 1000 watt tripods for their directional flexibility and height adjustment.  Also, 1300 watts just seemed a little too overkill, even for us. Here's what you need to know:
Light Output: At 500 watts of halogen light per lamp, these lights are very bright.  The bulbs are encased in a plastic/metal combination box that directs the light to the work area. The result is a lighting range of about 145 degrees wide and 145 degrees high (estimates, not measured numbers). In fact, the lamps are so bright that you definitely do not want to look directly into them, and there's a warning in the instruction manual about this. We ended up directing the light at the ceiling in the basement so that the bulb could not be seen directly.  This provided ample indirect light for about 700 square feet of work area.
Heat & Energy Efficiency: Of the 1000 watts these lights consume, our guess is that a good 75% of it is converted to heat. In other words, these lamps get very hot. You cannot touch the lamp boxes during operation, and they require a cool-down period of about 5 minutes after they're turned off before handling. You also must be careful not to aim the lamp at an object closer than 3 feet away, especially a flammable object.  The lights put out enough energy to start a fire.
Lamp Stand Stability: One of the most important factors in a good tripod work lamp is the stability of the lamp stand.  We opted to purchase the newer version of the 1000 watt UtiliTech lamps for $45 (there was an older model at Lowes for $30). The tripod construction looked more sturdy on the newer version (better adjustment mechanism, larger-diameter shaft, thicker gauge plastics).
It's still not quite as sturdy as we'd prefer, but it is acceptable. In particular, we found the connection between the upper metal structure and the top and the shaft to be a little loose.  The stand feels reasonably stable, but it isn't hard to knock the whole thing over if you get snagged on the cord. You'll want to setup the tripod in a place where you're unlikely to hit the cord, and potentially duct tape the cord to the floor to avoid accidents. If the lamps get jarred, especially while they're on and hot, you'll likely lose a bulb (see below).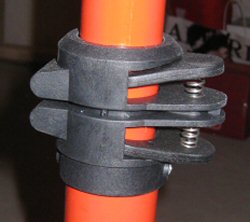 Stand and Directional Adjustment: One of the best features of the UtiliTech tripod lamps are their easy-to-use height adjustment clamps (pictured right).  The stand can be adjusted from 2.5′ to 6′ with very little effort, and the unique squeeze-style adjustment mechanism outperforms the traditional twist-lock style common to this genre that is slightly harder to master. The individual lamps can be rotated 360 degrees on the tripod and can be aimed up or down with easy adjustment knobs that hold the lamps in place well.  You'll have no trouble pointing the light where you want it and keeping it there.
Halogen Bulb Life: During the first week of working with these lamps, we failed to tighten one of the vertical directional adjustment clamps on the lamp. The lamp case fell backwards onto the upper section of the metal stand structure and instantly burned out the bulb.  Replacement cost is not too expensive at about $3.50/per, but we'd have preferred a little more resilience. We'll take the blame for that early bulb burn-out. If we experience any other early burn outs, we'll update this post.
Also, it's worth noting that during installation, you must be careful not to touch the bulbs with bare hands as oil from your hands can actually shorten the bulb's life.
Summary: We've had a good experience with our two UtiliTech tripod work lights, despite the few drawbacks we've cited here.  If you're in need of high-output, reasonably stable work lamps, these UtiliTech lamps might be right for you.  We maintain a list of places you can find a 10% off Lowes Coupons that might be worth a look if you're planning a large purchase along with these lamps.
What do you think? Got a question for us about these lamps, feel free to post it in the comments and we'll do our best to answer.  Always feel free to weigh in with your own experience!
Note: This review was not sponsored by Lowes, Utilitech, or any advertiser. UtiliTech Lamps Photo credit: lowes.com.