As I have shared before, I am super lucky to have a real-life bloggy friend 5 minutes from my house – Liz from Naptime Decorator. She is sweet, kind, and has a wonderful sense of style. When we first connected a few months ago, she invited me to her Craft Night that she hosts for her friends (this is a real party, not the linky kind, lol!). Liz also has some pretty wonderful friends who have been very kind to this insecure crafter. 🙂
This past week was my third Craft Night and each time I have even more fun! Liz threw out some Valentine's craft ideas and everyone chose their own (sometimes everyone does the same craft). I brought three crafts so I could make the most of my time crafting without kids. I was slowed down a bit by the great conversation and wine, so I only completed two.
Be sure to check out Liz and all her cool friend's Valentine crafts over at Naptime Decorator.
Valentine's Wreath
My first was a Valentine's Day wreath. I've had this grapevine wreath in the back of my basement for months because I got in way on sale and I really liked it! I brought the wreath, twine, scraps of fabric and scrapbook paper I had on hand, some buttons, and a lot of hot glue. I didn't really have anything too specific in mind, just planning on doing bunting and flowers and this is what I came up with.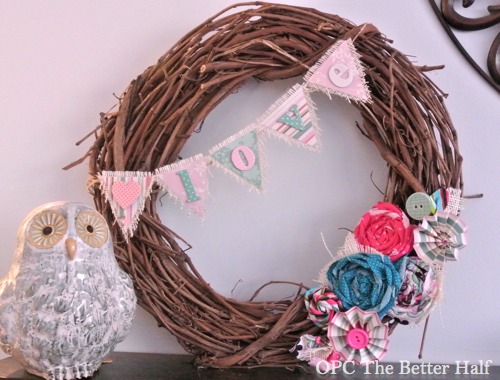 Fabric Rosettes
The flowers were really simple to make. Here is how I made this fabric rosette, but also be sure to check out my fabric flower tutorial on making six different kinds of flowers.
I started with a long strip of fabric and folded it in half lengthwise.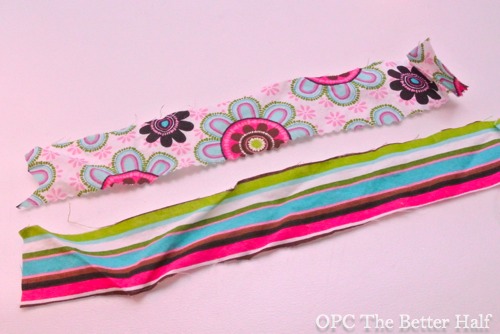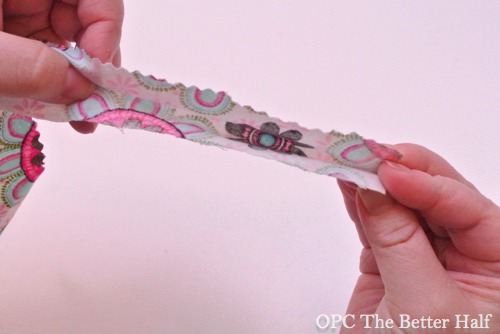 Then, I began to roll one end in on itself –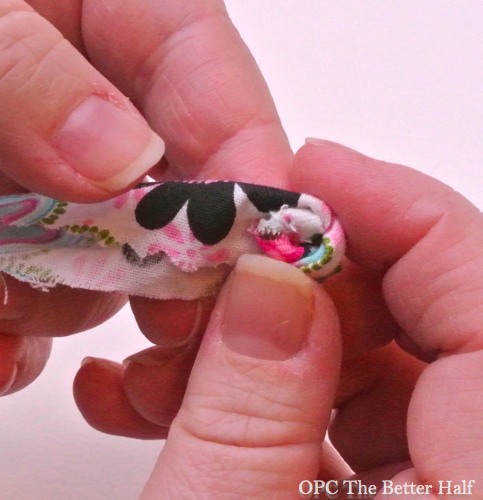 And kept wrapping it around and around and around. For a more texture in the flower, I twisted as I went around.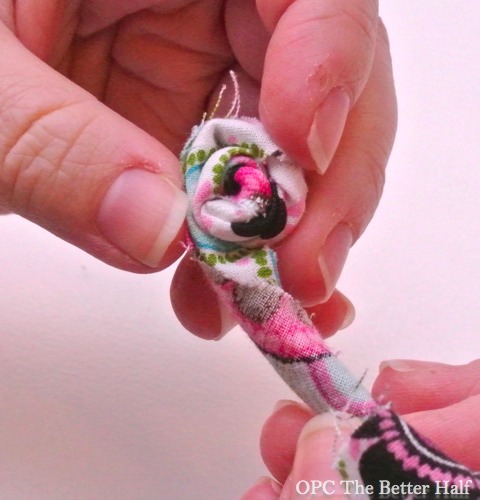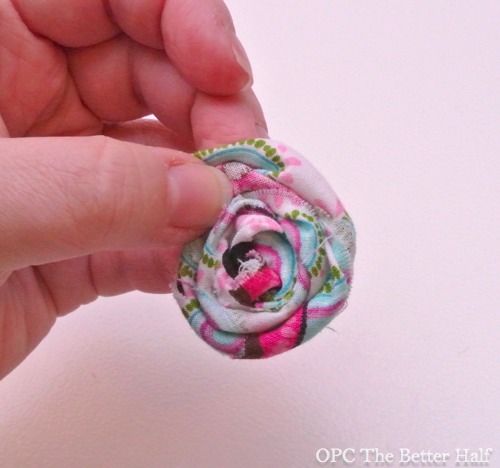 I wanted the flowers to look a little more rustic, so I didn't worry about frayed edges or the backsides of the fabric showing.
When I was happy with the size of my flower, I inserted a few pins to hold everything in place.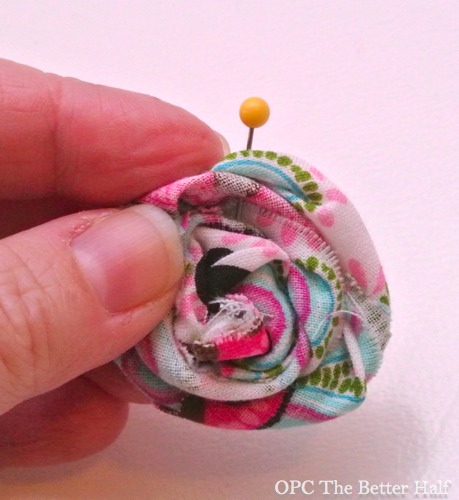 I then hot glued the backside and placed a scrap on the back to hold it in place while it cooled completely.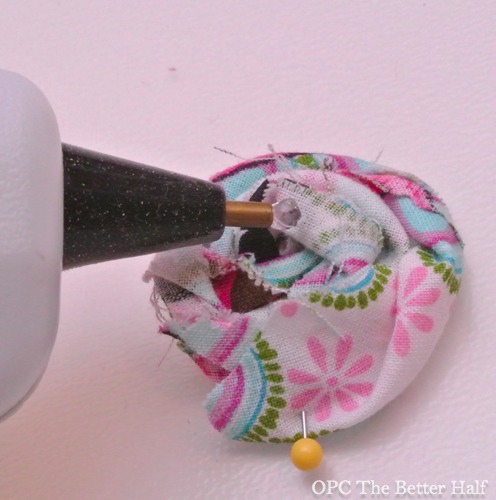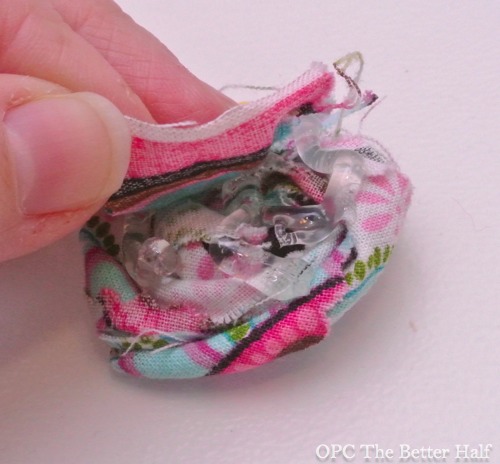 I removed the pins when the glue was still soft and then glued it to the wreath.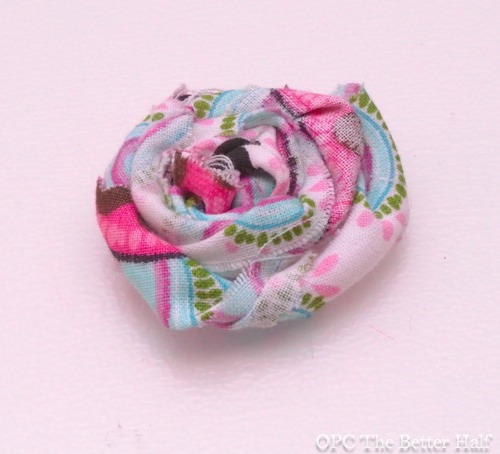 Paper Accordion Flowers
I have made these before in the past and they are SUPER easy. I mean really, really easy!
I took a small strip of paper. The width of the paper will be the radius of the flower. The thicker the paper the bigger the flower.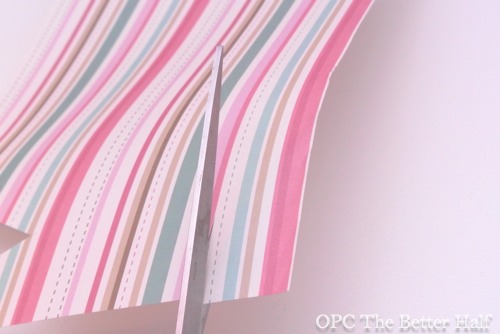 Then I folded it like an accordion.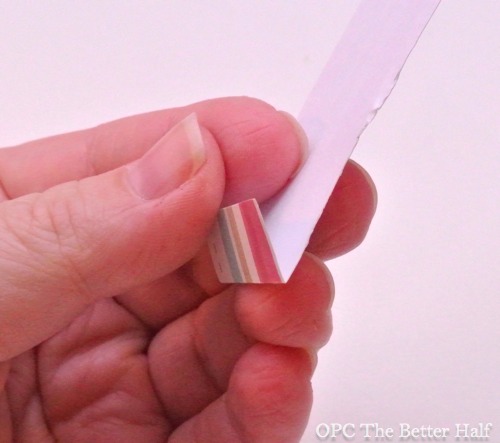 Once it was folded all the way, I put both the ends together. For one of the flowers, the strip of paper was too long (and the flower didn't spread out enough), so I cut some of the length off and tried again.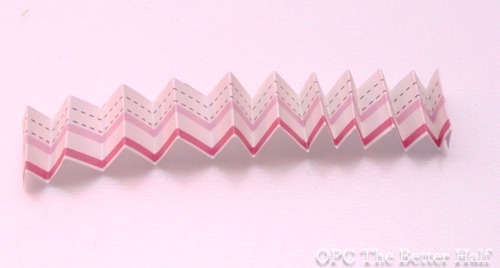 Once happy with the flower, I used hot glue to fasten the two ends together and added a button.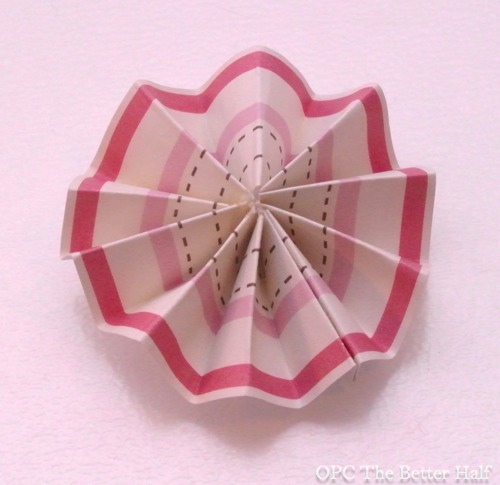 Here's a close-up of the grouping of fabric, paper flowers, buttons, and little bit of burlap.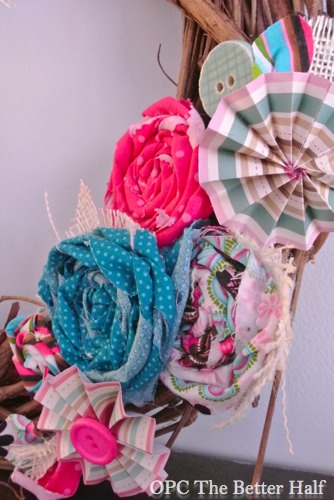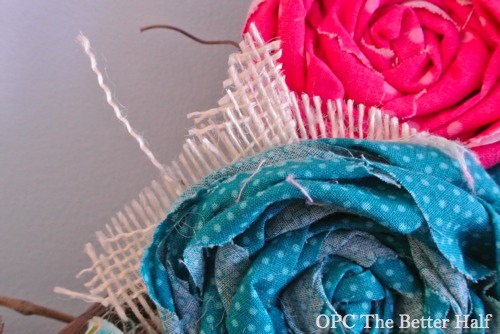 Bunting
I made the bunting using chipboard letters out of the dollar section at Michael's, a little burlap, scrapbook paper, and twine. No magic here, just cut some triangles and starting gluing! 🙂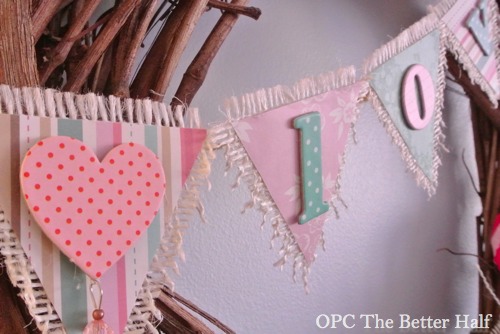 Felt Rose Frame
This was one of the ideas Liz threw out to the group as a possible craft. She got the idea off Pinterest from Embellishing Life. I used a $4 square frame from Joann's, a piece of metallic dotted scrapbook paper, and red felt.
I made the rosettes in the same way as the rosettes on the wreath, just a lot smaller and with felt.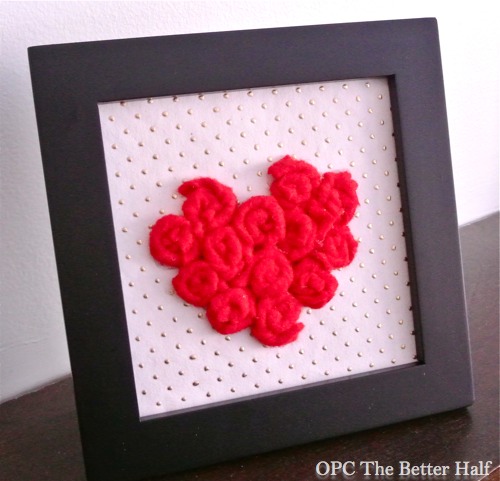 What do you think? What have you made for Valentine's decor this year?
As always, thanks for reading!