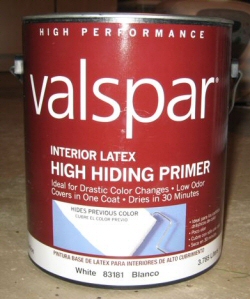 We recently decided to give several old pieces of furniture a new matching look by repainting them. We selected Valspar Interior High Hiding Primer from Lowes because it claims superior coverage over dark colors and we had not tried this primer before. This brief article summarizes our experience using this product on this furniture and its results.
Valspar One Coat Primer Trial
We have two pieces of hunter green furniture. One dresser and one end table. Both are typical size. We would like to paint both of these pieces white when we're finished with the job. Valspar High Hiding Primer claims that it will cover dramatic paint colors and dry fast (straight from the website).
Our Simple Test
Following the manufacturers recommendations, we started with a quick sanding to remove any hidden finishing layers on the furniture and to make sure all dirt and dust were removed. This process helps prepare wood for a new coat of paint. We cleaned up the sanding with a dry paper towel.
Tip: Make sure to clean up all surfaces if you sand before painting, as painting where saw dust is present will cause the dust to mix with the paint, reducing the effectiveness of the primer and often leaving streaks.
We then applied the primer with a standard mid-range paint brush and small roller combination, just like we expect any homeowner would.
The Results
One coat primer didn't hold up to its name. The primer quickly soaked into the wood and dried. But a light green tinge and wood grain could be seen throughout, as shown in the picture below (apologies for the low-res, we did not have the camera set properly for this shot).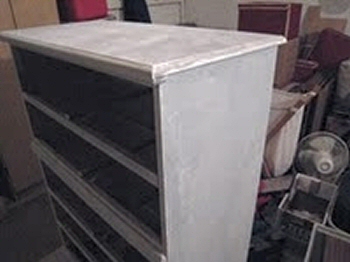 It took another full application before we were confident that no green would bleed through in a final top coat of paint (again, apologies for the low-res photo below). We were hoping for a single coverage primer. Unfortunately, this one doesn't look to be it.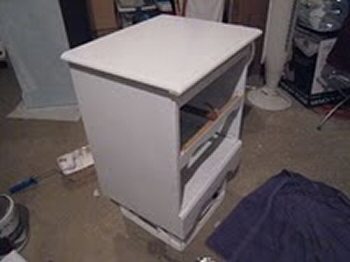 Valspar Responds: (Updated March 15, 2008): After reading this article, a customer service representative from Valspar contacted us to discuss the product's performance. In general, the representative stood by Valspar's product. He's said he's used his competitors' products and believes Valspar's primer is superior. However, he did apologize for the lack of performance and offered a few suggestions for getting better results in the future. In the end, he let us know that we could return the unused primer for a full refund at the store where we purchased it. If the store wouldn't honor the return, Valspar would refund our money directly.
If you're considering Valspar paint, that means you'll be shopping at Lowes. See our Lowes Coupon article for instructions on how to get a 10% off coupon for Lowes.