We've been in desperate need of a step ladder for about three years.  When we purchased this home, we inherited a traditional 24′ extension ladder from the prior owners that decorates the side wall of our garage.  That's been great for a few high-reach exterior jobs, but not ideal for most other projects that require a little lift.
You can imagine our delight when Lowes gave us the opportunity to review a Werner 21′ Telescoping Multi-position Ladder, one of the specials they've been offering as part of their Father's Day Gift Recommendations.  This past Saturday we took the ladder for a test spin… and man are we impressed!  Read on for purchase details and what we liked the most.
Werner Multi-position Ladders at Lowes
After using this ladder, we highly recommend it.  If you're considering a telescoping or multiposition ladder for your own work (or you need a great gift for the DIYer in your life),  Lowes carries 13′, 17′ and 21′ versions of the Werner Ladder in their retail stores. You can also order the ladder direct at Lowes.com.  Here's the direct links to the product pages:
Werner Ladder Review
A Full Extension Ladder that Fits in a Compact Car
Up first is our favorite part of the Werner multi-position ladder: it folds all 21 feet of ladder into just under 5.5 feet.  That's small enough to fit in the back of my Toyota Corolla (with the back seats folded down).  We think that's pretty amazing, and really great if you consider that a traditional 6′ step ladder would have trouble fitting in the same space.

A Step Ladder for Every Height (or you can have 2!)
Check out the two photos that follow… the Werner makes a great 5′ step ladder for small jobs, but telescopes up to a 10′ step ladder when extra height is required.  It features real climbing rungs on both sides, so you don't have to pull a 180 degree turn in a tight spot.  Plus, the Werner can be used on stairs by shortening one side of the ladder and placing it on the higher elevation step.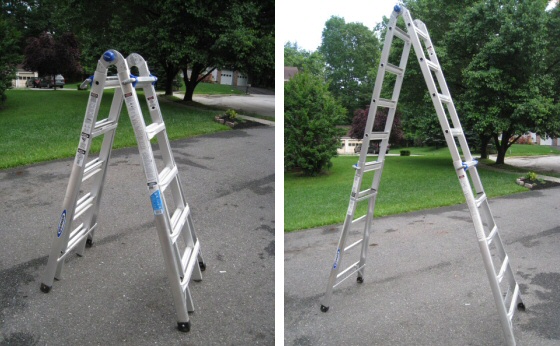 The Werner can also be split into two five-foot step ladders, and can double as scaffolding with the purchase of an optional platform and tie-downs.  This is a nice feature if you want to cut some weight while transporting the ladder – you can leave half of it home.
The only potential drawback of the step ladder is the lack of a paint tray or larger top platform.  If you plan to paint from the ladder, you'll need to get a paint gallon hook setup to hold the can.
Great Stability – Especially as a Step Ladder
This ladder is very stable as a step-ladder – much more so than light aluminum or wood models.  The 21′ model boasts a weight capacity of 300 lbs., even in full extension mode.  While Werner doesn't claim it–and we don't recommend it–we're sure that when configured as a step ladder, the Werner can handle much more weight than 300lbs.
The source of the stability?  The Werner features a thicker aluminum chassis than most ladders, a wide base footing and first rung, and a strong quick-lock mechanism that makes it easy to change ladder height or configuration.  Take a look:

To change the height or configuration of the latter, just pull the pin, slide the ladder up or down a few rungs, and replace the pin.
An Extension Ladder that Meets Our Needs
At 21′, the fully-extended Werner Multi-position is tall enough to easily reach the top of a two-story home, making it the only ladder most people will need.  Storage space costs money, and just like you, we'd rather store one ladder that meets all of our needs, rather than two or three that each perform just one job.  Our 24′ extension ladder is on its way out.
Full disclosure: When in full extension mode, there is a slight bounce at the middle of the ladder.  It's certainly tolerable and does not engender doubt as to the capacity of the ladder.  We think its very acceptable for DIY use where the full extension isn't likely to be used as often; but for a daily user, we'd prefer less movement.
A Great Father's Day, Birthday, or Just Because Gift
Lowes is featuring this item as part of their Father's Day Collection this year. I can tell you that if the Werner 21′ multi-position showed up on my front door on the third Sunday in June, I'd be smiling from ear to ear.  Does your Dad or Hubby have everything?  Well, if he doesn't have this, we think it's certainly worth getting.
Of course, if you have projects that demand a ladder (don't we all?), and you're tired of storing two or more types of ladders – the Werner from Lowes just might be the solution to your DIY needs.
What do you think? Do you own a Werner Multiposition Ladder?  Let us know about your experience in the comments.