Weed & feed is the generic name for a broad range of lawn chemical products designed to strengthen existing grass and kill off certain weeds in a single application. It generally improves your lawn's ability to absorb water and food, and adds necessary nutrients which promote healthy growth. A healthy lawn, in turn, discourages weed propagation, enabling the use of a reduced amount of the product over time.
The "weed" portion of weed and feed is one of a variety of broad leaf-targeted herbicides (usually Dicamba, 2,4-D, and/or MCPP) that attacks dandelions, dollarweed, and most other green leafy weeds. Not to be confused with pre-emergent, the chemical is usually sold in granules that are applied to and subsequently absorbed by the leaves of the weed. The granules will not sit on grass blades, which is why weed and feed generally doesn't kill regular grass unless it is incorrectly applied (over-saturating, especially, can cause grass death). There are also liquid forms of weed and feed that are generally applied with a foaming sprayer. The same concept applies for the foams: they sit on and are absorbed by large weeds, while they run off of grasses.
The "feed" portion of weed & feed is a fertilizer that contains some combination of nitrogen, phosphorous, and/or potassium to green up your lawn. The exact blend of fertilizer ingredients varies by brand, but all products will contain some percentage of nitrogen. Some products also include additional benefits, such as timed-released nitrogen for extended feeding.
When to Apply Weed & Feed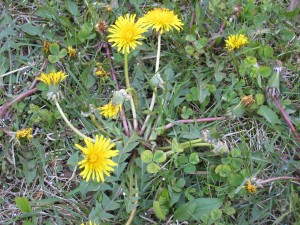 It's important to apply weed & feed when weeds are actively growing. Applying weed & feed during the winter will have absolutely no effect on the lawn in the following spring and summer. You should spread weed & feed on damp/wet grass (use a sprinkler or apply just after rain) so that the granules stick better to the leafy portions of the weeds.
You should also pick a time when no additional rain is expected for two days, and you should avoid watering your lawn over this period. This allows time for the herbicide to absorb into the leaves. If it does rain or the lawn gets drenched, it will wash the granules off the leaves. In this case, however, you cannot re-apply the chemical immediately because you will over-feed the lawn and potentially cause a chemical scorch.
How to Spread Weed & Feed
There are a few important details to remember when spreading weed & feed. Keep all of these in mind when planning the job to achieve the best results. Note that these tips are not intended to replace manufacturers instructions, though you will find most manufacturers will recommend some variation of these tips.
Make sure your lawn is a normal height (not too tall, not too short) – approximately 3-5 inches is good.
Wait 2-4 days after mowing before applying. This protects your grass and helps ensure the weeds are actively growing. It also allows some of the leaves on the weeds to grow that may have been cut during mowing.
Don't water the lawn for two-four days after application. (Which means you shouldn't apply the granules during a dry / hot spell). This is another important difference between broadleaf weed control and applying crabgrass preventer.
Be careful not to apply too much product as this will scorch your lawn. Check the manufacturer's guidelines. Scorching occurs when you over-saturate the soil with the feeding chemical.
Only apply weed & feed twice per year. Over-application can result in run off that is harmful to the local environment, such as nearby rivers, bays, or lakes/ponds. The feed portion of the chemical is actually more dangerous in these areas as it can encourage algae blooms which choke out fish and native plants.
Be sure to spread the herbicide uniformly across the lawn for best results. You may choose to use a broadcast spreader and make two passes at half-application strength, rather than trying to spread at full strength in the first pass.

Avoid spreading granules onto flowers, vegetables, and ornamental shrubbery. It will kill most broad leaf plants, regardless of whether you consider them weeds. If you must spread near a garden, either use a drop spreader or consider laying plastic temporarily over the area near where you will be spreading.
Planting Grass or Aerating after Weed & Feed
Weed & Feed prevents seed germination, so you should avoid planting new grass or aerating your lawn for at least four weeks. We recommend waiting longer, though. If you weed & feed in the spring and summer, spread grass seed and aerate in the fall each year.
Reasons Weed & Feed Didn't Work
Here are some common reasons that weed & feed was ineffective:
Weed & feed targets broadleaf weeds like dandelions, and dollarweeds. It does nothing for crabgrass and other grassy weeds. For these, you should use a crabgrass preventer in early spring. Make sure your weeds are on the list that the chemical targets.
Mature weeds are not actively growing, so the product wasn't as effective. Weed & feed should be applied early in the growing season and a couple days after mowing.
Rain and sprinklers can wash away the granules. Make sure there is no rain in the forecast and avoid watering for two days after applying.
What if You Apply Too Much Weed & Feed?
The best way to avoid damaging your lawn is the flush out the weed & feed. Water your lawn with 1 to 2 inches of water for about 4 days. Don't apply any other weed & feed until the following year.
Unfortunately, over watering like this can create run-off in certain drainage situations, so try to avoid the situation in the first place.
Safety Considerations & Pets
Like every lawn chemical, standard precautions should be followed before applying weed and feed or any herbicide to your lawn. These safety instructions are NO substitute for manufacturers guidelines. Be sure to read the safety instructions on the bag and follow them.
Wear long pants and long sleeves and gloves during application. Herbicides like Dicamba, 2,4-D, and MCPP can cause serious skin irritation.
Avoid contact with eyes. If you get the dust of the product in your eyes, flush them for 15 minutes with water.
Never ingest the product, leave the product where a child could ingest it, or leave it open for pets. Weed and feed chemicals can be harmful or fatal if swallowed. If swallowed, you should call 911 or a poison control center immediately.
Keep pets and children off the lawn until after the first drenching rain after application. Visually inspect the lawn to ensure the granules are completely dissolved.
Professional Lawn Service
Professional lawn care services will provide experienced and knowledgeable staff that will manage every aspect of your lawn. They will address pH imbalances, conduct soil test, proper watering and spur new grass growth. You can find a local expert through services like ServiceMagic, or you could contact TruGreen or another service near you.
What do you think? Do you put down weed & feed?