This past week, I went to my first craft fair in over 15 years. When I was younger, my dad was a vendor at many local craft fairs. A hobby enthusiast, Dad crafted stained glass, kaleidoscopes, wind chimes, and most recently sold wildlife photography, and I would go as his trusty assistant. I have lots of wonderful memories of craft shows and wine festivals, meeting lots of interesting people, eating different types of food, and hanging with the D-A-D. Last week, I saw a Groupon for our local Sugarloaf Craft festival and asked Kim, our friend, Amy, and our kids along. Bringing kids along make not have been the best idea, but we had a good time and the kids did a great job not breaking anything.
Craft fairs 15 years later are very similar to what I remember and reach the same demographic they did back then too. The girls and I were probably the youngest shoppers there. Most were over 60 and women, the vendors too. Although we did see a young woman in her mid-twenties selling and playing a stringed instrument called the Woodrow that is a cross between a banjo and a lap dulcimer. It was actually pretty cool!
One day, I could see myself being one of these vendors, passionate about crafting and loving the collective artistic spirit of the fair. But my crafts don't really fit into the folksy niche the craft fairs cater to. Maybe our generation will start a fresh, new wave of crafting at the fairs, moving away from just folksy art into more trendy crafts that give a homemade feel to the current style? I would love to go to a craft fair and see some of my favorite bloggers and etsy shop owners who combine craft, style, and functionality!
We saw a lot of handmade bags, clothes, and jewelry, but I really was drawn to the pottery and other unique crafts that were outside normal craft fair scope. I was able to snap a few pictures on my iPhone as we strolled though and wanted to share with you some of our favorites. Sorry about the quality of the photos, it was pretty dark in there. 🙂 Also, I try to give credit to each of these crafty vendors, but not all have websites, but if you're local please do stop by and look for them at the next craft fair!
Gerry Grant made these beautiful wooden rockers that were so comfortable to sit it. He was also a very kind man and a great salesman. Also, he was nice to our kids, which goes a long way with us. 🙂 Check out Kim and me. This is how I picture us on our old age – hanging out in rockers on our front porch, just the girls, after our "other" half has died off.  LOL!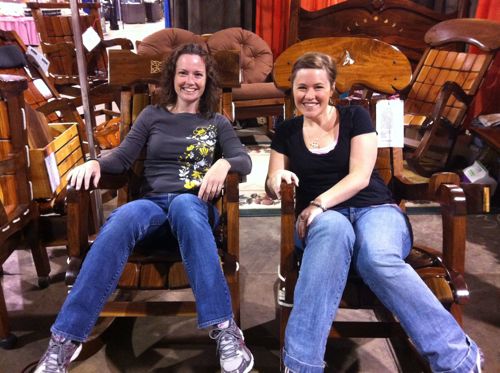 I loved these adorable pottery mugs with animals on them. Look away now, Mom and Dad. I ended up buying these for my parents for Mother's Day and Father's Day because they both love dogs. Schmidt-Marken Designs also sells lots of other cute animals on different types of tableware.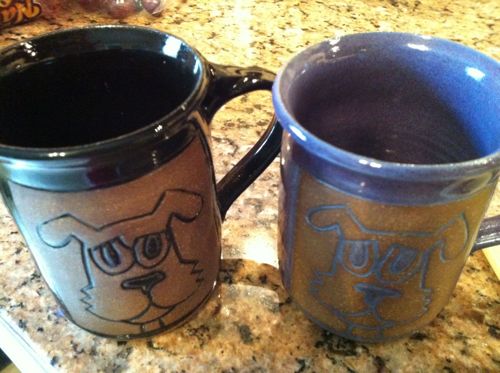 There wasn't a lot at the craft fair that I thought we could replicate at home since many of the crafts require special tools and equipment. But, I loved these super functional wood wine holders by Paul's Speciality are fabulous! I am totally going to ask Ethan to make me one of these. Check out Paul's Etsy shop if you don't want to make your own – he has some great prices.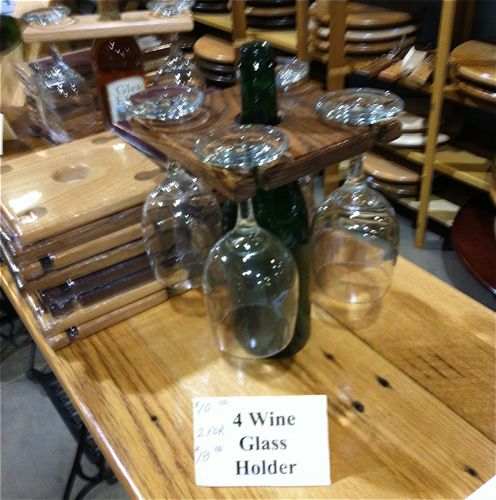 One of my favorite booths was this woman who makes and sells terra-cotta masks. They were intricate and intriguing, but best of all, they all sorta looked like their maker! Check them out at Earth Spirits Masks.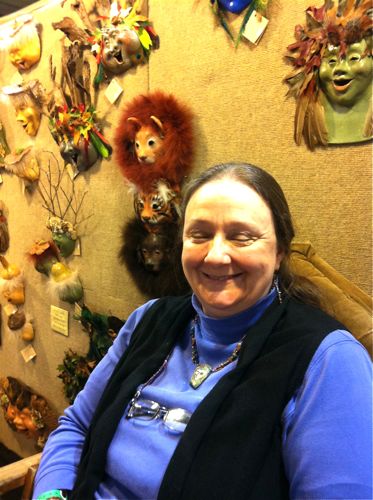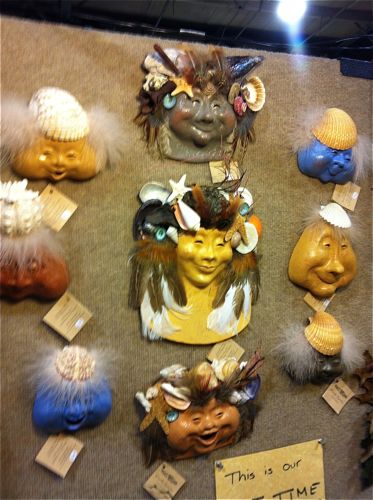 This was not one of the nicest vendors, in fact, Kim walked away because she was rude to the kids, but I still loved her art of painting porcelain plate covers.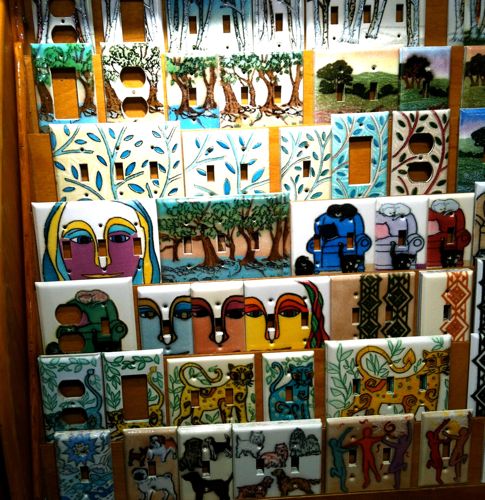 These wooden flowers were Kim's favorite and were really amazing! I got some for Kim for her birthday this coming summer that she's going to put in her main living area to compliment the beautiful Guatemalan art and color in the existing art.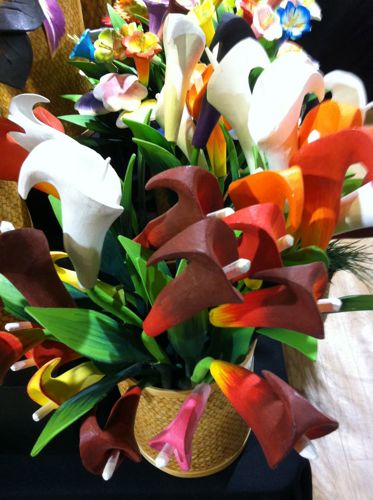 This was one of my favorites and totally something I could replicate at home – these intricately painted porcelain pottery by Pottery Mountain. They each had sweet sayings that would make for great gifts.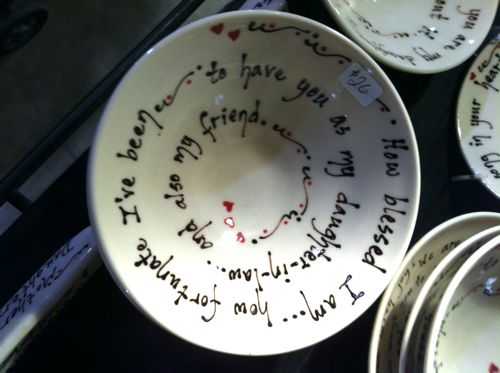 These ocean glass pictures were so sweet and would be a really fun and affordable activity to do with the kids some day. I'm definitely adding it to my kid art project list!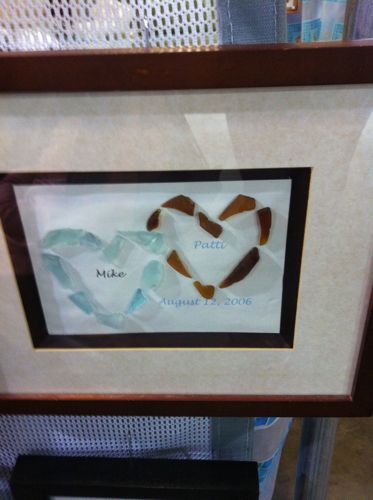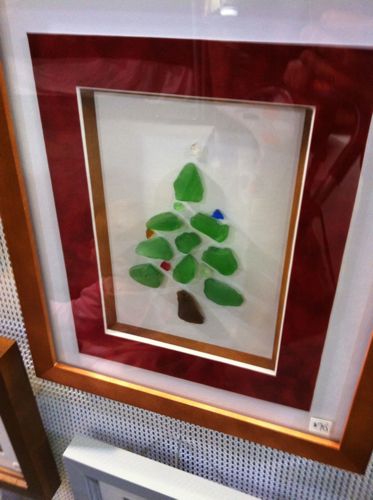 These amazing copper fountains by Josef Belchetovski remind me so much of my grandmother's home when I was younger. She loves things like this and had a copper fountain much like this one. This was definitely the most peaceful booth at the fair! Izzie loved it too!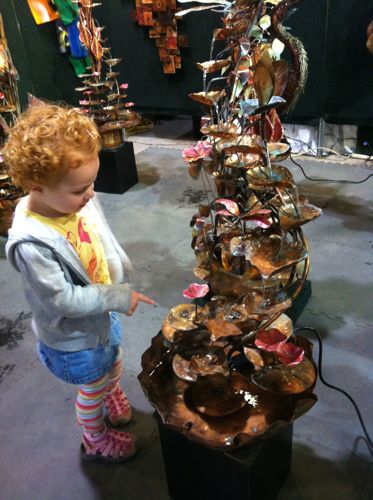 Last, but definitely not least, was the kid-favorite – handmade stuffed animals and puppets. They aren't great pictures, but the vendor kept a puppet on her hand and was so kind talking to the kids and letting them play with the puppets too. Jose (always Lucy's favorite big kid) had a fun time making the puppet talk to Lucy.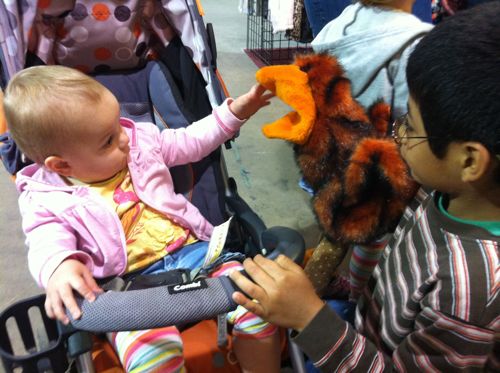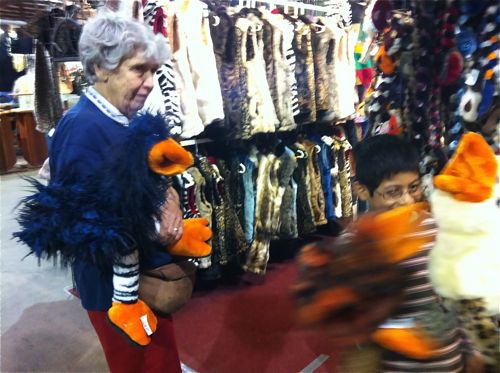 We had a fun time going to the craft fair and used to opportunity to buy some gifts, but I really want to start a craft fair revolution that combines generations, crafts, and styles. Who's with me?
What do you think? What do you love about craft fairs? What are your favorite crafts? What do you wish you saw at your local craft fair?