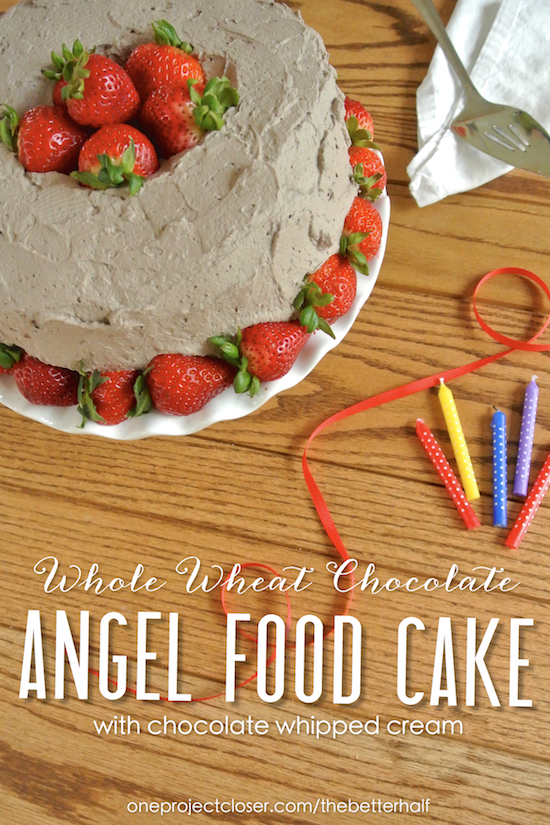 I love dessert. I really do mean love. But since cutting out processed foods, I said goodbye to box cake mixes and have been on the hunt for some good (and healthier) desserts. I am happy to say this Whole Wheat Chocolate Angel Food Cake is one of my new favorites!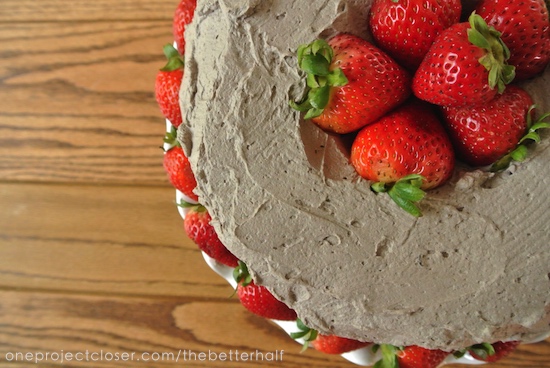 Typically, I try not to eat desserts that I haven't made from scratch, which means they usually include whole wheat (freshly milled flour and either maple syrup or sucanat instead of white sugar). Sometimes, I just use existing recipes and substitute in some healthier ingredients, and other times I stick to the tried and true recipes from my real food friends. One of my favorite go-to recipes are the 5 Minute Fudge Brownies from 100 Days of Real Food or Whole Wheat Oatmeal Chocolate Chip Cookies.
But what to do when its a birthday? Cake is sort of expected. So I modified and changed this awesome angel food cake recipe from King Arthur Flour and added some stabilized whip cream. For Lulu's birthday, I made this recipe (without chocolate) for her Olaf cupcakes, and it was a hit! Then a few weekends ago, I decided I wanted to make a chocolate cake for my cousin, and got the idea to just add some cocoa powder to an already awesome (and healthier) Angel Food Cake recipe! But of course, I didn't take pictures. So this past week, as a part of our Disney Countdown, we threw an Unbirthday Party with some school friends, and it gave me a great excuse to make another cake. haha
Without further ado, here is my recipe for Whole Wheat Chocolate Angel Food Cake with Chocolate Stabilized Whipped Cream Icing. (Stabilized means that it won't separate after sitting out, plus it's not as sugary sweet as canned icing). I adapted this recipe from Wilton to be "real food" friendly and chocolate!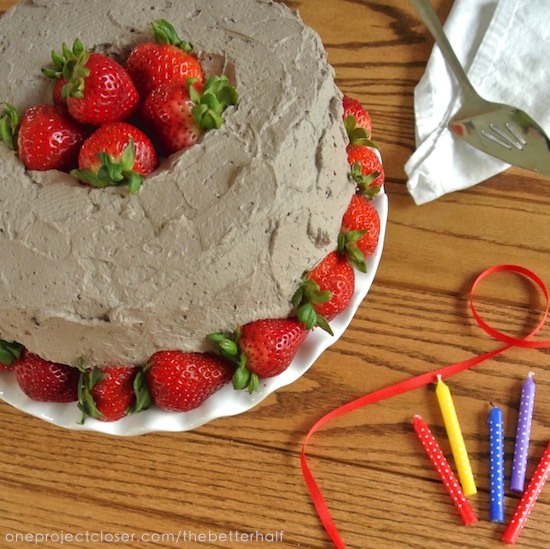 Whole Wheat Chocolate Angel Food Cake
2015-05-06 16:45:59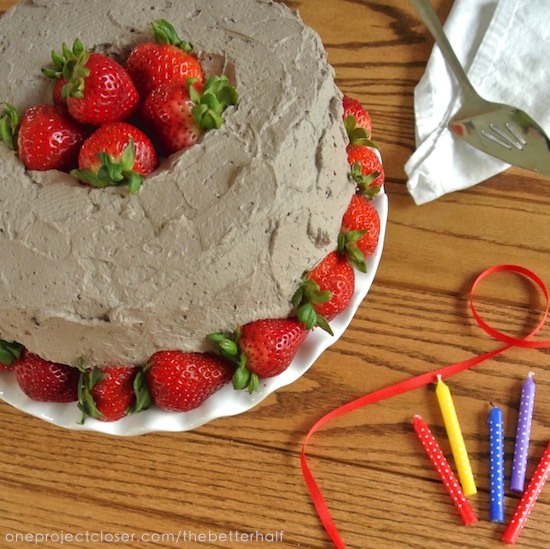 A delicious and light dessert, with a little more texture than traditional Angel Food Cake. Pares perfectly with this stabilized chocolate whipped cream and strawberries.
For the cake
3/4 c. whole wheat flour (or 1 c. of fresh milled flour)
1 1/2 c. sugar, divided
1/4 c. cocoa powder
12 egg whites, at room temperature
1/2 tsp salt
1 tsp vanilla
1 1/2 tsp cream of tartar
For the Whipped Cream
16 oz heavy cream
4 Tbsp real maple syrup
1 tsp vanilla
2 Tbsp cold water
1 tsp unflavored gelatin
2 Tbsp cocoa powder
For the cake
Preheat oven to 325 degrees. Wisk together flour, cocoa, and 3/4 c. sugar and set side. Beat 12 egg whites together with salt and vanilla. Once frothy, add cream of tartar. Beat until stiff peaks form then beat in remaining sugar. Remove from mixer and fold in flour mixture, one quarter cup at a time. Spoon batter into unprepared bundt pan. Bake for 40-45 minutes, or until it's golden brown and the top springs back when lightly touched. Remove the cake from the oven. Let the cake cool for 1 1/2 hours. This cooling period sets the cake, and keeps it from collapsing. Then remove from pan, frost and serve.
For the whipped cream
Begin by putting cold water in a small glass bowl and sprinkle gelatin on top. Allow to sit for five minutes, then place bowl in a small sauce pan with shallow water on low heat. Allow it to heat slowly until gelatin is clear and smooth. Remove from heat and let it cool to room temperature.
While the gelatin cools, beat together cream, maple syrup, and vanilla. Start low and as it thickens increase speed to prevent spilling. Once thick, add gelatin and cocoa and continue to beat until "whipped." Place in fridge until ready to frost cake. Garnish with strawberries, if desired.
Adapted from King Arthur Flour
One Project Closer https://www.oneprojectcloser.com/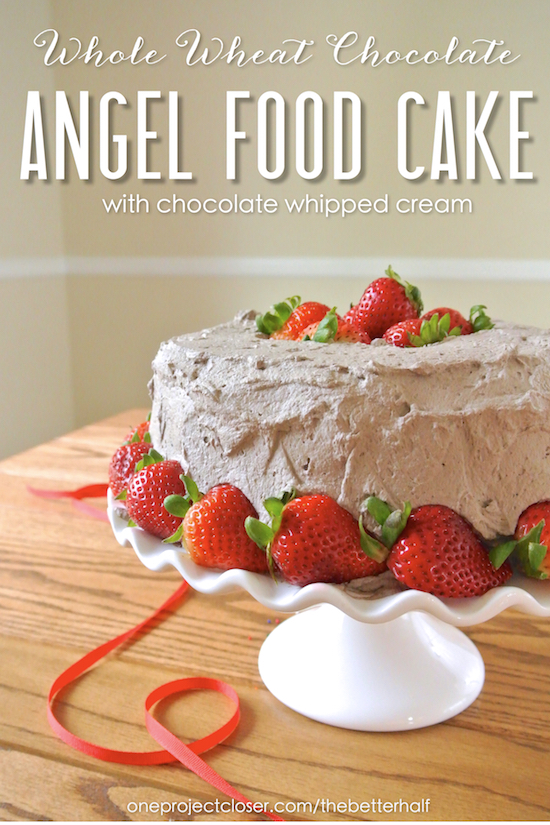 As Always, thanks for reading!
Don't forget to check us out on Facebook, Pinterest, and Instagram!