Since receiving an invitation last Tuesday, I've really been enjoying Gentlemint. My most recent find in the mint is the Best Made Company out of New York. I'm diggin' Best Made's axes, which come in a few different handle colors and finishes. So far, my favorite is this Unfinished American Felling Axe (pictured below). According to Best Made's about page, the company was founded in 2009 by Peter Buchanan-Smith, a man with a passion for building a better axe. We can't be the judge of whether the axe truly is better, but we can tell you it looks better than most others we've used.

That is one intimidating tool. I'd love to have it handy when the next ne'er-do-well tries to break into the workshop (not that that's ever happened… but if it did, and I had this axe, well… you know). I especially like the bold USA branding on the handle.
At $158, the axe is definitely pricey. (Best Made says they're "made for the discriminating consumer, priced and fabricated to compete with the best"). With its nice looking finish, I'd have a tough time bringing myself to actually use it on anything (except the aforementioned ne'er-do-well). Moreso, I'd just like to mount in up on the left side of our pegboard as a permanent fixture. This axe screams American pride, and I'm a sucker for just about any kind of Americana.
(Speaking of Americana, I'm also love this 50s-era restored coke machine that dispenses beer bottles; it's something I'd love to have in the basement one day… That is, whenever we get back to that project and have $8,000 to spare. I caught wind of this beauty on an episode of Pawn Stars that featured Rick's Restorations out in Las Vegas. Rick's got a great site if you're into restored Americana.)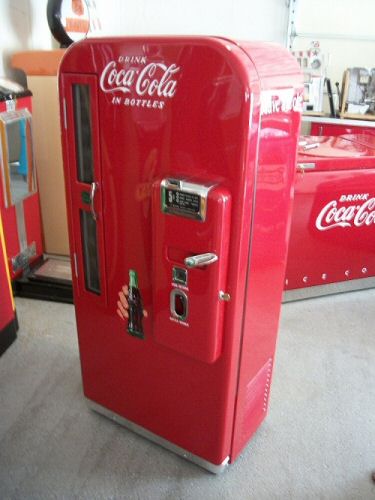 But I digress.
Best Made's American Felling Ax does remind me that we have this bad boy, courtesy of Wilton Tools, sitting in the workshop right now.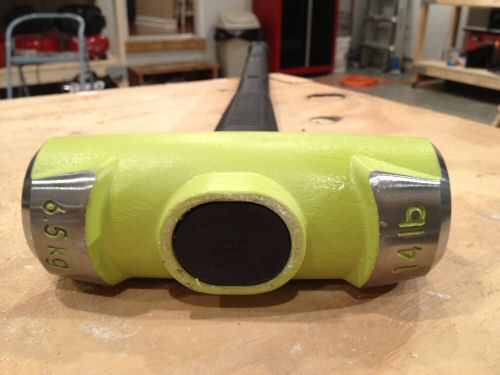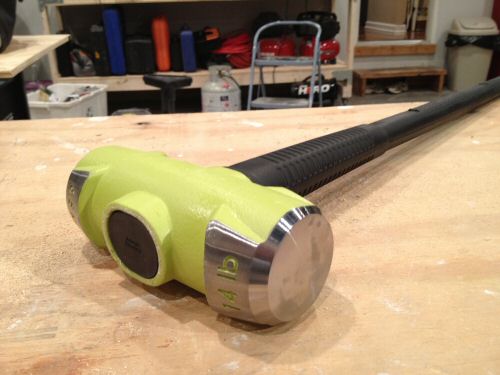 Technically it's called the Model 20003 14-lb. Unbreakable Double Faced BASH Sledge Hammer, but I just call it The Punisher. We haven't had a lot of demolition-related work around either OPC house lately, so I picked up a stone landscaping block just to give this sledge a try. Ethan's likely going to hand this over to one of our contractors on an upcoming Pro Follow, but unfortunately right now we've got only two projects on the slate (a deck build, and a basement finish), neither of which sound like Punisher-employing jobs.
The nice folks at Wilton sent us the BASH a few months back, so we felt the need to get the word out on it. It's got a steel-reinforced fiberglass shaft with a 6.5 KG (14 lb.) business end. This is a very heavy sledge hammer, but it's not the biggest Wilton manufactures. They also have this 20lb. model. If we ever get one of those, I'm going to have to come up with an even more intimidating name.
Here's me taking on the landscaping block with the BASH.
Unless you're in tip top upper body shape, the BASH will wear you out very quickly. We do appreciate that Wilton has minimized vibration in the handle, and that the grip feels really solid. We also appreciate that Wilton makes lighter versions (an 8lb. and a 2.5lb. model are available–the smallest has a shorter handle).
Here's a great picture from Wilton's marketing brochure of the handle reinforcement design that allows them to offer a lifetime guarantee covering handle breakage. And in case you're wondering: Yes, it does make the handle heavy. The total weight for this model is 17.4 lbs. according to our scale.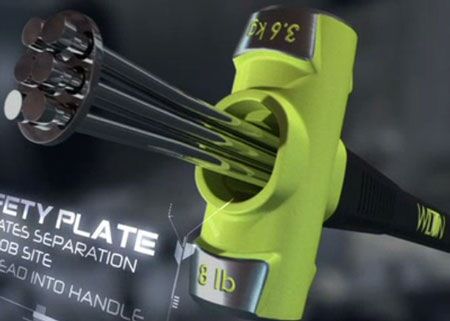 The 14 lb. BASH retails for $82 at Amazon. The heavier model goes for $96. That's a bit pricey for a sledge hammer, but we do appreciate that both Wilton models come with the warranty, meaning they're the last sledge hammers you should ever have to buy.
….
So, if I can talk Best Made into sending us one of those Felling Axes, maybe we can put it on the left side of the pegboard and put the BASH on the right. Just tell Best Made in the comments section that if they send us one of those axes, you all will be really inclined to buy one. (j/k… but more seriously, we may end up asking for one for the Rewards Center, which is a little thin right now).
A Quick Pro Follow Schedule Update
I hope you all enjoyed reading the finished How to Build a Shed article last week. I know I got a lot out of it. That hip roof was great! Tomorrow, Ethan's going to give us Day 1 of a new deck building Pro-Follow that will cover everything from digging and pouring footers to installing railings and finishing touches. Expect to see 5-6 days of work culminating in a new How to Build a Deck finished article in our Project Guides library. We're also going to try to extract a few sub-project How-To articles from this job, covering topics like How to Build Deck Stairs and How to Install Deck Railings.
You may recall from last week that we had planned to have a How to Install Recessed Lighting article kicking off this week; however, after doing the Pro Follow, we don't feel the project meets our standards for production. We are confident we'll be able to follow on another project covering that topic in the future. For those of you who had been looking forward to that, you have our sincere apologies.
After the deck build project, we're planning to follow Joe Bianco (of Bluestone Patio fame) through a complete basement finishing project. We're just waiting on Joe to get permits approved and schedule a start date with the homeowner.