Since repainting our living room, the walls have remained bare. Mostly because I wasn't sure what to do, but also because art and wall decor are sooooo expensive. But then, last week, I couldn't sleep thinking about all my current projects, and it occurred to me that I might be able to use some of the old decor in a new way. What was there to lose? Otherwise, it would all go to GoodWill, so I might as well give it a shot. After all, repurposing and spicing up old stuff on the cheap kinda rocks!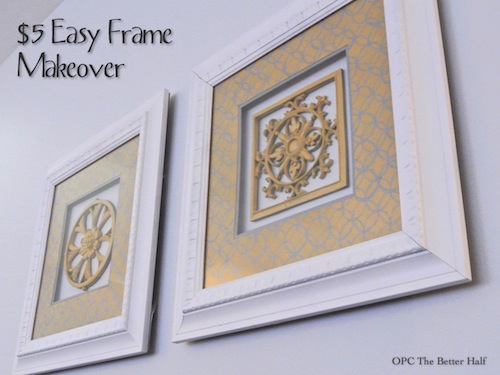 Spray Paint Talk
Once I made the decision use the old decor, I impulsively moved forward from there. I was fortunate, that last week at Lowe's, I picked up a few cans of spray paint for the trinkets on the shelves after I painted the backs of the built-ins.
A side note about spray paint….I love Rust-Oleum. I have used Krylon in the past and it is crap. But Rust-Oleum is reliable, a great price, and always coats well.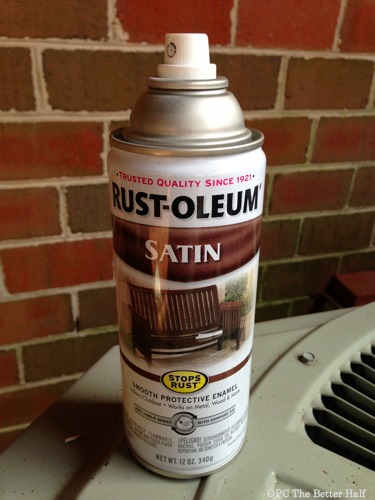 I bought a few cans of Rust-Oleum, but couldn't find all the colors I wanted, so I went out on a limb and bought Valspar. Normally I hate their canned paint so I was pretty skeptical.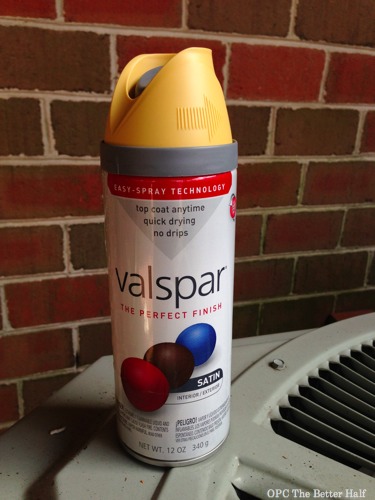 This time, I was pleasantly surprised! The Valspar spray paint covered as well as Rust-Oleum so I had to do an extra coat or two, but it sprayed thin and even, two pretty important aspects of spray paint. It is also a hair cheaper than Rust-Oleum but not such a big cost difference that I would buy Valspar over Rust-Oleum given they offered the same colors.
I also chose to spray paint on a VERY cold day. Word to the wise: Don't be silly like me and spray paint outside. The spray paint freezes before it hits the surface and then leaves a weird texture on the surface.
I thought, "Nah, it's not cold enough to freeze." False. It was.
So back inside I came. I set up a station in the basement and opened the basement door, leaving a little space heater on to keep me and the paint from freezing. Even with the ventilation (which is SUPER important), the whole house stunk! Oh well. 🙂
I ended up spraying the frame white, the matte and medallions yellow, and the backing I painted using the wall color.
Toilet Paper Roll Painting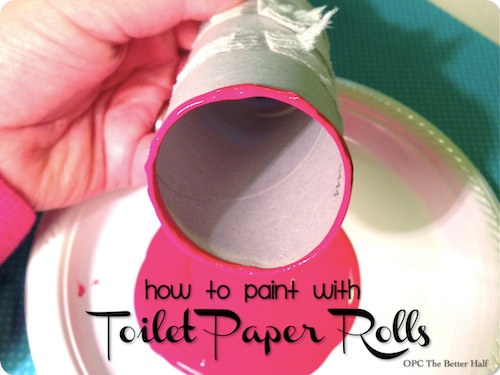 I used this technique last fall for my DIY burlap banner, and its a pretty quick and cheap way to apply a pattern. I had first tried to make a lattice stencil with my Silhouette, but it turned out to be a disaster. So I turned to my discarded toilet paper rolls.
Seriously, it's so easy. I put some paint on a plastic plate and dipped the end of the toilet paper roll in and then stamped it onto the paper. I used the gray paint I used for the back of the built-in shelves. It may be too much gray in the room, but what is done is done.
I first did several lines of circles, all the circles touching. (this is an example, I forgot to take a lot of pix while I was painting)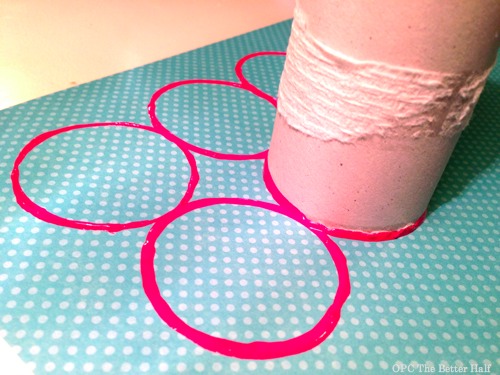 Then, I went back and put another layer of circles starting at the halfway point. It created a flowery lattice-type look.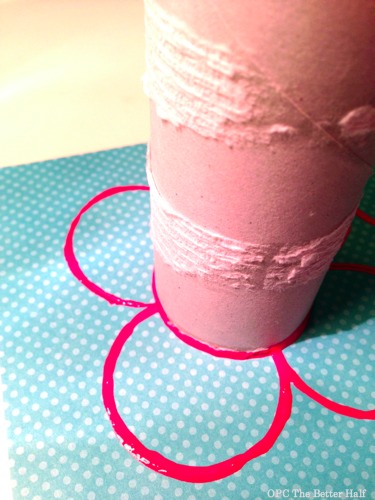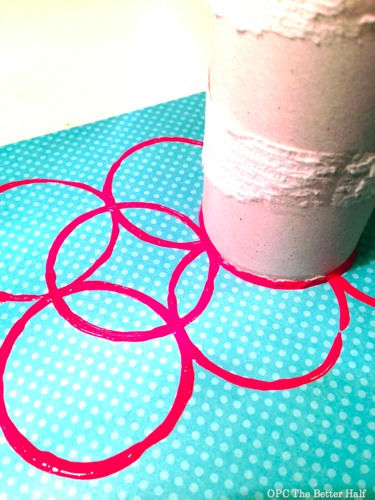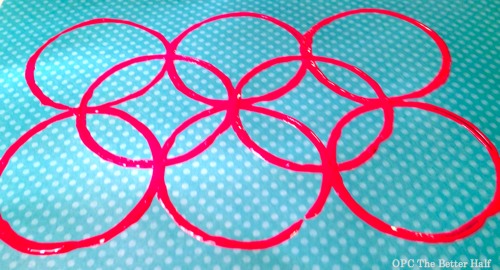 Here is the mat of the frame I painted using gray on top of the yellow spray paint. The paint evened out a good bit once dry. I also lightly sanded it all lightly to even it all the way out.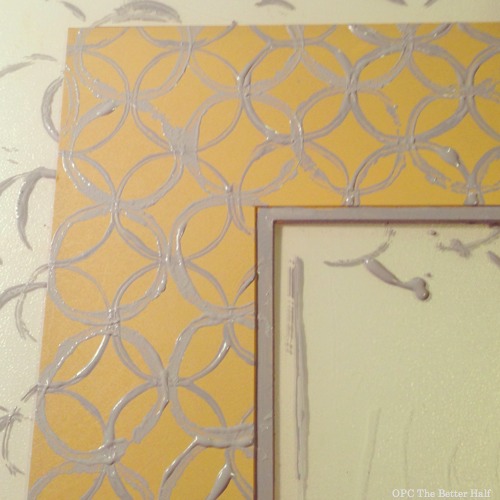 I have also creased the toilet paper roll in half so it looks more like a leaf.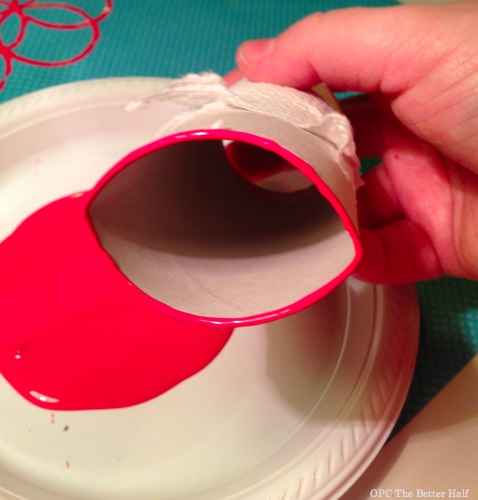 Then I pressed the toilet paper roll in groups of four to look like a flower.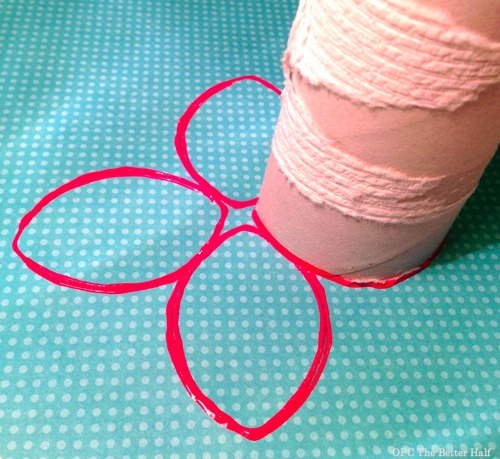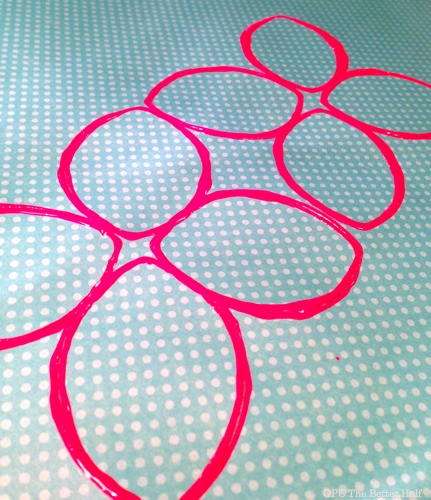 Before
Here is the "before" of the frames. I bought them about 5 or 6 years ago when the dark, rich woods were in style along with the world market type embellishments. They were in such good condition and I really liked them. But once we painted, they looked very dark in the room and out-of-place.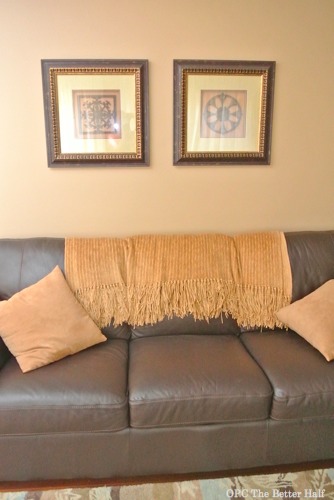 After
Ta-Da!!! Ethan was a champ and hung them for me the next day. I am a little bummed that I didn't incorporate more blue, or maybe even red because now I feel like it's a lot of yellow and gray.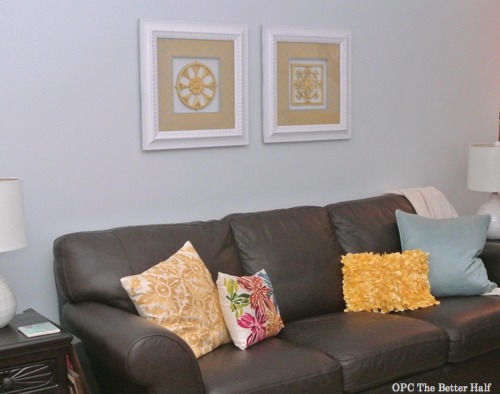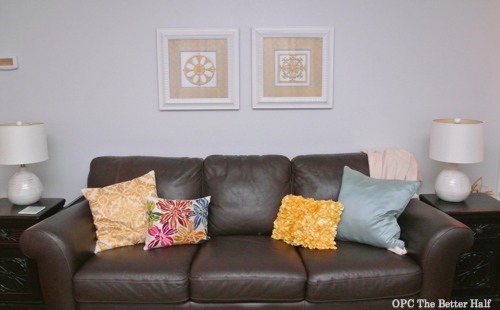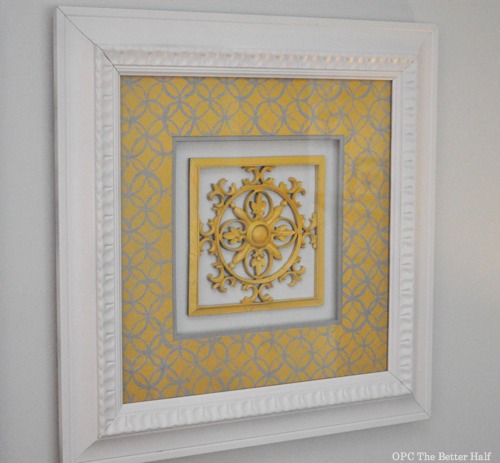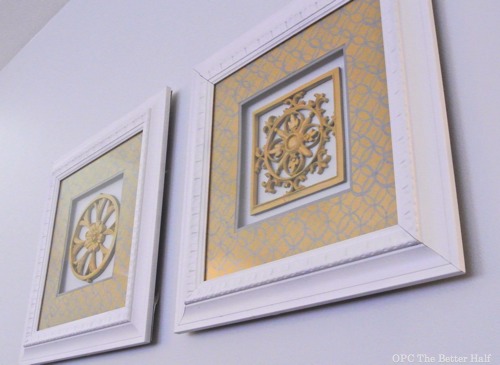 What do you think? Too much yellow and gray? Use or it lose it?
Thanks so much for reading along about my spray painted frames!
Don't forget to check us out on Facebook and Pinterest!
Also linked up at: Beneath My Heart