In our continued pursuit of the best possible visitor experience, we've made a few more modifications to our theme and site features that I wanted to let you to know about. As always, I welcome your feedback.
1. Revamped Blog View Home Page
As I mentioned a few weeks back, we've created an option to display the OPC home page in blog view, which may be a better view for those of you who read daily. I've made a few changes to blog view to make it look nicer and to give you the ability to browse back in history via navigation links at the bottom of the page. Just as before, the toggle button for the view always sits off to the left, so you can get back to our whole site view home page anytime. If you have cookies enabled in your browser, OPC will remember your home page preference.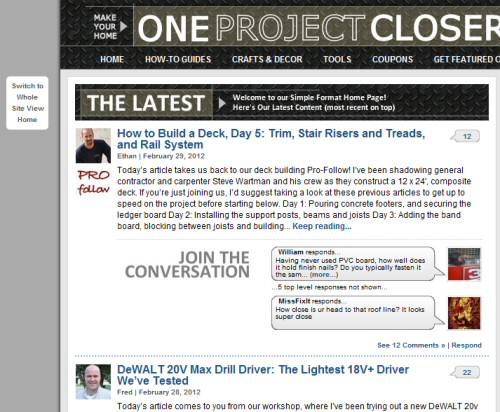 2. Redesigned Home Page Theme
We've been considering a major design change for our header, subscribe widget, and other graphical components for some time. Before we get started on our new, more feminine "finer side" component, we thought we should clean up our traditional theme. While most of the changes are cosmetic, we did add a First Time Here page to help new visitors feel welcome and get a sense for what we're all about here at OPC. Several more smaller changes to our traditional theme are coming as we stand up the finer side component of the site.
I'd love to hear specific feedback on whether you like the new graphical redesign.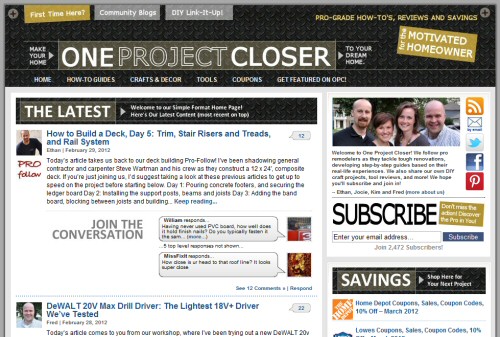 3. Login Redirects Fixed
One of our readers, Simon, pointed out that when you login to OPC, it always redirects you to the home page instead of taking you back to the page you were already on. That's fixed now. When you login, it should redirect you back to the last page you visited. I'm currently exploring AJAX login components that will make the login process even more seamless.
(Remember, if you don't have an account, you're missing out on our Project Rewards Program!)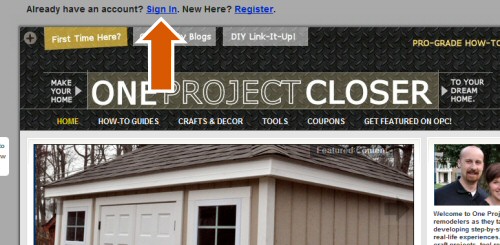 4. Full RSS Feeds Restored, But Only Temporarily
As you know, about two weeks ago we decided to deliver summary-only RSS because content thieves have been stealing our work via RSS-scraping. Unfortunately, WordPress' default functionality for truncating RSS feed items pretty much stinks. It just doesn't look very good.
As a result, we're looking for a solution that allows more intelligent shortening of our articles. We'd like to make it so that our emails and RSS feed items give you at least enough content to decide whether it's worth visiting the site to finish the article. Until we figure that out, we've temporarily put full RSS feeds back up.
5. Better Related Content in (Some) Footers
In an effort to make our articles more useful to regular readers and searchers, I've enhanced the Related Content section of many posts to include handpicked related information from OPC and other sites on the web. Here's a screenshot from this section on our How To Build a Shed tutorial. You can expect to see this handpicked related content showing up more often on important articles, especially those in our How-To library. If you have suggested items to include in this section for any post, feel free to leave a reference in the comments and we'll add it if we think it makes sense. (Note: we are partial to sites that provide high-quality information without distracting ads, malware, etc.)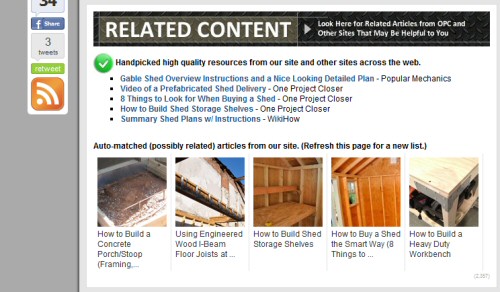 We're continuing to look for ways to make the auto-matched content in the lower area of this section better match the content on the page. That will likely require finding a new related posts plugin for WordPress.
I have just one or two more changes to this side of the site before my full programming attention is focused on our new "finer side" of OPC.