If you were with us at the beginning of 2010, you might remember that our first article of the year featured Final Cut's 10 Inch Sanding Saw Blade. We used that blade on an old mitre saw during the first phase of our first floor remodel (which primarily consisted of tearing out walls—we used the Final Cut to cut some 2x lumber to install behind new drywall, and liked it).
The nice folks at Final Cut were kind enough to send us a second sanding saw blade for our rather old and beat up SKIL table saw, which we've been using for some of the work on our kitchen remodel, most recently to cut some double-finished plywood for the sides of the refrigerator.
To be sure, installing a Final Cut blade on this 10-year-old saw is probably an over-investment. When it was new, the saw itself only cost a few $20's more than the blade did out of the box (it's $65 for a new 10″ blade – which isn't bad for a good blade). It sure makes the saw better to use, and is helping us cope with the reality that we don't want to spend a few hundred to pick up the table saw of our dreams.
The blade did fine on the double-sided plywood–one could say very well considering its a 40T blade and we didn't use masking tape over the cut lines. You can see an example of a cut here: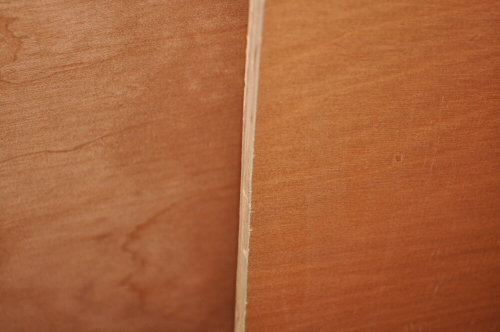 The edge of that plywood is very smooth to the touch–you'd be unlikely to get splinters, which is a nice outcome. The Final Cut definitely reduces tear out over a similar blade without the sanding disc, although you can still see some nicks in the finish. Of course, this blade reduces work time because you don't need to sand the edge that you just cut, and you can make minor adjustments in the finish of a piece by sliding the edge of it against the spinning blade.
The 10 inch 40T blade we tested is an "all purpose" blade, in that it is designed to cross-cut and rip-cut without changing blades, and it is designed to last longer than, say, an 80T finish carpentry blade. The nice trade here is that you can get a blade that works in many different situations and won't wear out as quickly as an 80T blade, but will give you a better finish than a standard 40T blade – a pretty good trade all around, especially if your time is valuable.
You can read more about the Final Cut saw blade in our original review of it on the compound mitre saw. Of course, we're always interested in hearing your thoughts if you've tried this product yourself – just leave them in the comments.
Where to Buy?
If you're interested in picking up a Final Cut blade for your own project, you can purchase these blades at that link on Final Cut's web site.  Final Cut also offers packs of sanding discs that can be installed on any blade.