An air compressor is a necessary part of any good workshop whether you're a do-it-yourselfer or professional. Compressors power the toe-nailer for laying hardwood flooring, framing and finish nail guns, and allow you put air in your tires! That's right. I just got back inside from checking and inflating (as necessary) the tires on my car and Jocie's car. Along with any good compressor, you need to have the right accessories.
Recommended Compressor and Nailers
If you're in the market for a compressor and nailer combo kit, read about this refurbished Bostitch combo kit for more details. It has all the elements you'd need to tackle most jobs- 6 gal compressor, finish nailer, brad nailer and stapler. Purchasing refurbished tools can save you a significant amount of money and most tools include a manufacturers warranty.
Rob from A Concord Carpenter has a great site filled with solutions for home improvement. He had a recent article about air compressor maintenance that you should read to keep your compressor in tip-top shape.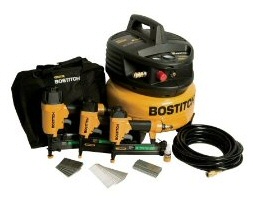 Simple Air Compressor Accessory Kit
I'd argue that everyone who owns a compressor should, at a minimum, have a basic air tool accessory kit. Simple accessory kits can be found online or at big box stores for about $20. It's a small but worthwhile investment. One of the most popular compressor accessory kits is made by Campbell Hausfeld- a company known for their air tools. They put together a nice 25-piece accessory kit to get you started.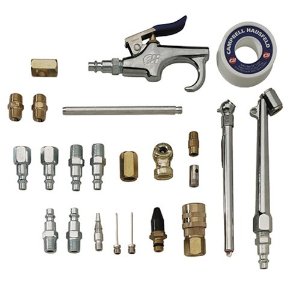 Air Compressor Hose
Most compressors ship with a sub-standard hose. Even though the pressure gauge reads 90psi, small diameter hoses restrict air flow. Pick up a heavy-duty hose with a 3/8″ diameter.
Air Compressor Tool Kit
If you're really looking to take full advantage of your compressor, pick up a pneumatic tool kit (in addition to all the nail guns). Pneumatic kits often include impact drivers, impact wrenches, cut-off tools, air hammers and blow guns. Some of these kits require a larger, high-powered compressor so double check the specifications before you buy.
What do you think? Any other must-have compressor add-ons?