We first ran this article in 2010. It provides detailed instructions for installing hardwood flooring over a wood substructure. It chronicles tutorials for each step of the process, derived from our installation of 3/4 inch solid, tongue-and-groove Brazilian Walnut hardwoods in our own home!
At the bottom, we provide links to posts on the tools we use and frequently recommend for hardwood installation. Below is one picture of the final product. Here's the rest. This project was a lot of fun. We hope you enjoy the tutorial!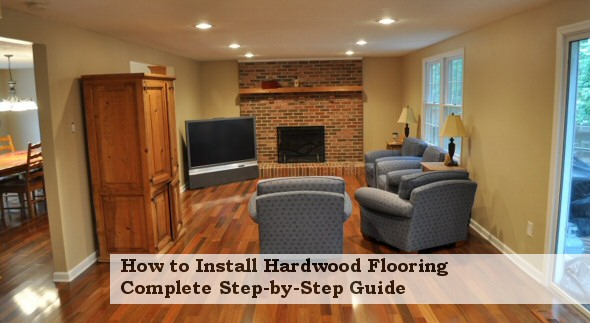 While each hardwood job has its differences and subtleties, this series covers many of the common challenges and pitfalls inherent in every hardwood installation, from leveling the subfloor to installing baseboard and shoe molding. Just follow the links in the steps below, and don't worry – no spam here. This is just straight-up content!
We hope you enjoy the series as much as we enjoyed publishing it! We also hope it's helpful to you in your project. Before we get started though, just a reminder that the content is provided without warranty, and as with everything on our site, use this information at your own risk. We always take care in describing the steps and precautions for a job–and hardwood is a relatively safe subject–but there is always the possibility we'll omit something important.
Not Doing it Yourself?
Before we get started, if you aren't doing this job yourself, we partner with Home Adviser for free quotes. They match homeowners with screened and approved local contractors who can get the job done right. Here's the link:
Steps to Install a Hardwood Floor
(hover over the links to learn more about the article)
Step 1 : Planning Your Floor
Consider what subfloor material you have (plywood or OSB) and its width, which may influence the direction you choose to lay the hardwoods in the room – either perpendicular or parallel to the joist substructure. Note: for concrete slab installation, engineered lumber is a better choice than solid hardwoods.  Hardwood installations are most stable when they are installed perpendicular to the joists; but if your subfloor is sufficient, a parallel installation is acceptable.
Step 2: Preparing the Subfloor
Ensure the subfloor is sufficiently level for installation–there should be no rises and falls more than 3/16 over a 6 foot span. There are several ways to level an uneven subfloor for hardwoods.
For systemic problems, a good alternative to complete replacement is leveling the plywood or OSB subfloor using asphalt shingles.  This method relies on shingles and an additional layer of plywood to get uniformity across the floor.
If a subfloor is high in a single or few locations, you can pull the subfloor up and plane the crowning joist to level the floor.  If a subfloor is low in a single spot, you can pull the subfloor up and shim the floor, using a similar approach.  If you decide to plane a joist, remember that this could have an affect on the structural integrity of the floor and it is important to get the opinion of a structural engineer.  In any case, reattach the subfloor with screws and construction adhesive.
Step 3: Acclimate the Wood
With the subfloor sufficiently leveled, acclimate the hardwoods in the space where they will be installed.  Leave the hardwoods in this location for 7-10 days. Make sure not to stack the boxes, and run the A/C or heat normally. The best time to install hardwoods is the Spring and Fall when the humidity and temperatures are at yearly averages, but Summer and Winter installations are possible with the proper precautions.  Never store the hardwoods where they can get wet.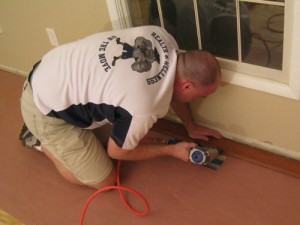 Step 4: Laying the First Row
When the hardwoods have been properly acclimated, it's time to lay the first few hardwood boards.  The first board in an installation sets the tone for the remainder of the installation. Take time and do it carefully. That article covers every step precisely.
If installed properly, the rest of the floor will practically lay itself. If installed unevenly, gaps will develop as you lay subsequent boards and you will be frustrated with the result.  It is here that the technique known as blind nailing is first used.
Step 5: Laying Hardwoods in the Field
Continue laying hardwoods throughout the floor. While the bulk of a hardwood installation is tedious but uncomplicated, there are a few areas that can be challenging, and we have articles to cover these situations:
(working around vents) Most modern homes have at least a few HVAC vents located on the floor. Laying hardwood around vents is simple, involving only a few measurements and cuts with a jigsaw.
(working through doors) When maneuvering through an installation, you will likely have times where the hardwoods go through a door. When this happens, you should cut the door trim and stops just high enough to rest at the new floor level.
(working around walls and obstacles) When laying hardwoods around a wall or when going around an object, you may have to start a new first board against the back side of a wall. When this happens, you should follow all the steps involved in laying the first board.
Step 6: Laying the Last Board
When you get to the last few boards of the hardwood installation, you will need to blind nail and then face nail the wood because the hardwood flooring stapler or nailer will not fit (article coming soon).
Step 7: Flooring Transitions
After the floor is laid, you'll likely need to transition to adjacent rooms and flooring surfaces, or install stair nosing.  We discuss the proper place to transition in a doorway in our article on working through adjacent rooms. (other articles coming soon).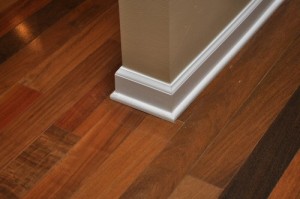 Step 8: Trim, Baseboard, and Shoe Molding
Install baseboard and shoe molding around the perimeter of the floor to 'frame out' the room.  This involves scarf joints, inside corners (which can be cope cut), and outside corners. Quarter round can be an acceptable alternative to shoe molding if you have large gaps.
In fancier designs, three or more baseboard components are used, but in the typical installation only two (base and shoe) are installed.  There are been a lot of discussion on our site on whether shoe molding and quarter round should be stained to match the floor or painted/stained to match the baseboard.  If you are installing an exotic hardwood, you'll find that the trim components are expensive. One alternative is to stain pine quarter round or shoe molding to closely match the floor.
If you're laying next to kitchen cabinets, you should pick a shoe molding that matches the cabinets as opposed to the floor.
Tools to Install a Hardwood Floors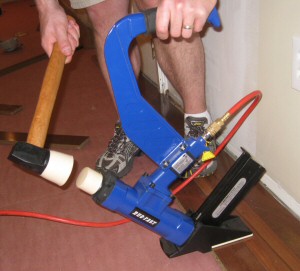 For a job this large, we were happy to have DuoFast sponsor the primary tools, providing their DuoFast Floormaster 200-S Hardwood Stapler for the bulk of the floor.  In our 1100 square foot installation we fired nearly 3000 staples, or an average of just under 3 per square foot. The Floormaster 200-S performed flawlessly, with no jams.
DuoFast also provided their new DuoFast Floormaster 250BN finish nailer for the first and last boards and to facilitate molding installation.  Both of these tools performed very well across our floor and we'd highly recommend them to folks installing flooring in their own home.
Where to Purchase Hardwood Floors
The flooring used in this installation is Lumber Liquidator's Bellawood Brazilian Walnut Flooring. Bellawood is an excellent product sealed in many layers of aluminum oxide, the best surface coating for hardwood flooring. Aluminum oxide is far superior to polyurethane; it has better scratch resistance and does not fade or yellow over time. If you haven't purchased your flooring yet, we highly recommend Lumber Liquidators online web site. Their site features really good deals and they can ship the product directly to your front door.
Hardwood flooring is offered by several other big box retailers and can be a significant investment. If you don't choose Lumber Liquidators for your purchase, consider Lowes. We've written about a free Lowes Coupon that can save you 10% off a major purchase like hardwoods.
Did You Find This Guide Useful?
If you found this guide useful, we'd really appreciate it if you'd click the Facebook "Like" or Google "+1" buttons over there on the left. They let others know that these guides are helpful! Thanks so much!
What do you think? As with all our articles on this site, help us make this better by adding your own suggestions and thoughts!