Baseboard and shoe molding dress up a new hardwood flooring installation. After you've put in the time installing the new floor, trimming it out frames the floor, showcasing the hardwoods just like a quality frame showcases quality art.
Baseboard comes in many different shapes and sizes and should be picked based on a balanced approach to style and money.  The simplest builder-grade primed white baseboard can be purchased at Home Depot or Lowes for around $0.30 / linear foot, while stain-grade elaborate baseboards can cost as much as $4.00/linear foot.
While most baseboards consist of a single board, elaborate baseboards can have 2 separate components installed on top of one another to give a deeper  look, with shoe molding tacked on top of that.  Of course, most modern homes will have the traditional–and ubiquitous–single board 3.5″ molding that we cover in this article.
This article is part of our series on hardwood flooring installation. To follow along, subscribe using the RSS and e-mail buttons on the right.  For a complete list of the articles in the series, see this main article on installing hardwood floors.
Measuring For Baseboard and Shoe Molding and Selecting Size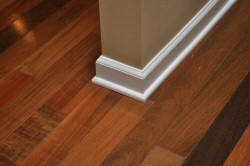 In most installations, baseboard will cover every linear foot of wall space with the exception of door jambs.  Measure the wall space and add 20% to your calculation for waste–less if you are purchasing precise lengths.
Baseboards are available in 12 foot and 16 foot lengths, and the big box stores will allow you to cut pieces of baseboard to exact lengths. You'll notice that contractor packs of baseboard available at the big boxes (usually containing 120 linear feet — ten 12-foot boards) are significantly cheaper than buying piecemeal–as much as 50% less.  The disadvantage of these packs is that (1) you must buy in bulk; and (2) you are limited to 12 foot lengths.
When considering whether 16 foot lengths are worthwhile, you should assess whether any of the walls in your house are between 12 and 16 feet long. The reason being, if the walls are 12 feet or less, 12 foot lengths will do just fine.  If they are larger than 16 feet, but smaller than 24 feet, you'll have to use two pieces regardless of whether you purchased 12 foot or 16 foot lengths.  (A similar rules applies between 24 and 32 feet, where 16-foot lengths can reduce the number of joints — but at 33 feet you'd need 2 joints regardless of 12 or 16 foot selection).  In any case, even for 14 foot walls, a good joint will be invisible to the casual observer, so 12 foot boards can be used throughout.
Simple Joints – Along a Long Wall
When a wall is too long to use a single piece of baseboard, two boards must be joined end-to-end.  The right way to do this is to cut opposing 45 degree angled mitre cuts.  To ensure the baseboard stays tight against the wall, find a stud and end the top mitre cut just beyond it, sinking a finish nail near the end of the board.  This ensures the baseboard stays tight against the wall.  In the drawing below, the left piece of baseboard will hold the right piece snugly against the wall.

It is helpful to find a spot on the wall that isn't particularly bowed to do the join. Here's a quickly done joint in our installation.  For maximum results, it could be sanded and painted to make the joint virtually invisible.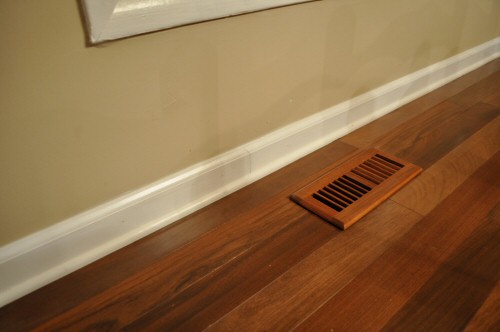 Inside Corners: Coping with Pain or Mitre and Run
Inside corners are the most common in a home.  Most regular rooms have four inside corners. There are two ways to cut molding for inside corners: coping and 45/45 mitres.  Let's start with the easier of the two: 45/45 mitres.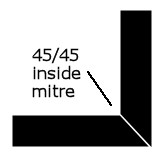 Method One: 45/45 mitre cuts join baseboard by cutting opposing 45 degree angles into the baseboard.  These joints can look perfect if the wall makes an exact 90 degree angle or is really, really close to it and you have a very good mitre saw.
If the wall isn't 90 degrees, a 45/45 cut will leave a big gap, or it simply won't fit.  It is possible to use a sliding protractor to measure the exact angle of a wall and adjust the mitre angle to compensate, but this can be tedious.
With this method, paintable caulk (elastomeric sealer) is used to close any apparent gaps.  Note that since caulk is a primary ingredient in this method, it isn't the best approach for stained baseboard. For stained baseboard, cope cutting provides better results. Read here for more thoughts about painting vs. staining molding.
Here's a picture of a 45/45 cut going into place on an inside corner.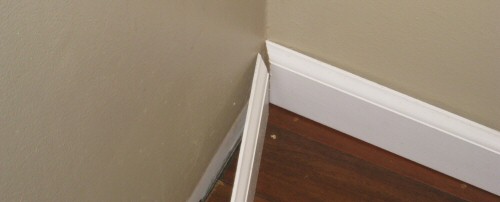 If you use the 45/45 method, it can be helpful to cut the wood just slightly long and bend it into place (this is easier if you're using contractor grade materials built from MDF.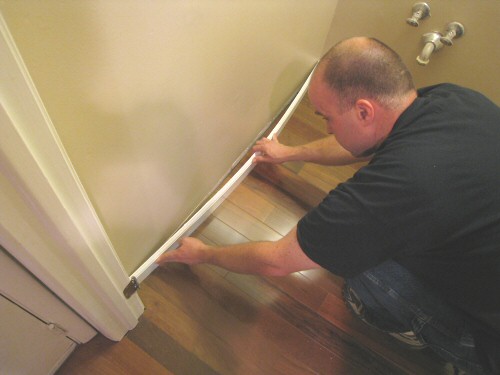 And finally, here's the finished product (with shoe molding):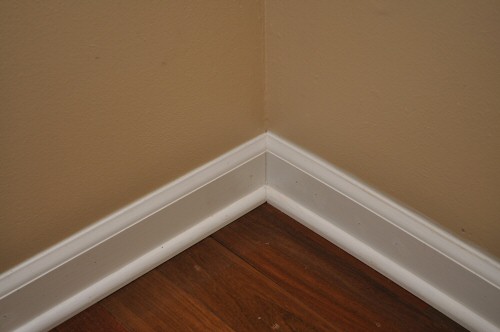 Method Two: The harder method for joining inside corners is cope cutting.  Coping consists of laying one baseboard flush against the wall and cutting the other baseboard to match the curvatures of the first.  True carpenters will argue that coping produces better, longer lasting joints. We've already written extensively on cope cutting baseboard in the article linked above. If you're interested in this method, start there for instructions.
Outside Corners: 45 Degree Joins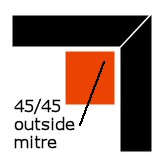 Outside corners work similarly to inside corners and are joined at 45/45 degree angles.  They are functionally similar to inside 45/45 mitres except that they work in reverse.  Again, when a wall is 90 degrees square, these work great.
When the wall is out of square, some adjustment may need to be made to get the boards to look current.  If you're planning to stain baseboard, extreme care should be taken with the outside mitres as there is no room for error.
Here's a picture of an outside corner in our installation.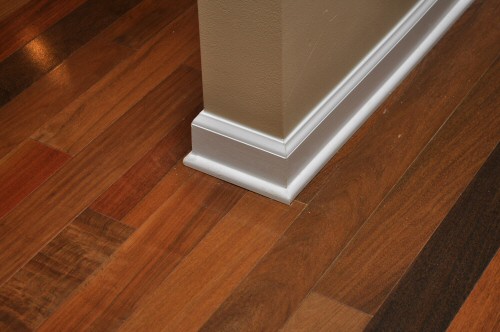 Fastening Baseboard to the Wall
Most baseboard can be fastened to the wall on the studs using a 16 gauge finish nailer with 1.5 inch nails.  We used the DuoFast Floormaster 250BN for this job.  A stud finder comes in handy for locating the studs.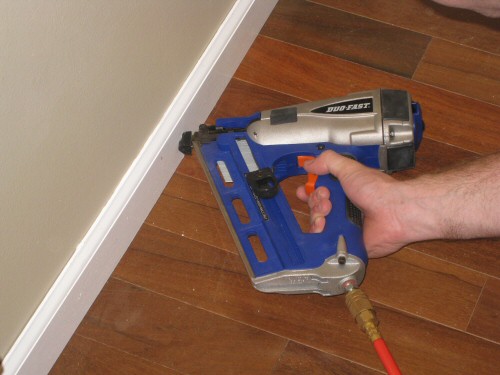 Tip: Baseboard should not be fastened to the floor, which inhibits floor expansion beneath the baseboard.
Installing Shoe Molding
Shoe molding follows all of the same principles as baseboard in terms of cuts and placements.  The only difference is that the measurements are shorter because shoe sits inside the perimeter of the baseboard.
Note that while baseboard is dimensionally stable vertically, shoe molding is designed to be very flexible in 2 dimensions, allowing it to "hug the floor", closing any visible gaps due to dips in the subfloor that are transmitted to the surface.  This is one major advantage of using shoe molding along with baseboard — it hides both vertical and horizontal gaps.
You should fasten shoe molding using an 18 gauge finish nailer with 1 inch nails. 16 gauge nails are likely to split shoe molding and will be more easily visible on the small surface.
Tip: Shoe molding should be tacked to the baseboard, not the floor, which inhibits floor expansion beneath the shoe molding.
Tool to Cut Baseboard and Shoe Molding
For most baseboards, a simple 10″ mitre saw that can make 45 degree cuts is sufficient.  For baseboards taller than 4.5″, you'll likely need to lay the baseboard flat and use a compound mitre saw (and preferably a dual-compound mitre that can rotate 45 degrees toward either side).
We used our Kobalt Sliding Compound Mitre saw for the entire job, but we didn't make use of either the compound or sliding features.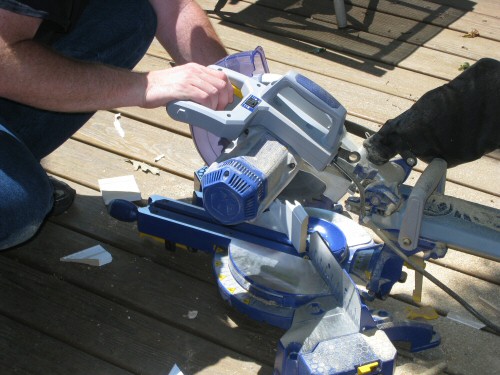 What do you think? Do you have any baseboard or shoe molding tips to add?
P.S. Stay tuned tomorrow for the final "after" shots of the entire installation!