Updated 4/29/2011: You can find Kobalt products at your neighborhood Lowes, but before you head out, pick up a sweet Lowes Coupon. This coupon gives you an automatic 10% off any in-store purchase, and who doesn't like to save money?
A miter saw is really a bread-and-butter tool for any professional wood worker or DIYer. It's has a wide set of applications for many home improvement projects. So, it's important that you choose a miter saw that is versatile, precise, and can handle any project you undertake.
Lowes produces its own line of tools called Kobalt. Kobalt brand features everything from tool storage and impact wrenches to ratchets and compressors. They were kind enough to let us try our hand with their 10″ sliding compound miter saw. Read on to learn about the features of this saw and how it stacks up.
Kobalt Miter Saw Review
Laser Guide
Lots of miter saws are including a laser guide to help users line up their cuts. The first thing I like about the Kobalt laser is it's location. Some competitors place the laser guide on the end of the handle. These lasers are easily obstructed and more apt to being bumped and misaligned. Kobalt places its laser on the cutting head support, out of the way. Secondly, the laser doesn't require batteries. Replacing batteries is cumbersome. Kobalt was smart to integrate the laser power supply with the saw. Click on the picture for a close-up view.
Cutting
This miter saw is very precise for both miter and bevel cuts. The saw blade cuts immediately to the right of the laser guide so you know exactly where to place your stock. The laser was accurate even when sliding the blade forward. Plus, this sliding miter saw is equipped with a 10″ blade. That means it can handle very large stock (3-5/8″ x 12″ @ 90° and 3-5/8″ x 8″ @ 45°).
Hold-Down Clamp and Extensions
I've seen both of these features on other miter saws, but never really tried them out. These are small bells and whistles that really help your work flow. The Hold-Down Clamp quickly locks your material in place and has four different locations. The extensions easily slide out for additional support.
Price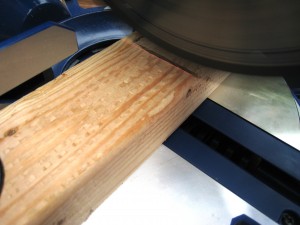 I know I've already mentioned the price, but it's worth mentioning again. At $199, you'll be hard pressed to find a better 10″, sliding miter saw. Most sliding miter saws are about double this price tag.
Additional Features
Here are some additional features and specifications.
15 amp motor
10″ blade, 4800RPM
Telescoping supports on left and right sides
45° max bevel and 50° max miter
Electric blade brake
Positive miter and bevel stops at common angles
Sliding rear fence
Horizontal switch handle
Bevel detent and cutting depth preset
Sliding rear fence
Areas for Improvement
There are two improvements Kobalt could address. First, the dust collector doesn't work well. I setup outside and brushed off a fair amount of sawdust after I was finished. In the future, I'll connect my shop-vac in place of the dust bag. My second complaint is the location of the bevel locking handle. It's mounted on the backside of the cutting head support, making it difficult to reach.
Response to Commenters
There are few commenters below sharing disappointments with this saw. I appreciate the many different opinions, but it's worth stating that my Kobalt Miter saw is still working like a charm, a year and a half after I ran this review. I do believe you get what you pay for, but this saw has performed through an entire first floor hardwood installation (click here for the full Hardwood Flooring Installation Guide) and even simple projects like cutting baseboard. The laser is still true and I'm still happy with it.
These are the features I really liked about this saw.
Where to Buy the Kobalt Sliding Miter Saw
If you're looking to purchase your first miter saw or even upgrade from a non-sliding version, the Kobalt Sliding Miter Saw seems like a reasonable choice to us. This saw includes all the important features of a mitre saw, but also sports a decent price at $199. (Sometimes $149 on sale).
Kobalt brand tools are available from Lowes.
What do you think? What's your experience with this saw?