We've written a fair amount about installing baseboard and quarter round for hardwood floors, and the right finish nailer for doing this job. One recurring question from fellow DIYers tackling this project is whether you should lay quarter round that matches the wood floor or just paint the quarter round white to match the baseboard.
Editors note: This article was first published in November of 2008, and it has garnered a lot of attention. We've learned there are several different opinions about this topic and have instituted a poll to determine the majority vote. Please read through the post and cast your vote at the end. Check out the comments, and you'll see why people feel so strongly.
Should Shoe Molding Match the Baseboard or the Floor?
While there's no hard and fast rule on this, here's our thoughts on it:
If you are laying quarter round or shoe molding on hardwood floors, you should lay a quarter round or shoe molding that matches the floor wood grain & stain.  Most folks know that hardwood flooring companies generate a lot of profit from trim pieces.  If you want to avoid paying the high price for matching trim, but still want a clean, finished look, consider buying unfinished trim pieces at your local big box and staining the to match your prefinished floor.  This will save you 50-75% off buying matching trim, and you likely won't be able to tell the difference (especially if your hardwoods are oak or pine, which are readily available in unfinished trim at home improvement stores).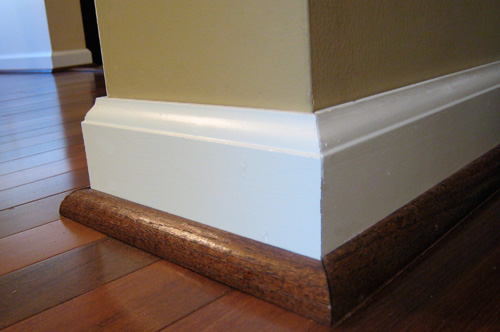 If you are laying quarter round on a ceramic, vinyl, or stone tile floor, you should paint the quarter round to match the baseboard molding. The most common trim color is white, and so this most often will lead to a white quarter round trim.  One exception to this rule is when a ceramic or vinyl floor sits next to a room with hardwood and the quarter round continues from a hardwood area to a tiled area.  Another exception would be when the baseboard is an authentic stained wood itself, in which case the quarter round should be stained to match the baseboard molding.  The reason for painting the trim white is that a stained quarter round tends to draw the eye to the corner of the floor, instead of framing the floor itself.  Stained quarter round on tile floors serve more as a distraction than an accent.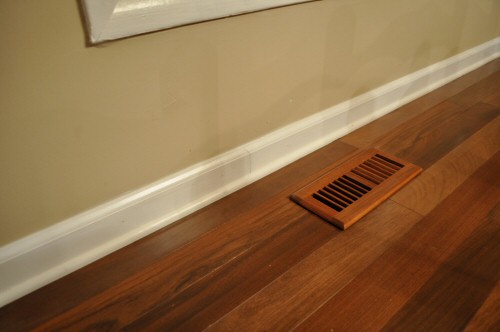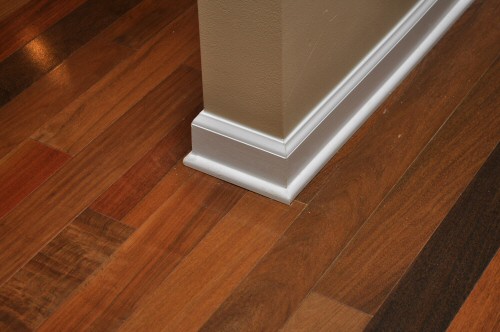 As I said, there's no hard and fast rule for this.  Some people prefer painted quarter round even on hardwoods.  Lay some sample pieces in your own room before making a decision.
Vote!
Don't forget to cast your vote. You can select as many choices as you'd like, and if you want to suggest other options, send me an email.


Loading ...
What do you think? Which option did you choose in your room?