We're currently in the process of installing 1100 square feet of 3/4-inch Brazilian Walnut flooring across our first floor. Brazilian Walnut is the hardest commonly-installed flooring available, with a Janka rating of 3684.  It is nearly three times harder than red oak. Due to a complex subfloor leveling issue, our subfloors are a minimum of 1 inch thick (5/8″ OSB + 3/8″ plywood). In some places we have asphalt shingles that add up to 5/8-inch thickness between these two surfaces. The result is a subfloor and flooring surface that is up to 1.5 inches of solid, dense material.
Duo-Fast contacted us ahead of this project and asked if we'd like to try their new Floormaster 250BN product during the installation. The Floormaster is a finish nailer designed specifically for blind-nailing and top-nailing hardwoods in the first and last boards of an installation. Our review of the 250BN will be out early next week.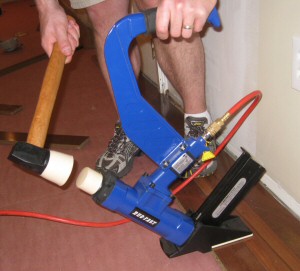 While we had Duo-Fast's attention, we also asked them if we could review their 200-S Pneumatic Flooring Stapler. The 200-S is a heavy duty hardwood flooring stapler that is designed to drive staples into all types of hardwoods (including Brazilian woods) with ease.
We figured if any flooring job could put the 200-S to the test, it's this one. With up to 1.5 inches of hardwoods, asphalt, and plywood subfloors, there's a lot of material vying to disrupt a staple. With over 2500 staples installed, our experience has been fantastic. Read on for our full review.
Duo-Fast 200-2 Hardwood Stapler Review
The Highs: Consistently sinks staples; no jamming over more than 2500 staples; excellent weighting and balance on the device and mallet; very simple operation.
The Lows: Guard that covers the staple clip can snap shut abruptly on loading (see below).
The Verdict: An excellent choice for installing hardwoods with ease.
Performance Review
At 11.25 lbs., the 200-S has a very solid feel. It's heft makes it simple to position and hold over the optimal location (just above the tongue) on 3/4 inch hardwoods, and ensures the stapler has a low amount of kick-back on discharge.
Actuating the stapler is simple with the included mallet, requiring only a medium-force swing with a 90-PSI setting on our 1.5 gallon pancake compressor.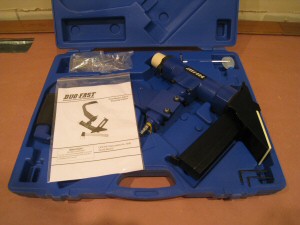 Over the course of three days, we drove more than 2500, 15-gauge staples with this tool. Occasionally, as with any hardwood stapler, a staple will strike another fastener in the subfloor and bend or crush the surface fastener into the board. When this happens, the staple has to be removed. What's notable about the 200-S is that in the (approximately) 50 times this happened throughout our job (we have a lot of fasteners in our subfloor), the stapler has never jammed. In fact, other than periodically oiling the 200-S per the instructions, it has required zero maintenance — a huge plus.
We experienced only one minor drawback with this tool. The spring-loaded cover on the staple chamber can abruptly snap shut while loading. You cannot rely on the built-in mechanism to hold it open. We quickly learned to hold open the cover with one hand while loading with the other. Ultimately, we viewed this as a small price to pay for the quality in this tool, but would like the tool even more if it were fixed.
Features Overview
Weight: 11.25 lbs
Fastener Length: 1.5″ to 2″
Wire Gauge: 15
Staple Capacity: 98 staples
Compressor PSI: 60-100 (we used 90 for consistent drives).
Considering Hardwood Staples vs. Nails
There is plenty of debate among hardwood flooring installers as to preference for nails or staples in 3/4 inch flooring. We personally prefer staples. For every staple put into the floor you end up with two grip points, effectively doubling the number of fasteners installed when compared with nails.
The drawback of staples is that they tend to split the tongue on hardwoods more frequently than nails, especially with 15 gauge staples. This did happen in our installation. That said, when it did happen, we had no trouble installing the next board (meaning the broken tongue did not get dislodged to the point where it impacted the next board's fit). In our view this is a good trade. The occasional split-tongue has little bearing on the grip between the fastener and the subfloor anyway– and the 200-S delivered a very tight, very solid installation across the entire floor.
Duo-Fast 200-S Comes With?
Hardwood Flooring Nailer
Plastic Case
Mallet
1/2-inch Flooring Adapter
Instructions
Price & Where to Buy
The 200-S is priced around $359.00 at online retailers. If you want to buy locally, Duo-Fast sells through a network of distributors. Use their distributor search page to find one near you.