Welcome to our latest Pro-Follow update with professional contractor Joe Bianco as he remodels this basement. Last time we left off, Joe had installed all the base cabinets in the wet bar, and today we're taking a look how the granite countertops and back-splashes were installed. If you remember, the bar area will be galley-style with base cabinets on either side of the egress window.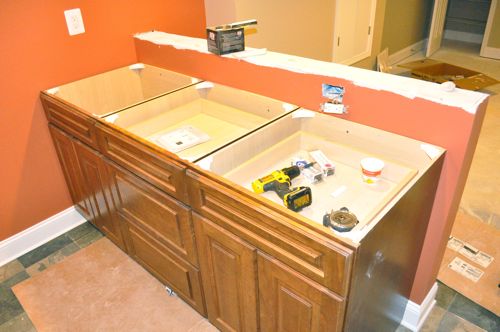 Step 1: Move Main Piece into Place
Mr. and Mrs. Homeowner have selected a beautiful granite countertop from a local distributor, and the installers began by moving the two main pieces into place.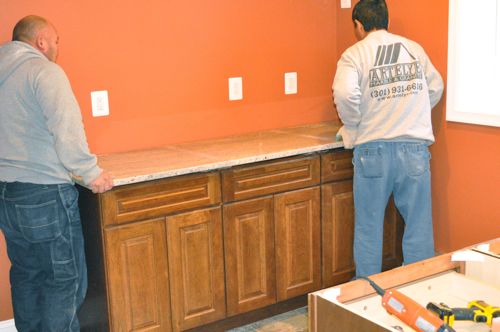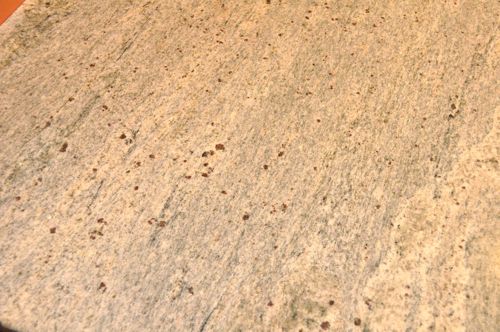 Step 2: Install Sink
The wet bar will have a small, under-mount sink on one side.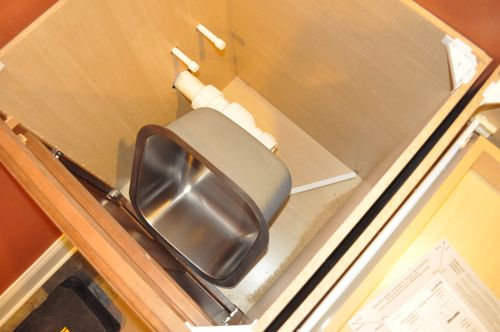 It'll be secured with these brackets and anchors.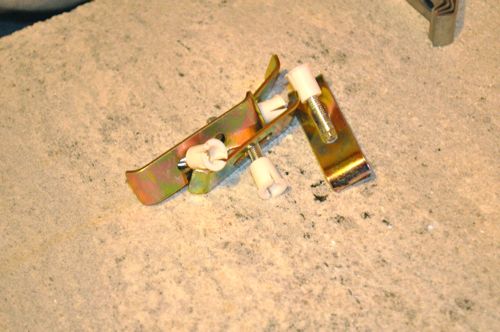 The guys start by positioning the sink and clamping it in place with a piece of scrap across the opening.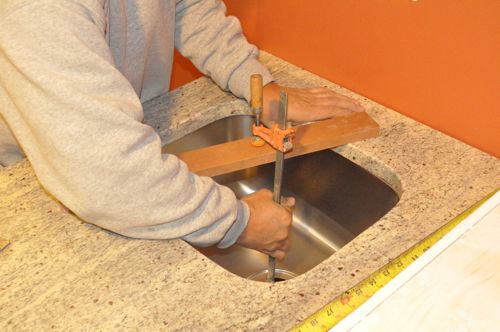 The manufacturer has pre-cut these angled channels all around the sink into the granite to fit the anchors.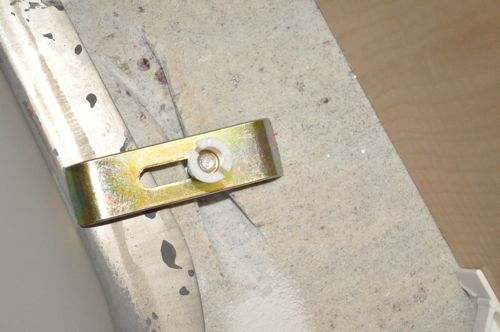 The guys also added silicone to the joint between the sink and the countertop.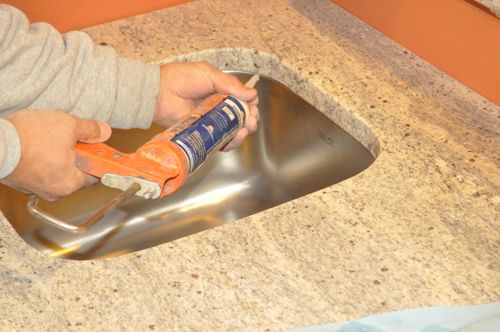 Step 3: Install the Bar Top
The bar top sits on a half-wall, and the guys first set it in place to test for fit and mark a location for a small piece of supporting molding.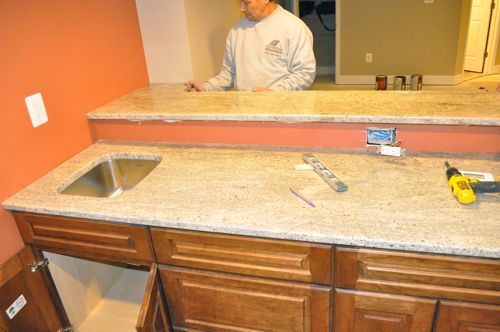 You can see the wall isn't 100% square so the installers scribed a line using green tape. Although most of the gap is concealed behind the side / back-splashes, it's important that the countertop be tight against the wall along the finished edge.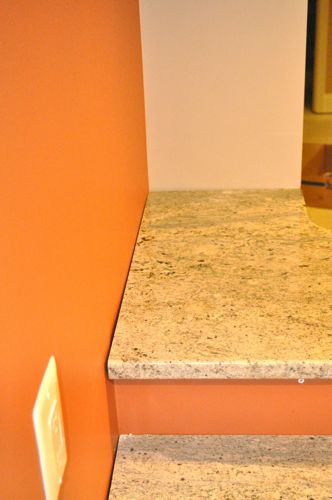 With a grinder and carbide blade, the installers cut a new edge to better match the wall.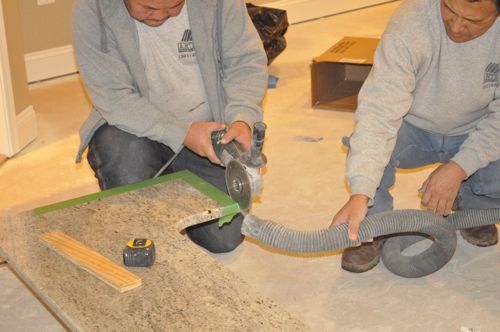 Meanwhile Joe cut a small piece of molding to help support the granite.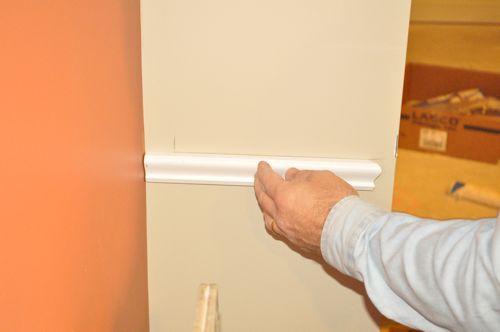 Step 4: Mix and Spread Adhesive
The installers mixed a generous portion of adhesive and cream hardener.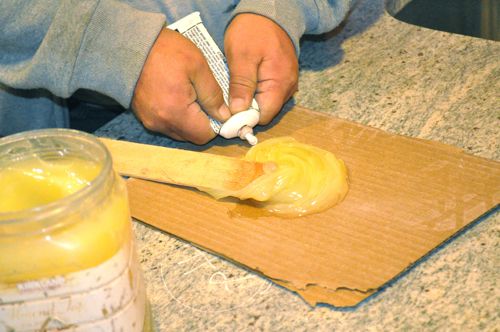 They spread globs of the adhesive and acrylic latex caulk underneath the bar top.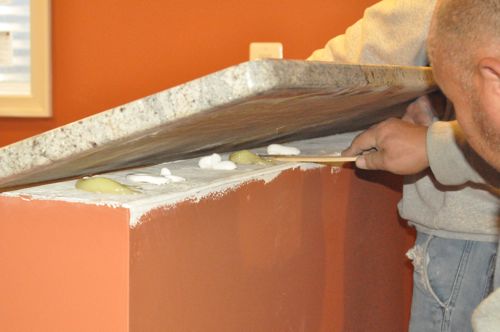 Step 5: Shim Level
Using small shims they ensured a perfectly level countertop. These shims will be cut later and that edge will be covered with decorative molding.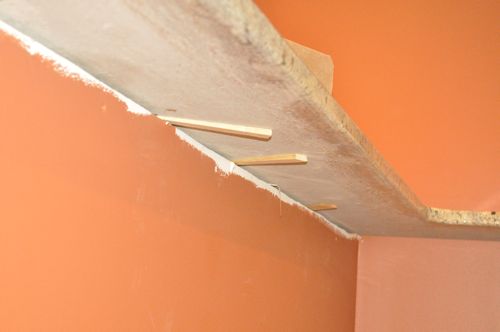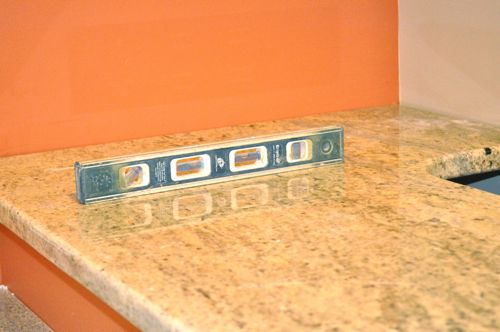 Step 6: Cut Back-Splashes
All the back-splashes and side-splashes are 4″ pieces of granite that the installer cuts to size on-site. They also cut this access for the electrical outlet.
Pro-Tip: Granite should be cut 1/2″ or thicker. Slimmer cuts may result in breaks and cracks.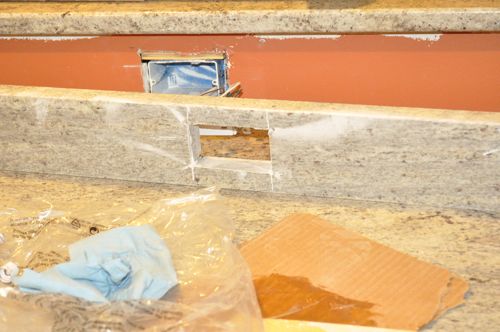 Using the grinder and a carbide hole-saw, the installers cut the opening for the sink faucet.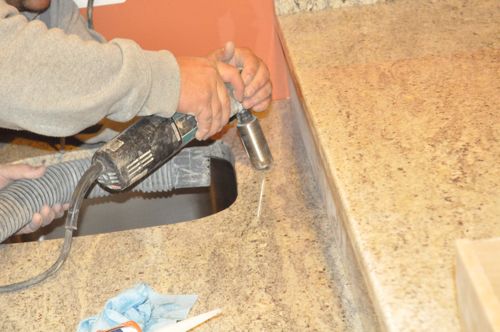 Step 7: Clean and Glue
With the back-splashes cut to size, the guys put a few globs of silicone behind them and sealed all the joints.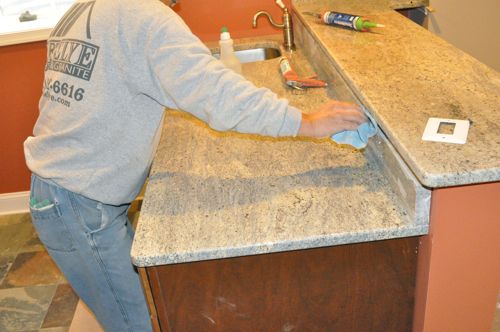 Pro-Tip: Clear silicone goes on white and dries clear.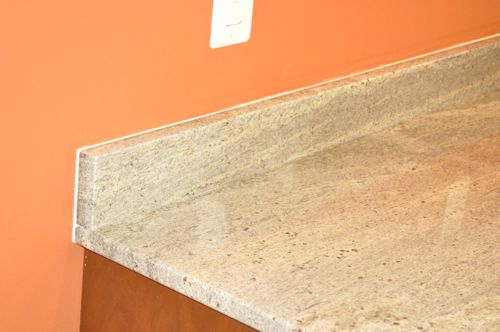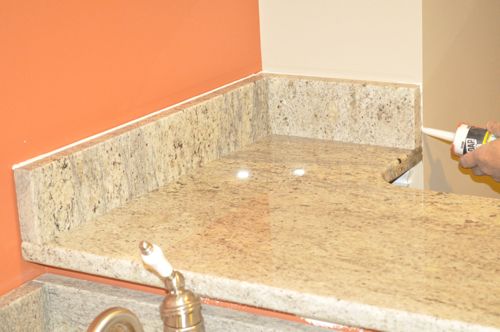 The installers also ran a bead of silicone along the face of the cabinets where they join the countertops.
Finished