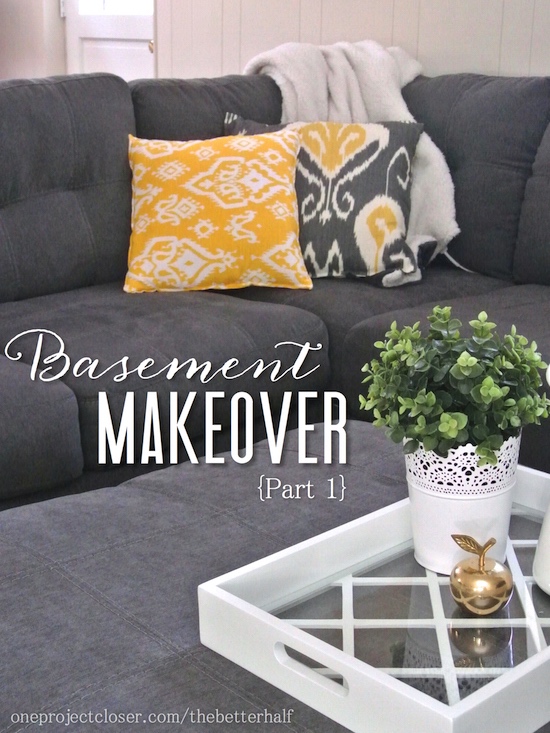 Moving this past November has kept us busy, especially with the holidays, but this basement makeover was at the top of my list. Not because it is the most ugly (2 original bathrooms and kitchen are the top of that list), but rather we use the space a lot and a makeover is within our current budget.
Our old couch I bought over 10 years ago, before Ethan and I were married. At the time, I got a great deal and I loved the bold red. Actually, I still do. But after ten years, two babies, lots of spit up and toddlers watching tv and jumping, it has ceased being comfortable. Seriously, UNCOMFORTABLE. Ethan's least favorite aspect was the sagging cushions. Mine was the worn out welting (aka white piping) that stabbed me every time I sat. Notice the stylish kid toys, cups, and treadmill. I can feel your jealousy. I know.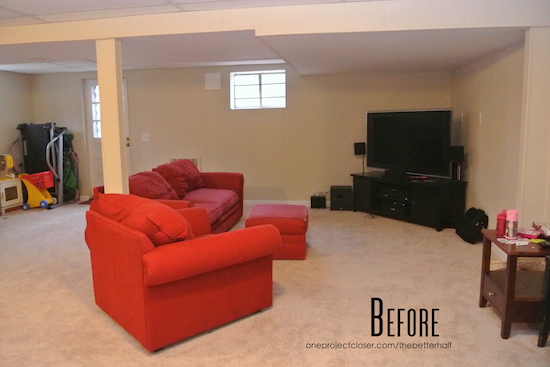 When Ethan and I started couch shopping you can guess what was at the top of our "must" list: no welting and attached cushions. We both feel in love with the look and price of this couch from Jennifer Convertibles and the rest fell into place. I first went online and pinned my inspiration and favorite colors and fabrics. Check out my Pinterest board for all the inspiration and links to all the elements of my basement makeover! And while you're there, give me a quick follow – jocieOPC. 🙂
Online Fabric Store sent me a few of my favorite fabrics (They did not pay me for the post, just sent me fabric. Opinions are 100% mine.) I used the fabric to make pillows and will be making curtains soon! Check out my easy tutorial on sewing a basic pillow, but coming soon – how to sew faux welting. Here are the fabrics I used for the pillows, but also check out my pinterest board for other fabrics I like and give me an opinion: Portfolio Bansuri Storm Fabric, Premier Prints Jo Jo Premier Navy Slub Fabric, Premier Prints Raji Corn Yellow Slub Fabric, Premier Prints Barber Corn Yellow/Kelp Slub Fabric.
What do you think? Which is your favorite fabric and what do you think I should use for the curtains? I'm leaning towards the gray ikat.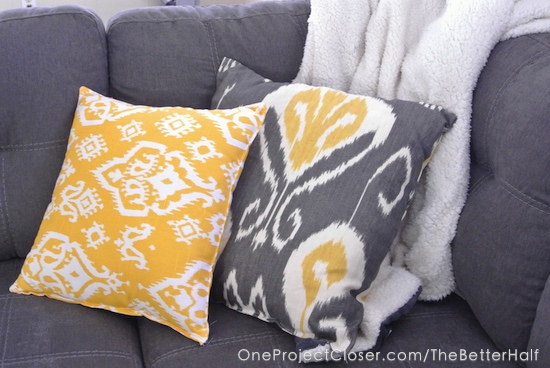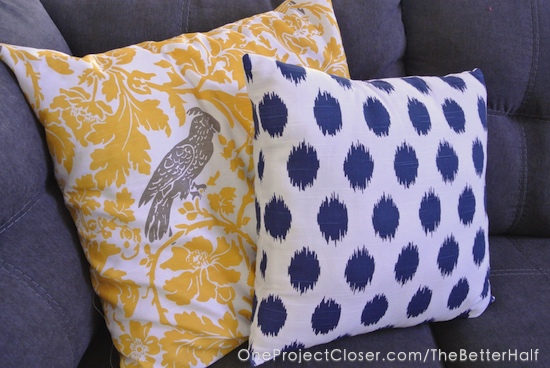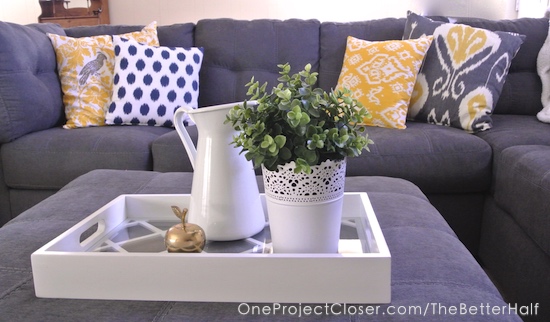 I love this tray I found at Target, which I thought Ethan would hate, but turns out he loves it! Its pretty heavy, so makes a great drink holder without having to sit right on the end in order to reach the end table.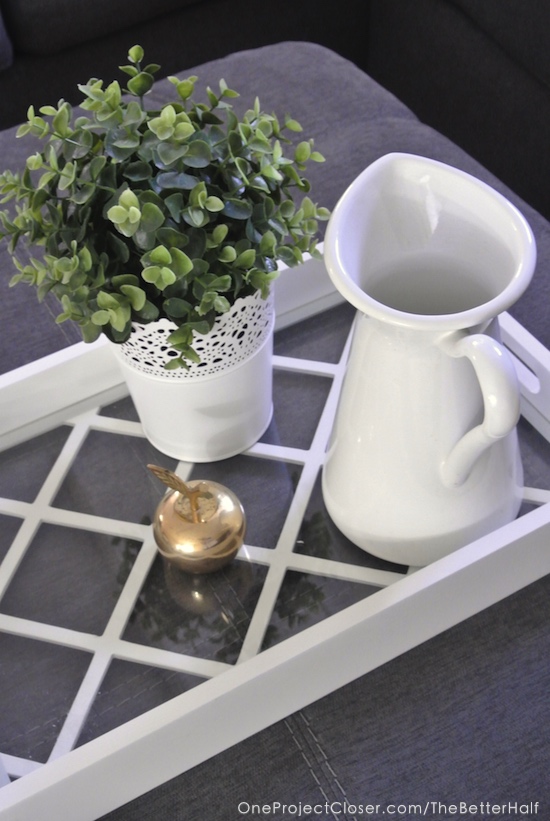 I also dragged Ethan to Home Goods on our last date night to buy this over-sized basket to hold my hoard of blankets. Although, my electric throw stays on the couch. If I could have bought an electric couch, I would have. haha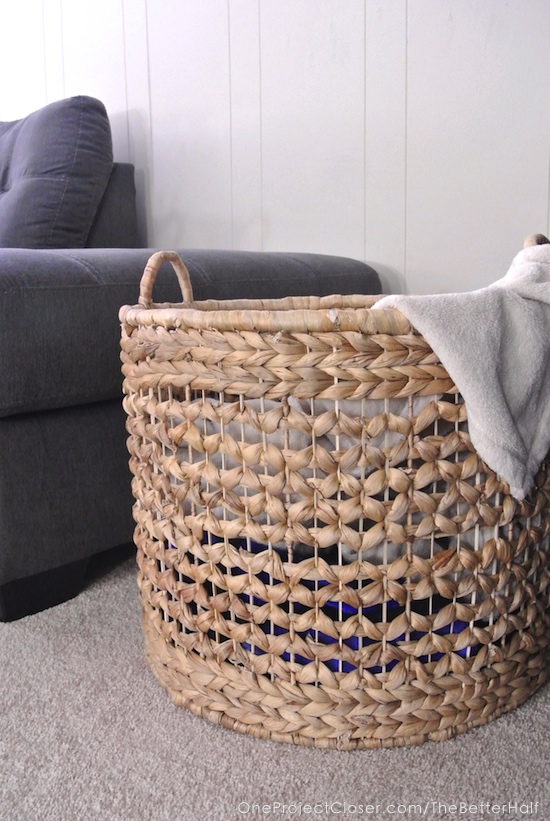 I still have a lot of work in mind for the basement – check it out and please offer your own suggestions! I will note that I am not painting the basement. The builder beige is not my favorite but its a new coat of paint and I really don't want to paint such a large room of paneling. haha #lazy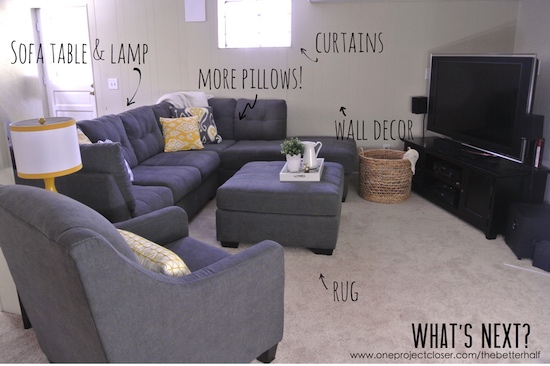 And one final shot of the room. 🙂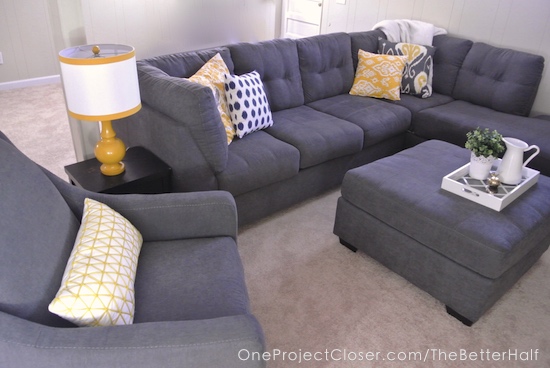 What do you think? How do you like my basement makeover (part 1)? Which fabric would you use for the curtains?
As Always, thanks for reading!