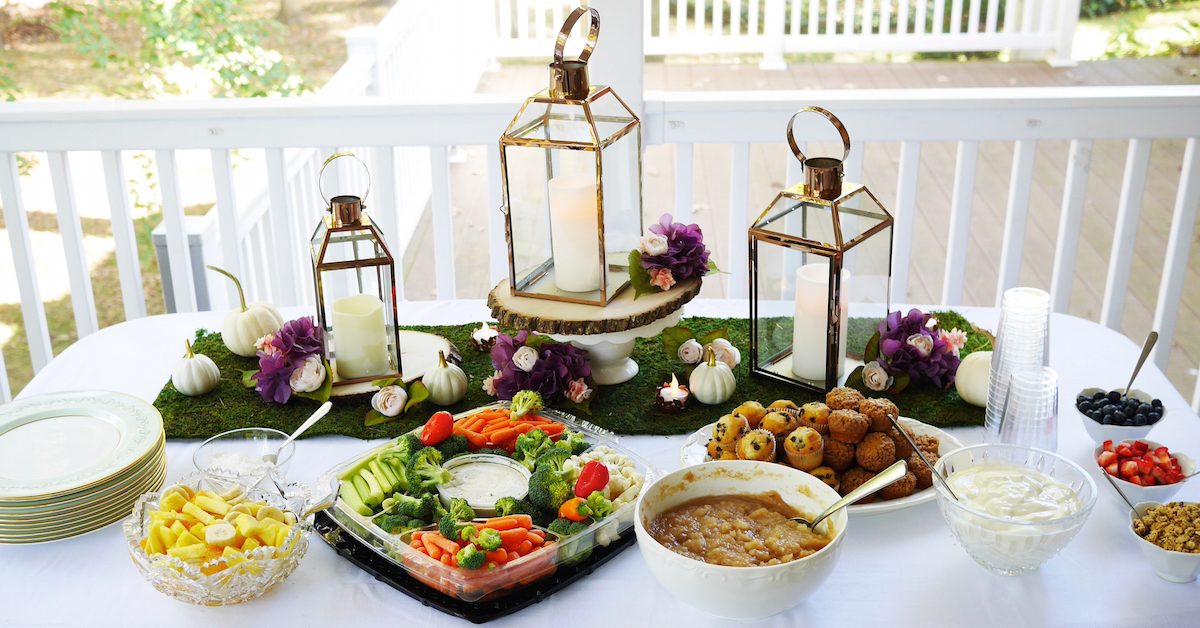 I am so excited to share with you the beautiful and inexpensive bridal shower my sister and I threw for my cousin this past weekend! In preparation for the shower, I reached out to Oriental Trading Company and requested they provide me with decorations in exchange for this post. While OTC sponsored this post on inexpensive bridal shower ideas, 100% of thoughts and opinions are mine.
My cousin, Naomi and I have been close our whole lives, despite many miles and a few years between us. We are kindred spirits – we both enjoy a good laugh, a flair for the dramatic, a tearful Les Mis sing-along, playing cards, and a healthy glass of wine (or two). Naomi moved to my town just outside of Baltimore several years ago, and we have been able to be "in person" besties for the first time ever, which has made seeing her marry a super, wonderful guy even more special!
Here are a few shots of the people who came to the shower – what a sweet, caring group of women! The bride, Naomi is the tall, gorgeous one in all the photos. In the group shot, she was kind enough to squat down so i could feel better about myself. LOL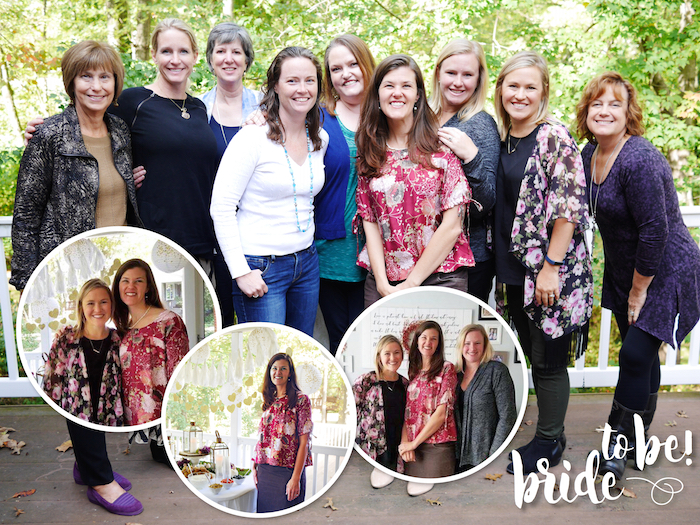 I had such a fun time decorating for the shower and my sister is the QUEEN of the kitchen and always cooks to feed an army and it's always amazing. So we make a pretty amazing team, if I do say so myself.
Rustic Elegance
The decorations really centered around these amazing copper lanterns. They are incredible right? Well, could you believe that they only cost under $45 for TWO!!!! I could not believe it! Honestly, I got them for the party but really I just want them for myself. HAHA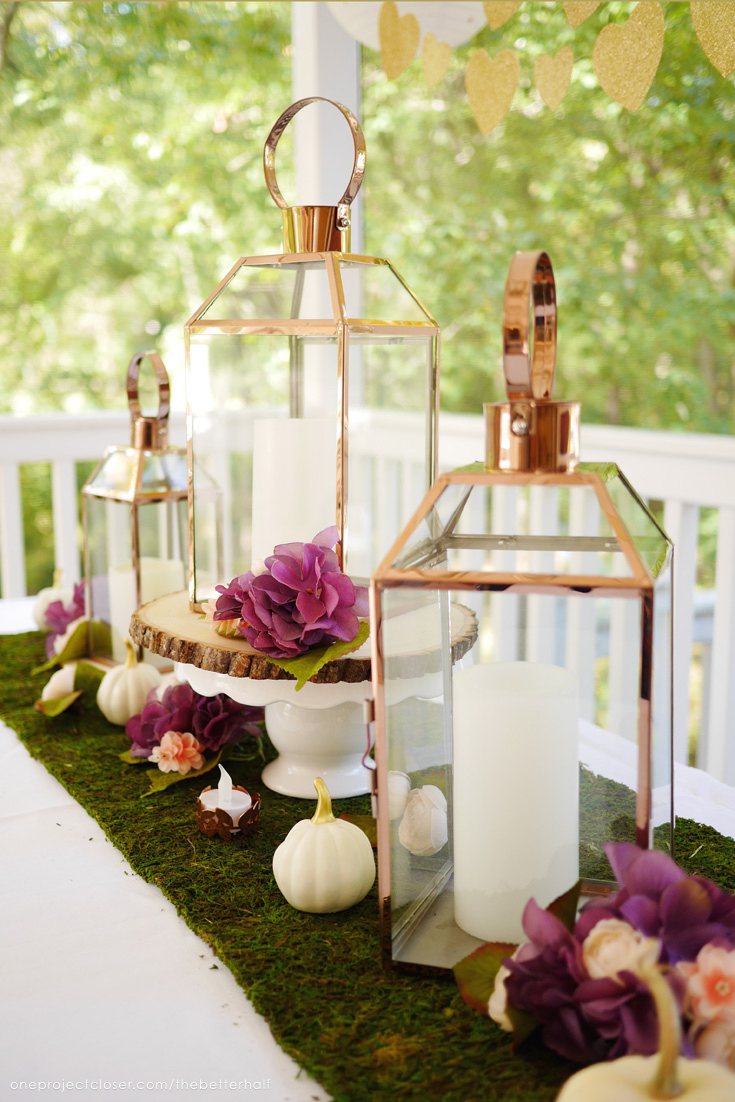 I also loved the rustic touches of the wood slices and moss runner and silk flowers (thanks to Michael's 60% off sale a few weeks ago). I realize this is very trendy, but it's also the essence of my cousin Naomi. She's a hiker and at home in nature, which is why we had the shower outside. That's Naomi – a little bit fancy and a little bit granola (my teasing way of telling her that her wool socks are NOT attractive at all). But her groom to be finds those wool socks sexy, so I guess it's a match made in Heaven!
I recently also found these super cute copper napkin rings that I used to accent the tea lights (LED thankfully, or I would have set my kimono on fire at least 3 times).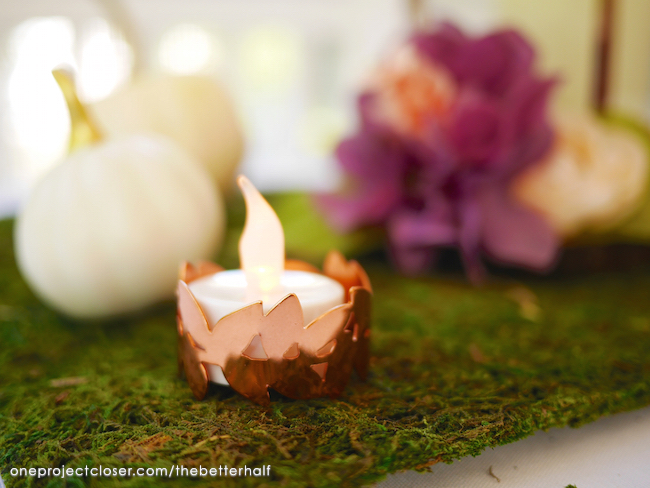 And because its fall, tons of white pumpkins! Some were real and some were that cute ceramic, gold stemmed pumpkins from the Target dollar spot.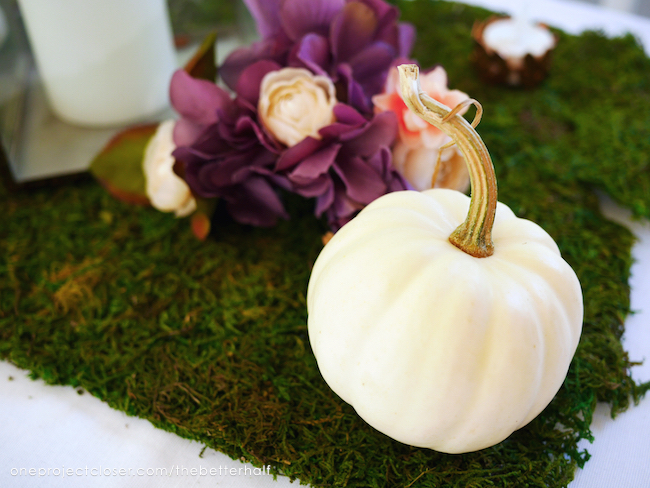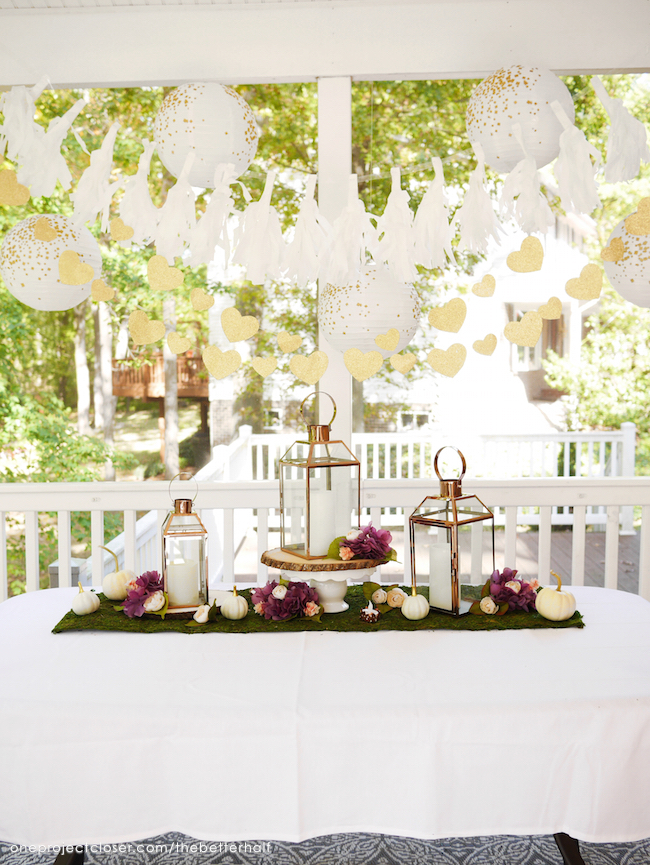 The table decorations were wow-ing on their own, but it was fun adding a little extra flair above the table. And it was easy with a few paper lanterns, white tassels and glitter hearts. The gold hearts also helped tie in the metal from the lanterns, even though they are copper.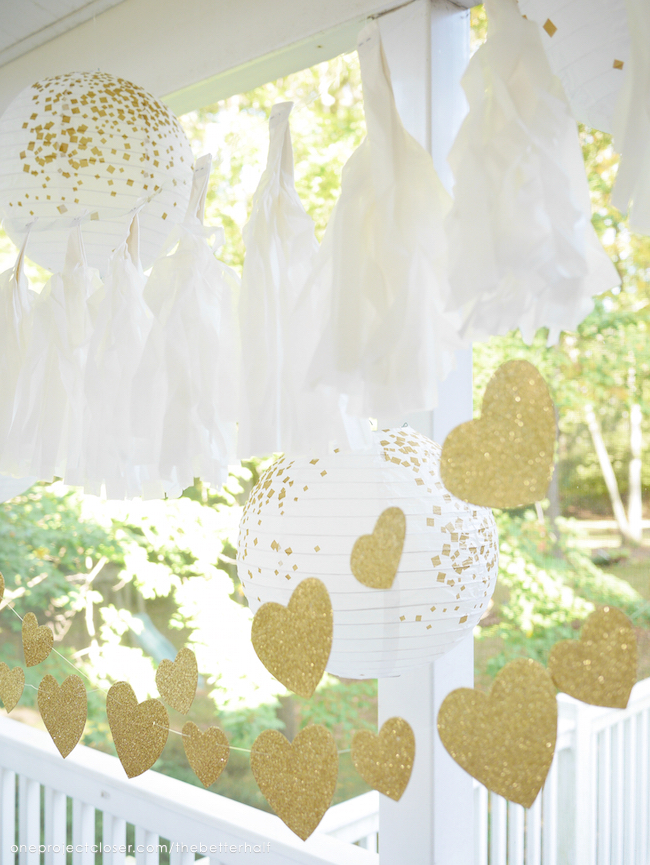 Mimosa Bar
The main food table ended up being a little full with all the food and decorations, so I set up a small card table on the other side of the porch for the Mimosa Bar, after all, it's not Bruch without champagne!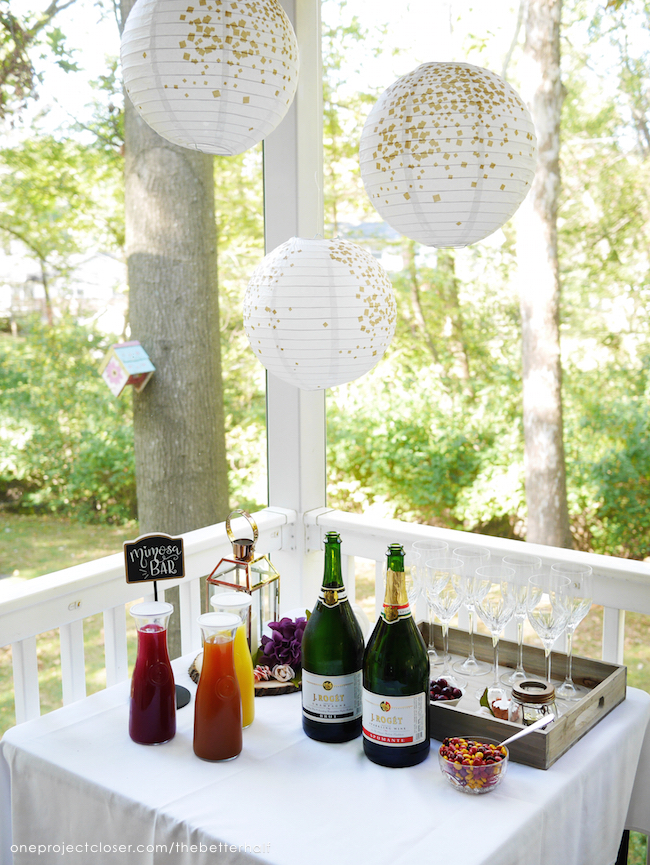 Oh, and we aren't fancy people, despite all the fancy decorations. I got the CHEAPEST champagne possible. But I found those cute, small carafes at Target last week for $4 each, which was ideal for the mimosa mixers – Orange Juice, Apple Cider, and Cranberry/Pear Juice. We also had rosemary and cranberry garnishes. The M&Ms are just for snacking – I wouldn't put them in your drink. LOL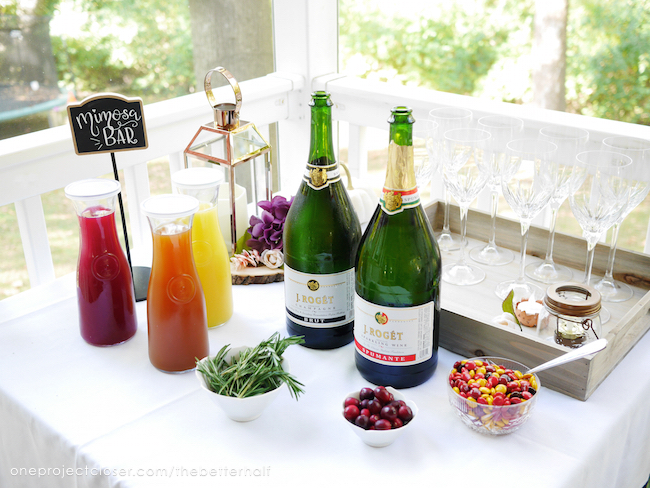 I quickly lettered this mini chalkboard table frame, which was the perfect size! I was a little unsure about them because it had some mixed reviews, but the quality was great and you can't beat the price. And of course, more lanterns and pretty flowers to accent the table.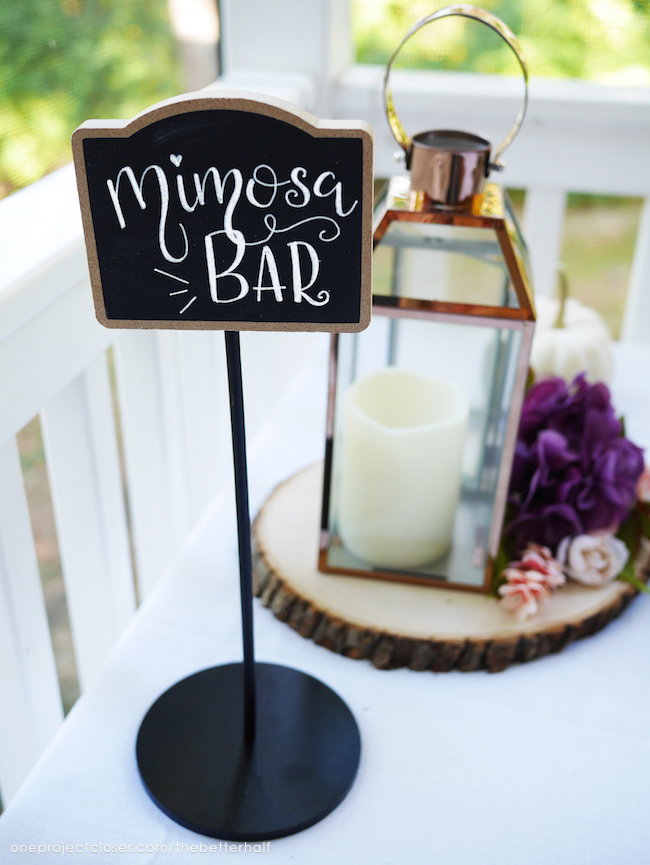 That's What She Said!
After eating, we played a few shower games…one of which no one knew we were playing! LOL While everyone ate and mingled, my sister and I listened for conversations and phrases that could be misconstrued as something dirty. At the end of the shower my sister read the very long list and it had us all crying we were laughing so hard. "It was long and hard." That's what she said!
Shower the Bride with Love
It's always fun giving gifts, but especially fun when the marriage is so anticipated. I gifted something both naughty and nice! I'll leave the rest to imagination.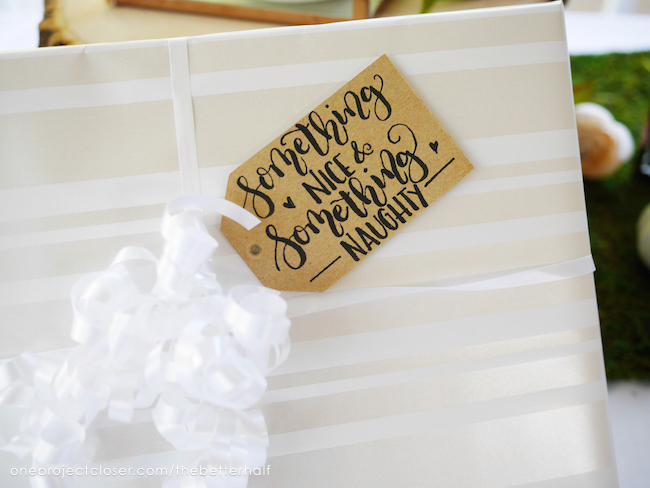 In addition to the tiny chalkboard, I also lettered a larger one. I stained one of my painting easels. It didn't turn out quite the color I wanted but I also was so busy I didn't put the time into it that I should have.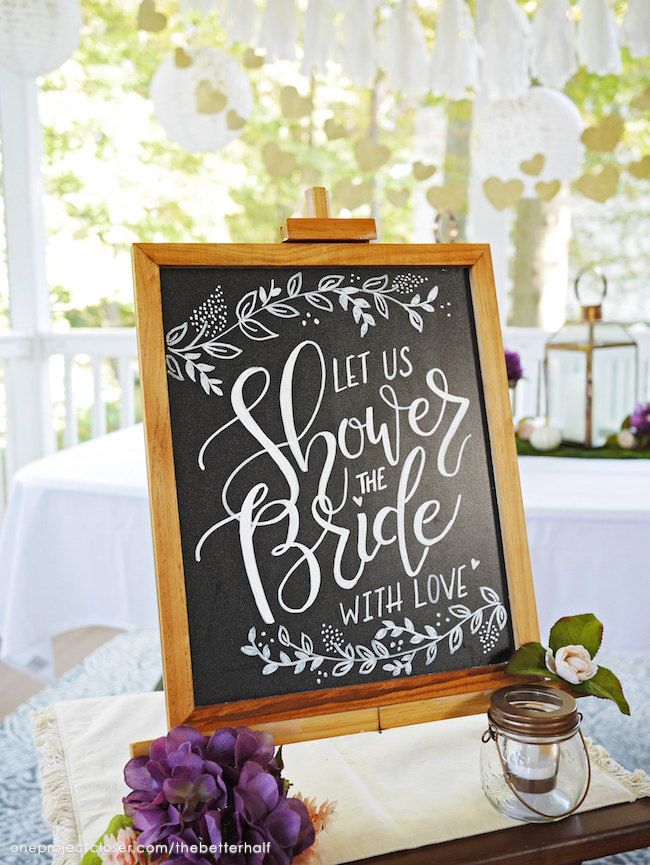 Simple + Elegant
After presents, we cut the cake. Usually I make my own cakes for parties, but this time, I went for store-bought. Now I should say, it was not a cheap cake. $19 at Wegmans but it was gorgeous and delicious! I added Babies Breathe to give it a little extra something special, but it really didn't need much!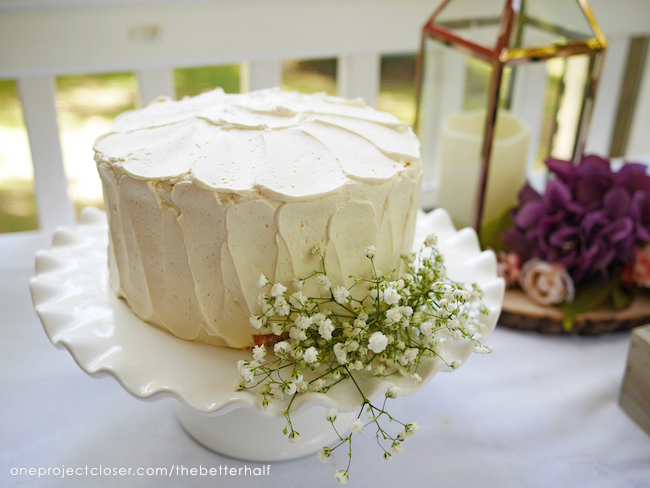 To Have and to Hold
As a thank you for coming to the party, everyone went home with a few *very fancy* drink cozies. LOL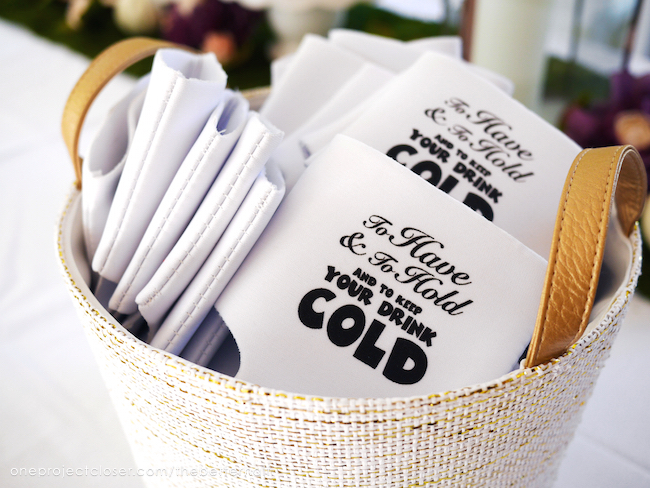 A big congrats to my cousin, Naomi! Wishing you and your soon to be husband MANY MANY wonderful years together!
And I hope you enjoyed all the love and creativity I put into the shower and will feel empowered to go and decorate! Thanks to Oriental Trading Company and their new MarryMe site dedicated to wedding and bridal shower decor and gifts!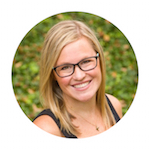 Jocie Hagan
One Project Closer
Jocie (pronounce jah-see) is an editor at One Project Closer. A blog almost 10 years strong, OPC is a DIY site for the whole family, sharing everything from how to refinish your had wood floors, to DIY necklaces and home improvement coupons. Jocie lives in Baltimore with her husband and blog partner, Ethan and their two super cute (and a bit crazy) kids, Isabella and Lucy. Blogger by day, mom by night, she enjoys crafting with the kids, beating everyone she knows at cards, and practicing hand lettering to relax.
Come say hi on Facebook, Instagram, & Pinterest!