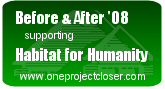 This week's Before and After is brought to you by John and Sherry at Young House Love. John and Sherry are well known throughout the blogosphere for their great style and for solving tough design dilemmas. John and Sherry had a small closet squeezed in behind their bathroom door. By removing the closet door they were able to better use the space and give their bathroom closet a fresh new look.
As a result of their submission, OPC will make a $25.00 donation to Habitat for Humanity in their honor. John and Sherry are also entered into our contest for a $50 gift card at the end of the Summer.
See below the post for our weekly Habitat quick fact and how you can make a donation for this worthy cause.
Bathroom Closet Before & After
We recently realized that the removal of our bathroom closet's door could convert our claustrophobic closet into clean and functional open shelving. But first some photographic proof as to why our current closet door situation was so not working for us. Check out the serious door war that regularly occurred between the linen closet door and the bathroom door. Argh! Talk about a design flaw.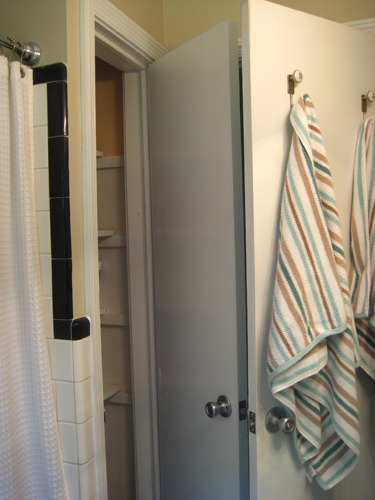 So one day while John was sittin' pretty at work, I took a screwdriver, a hammer and a crowbar to the door and off it came (along with the door jamb so that the opening looked a lot more like a built-in shelving nook than a doorless linen closet).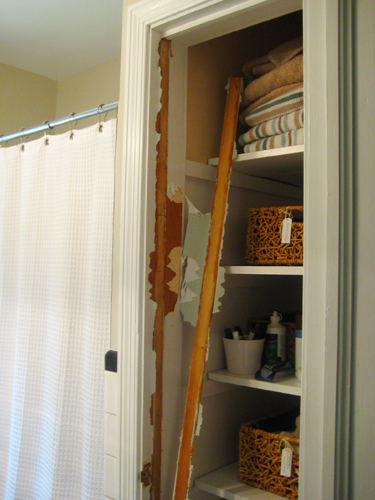 After we erased any evidence that a door once existed (by caulking the hinge holes and removing the door latch) I extended the bathroom's soothing tan wall color into the nook (Glidden's Sand White) and painted the door frame and the shelves a crisp glossy white.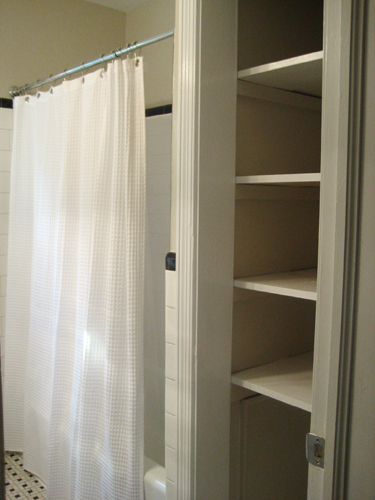 Then I just reused the baskets that already housed our sheets and towels and introduced some other creative storage solutions from a few objects that we had laying around the house (two cheap white Ikea planters for nail polish and toothbrushes). Even the toilet paper looks great in its newly spruced home.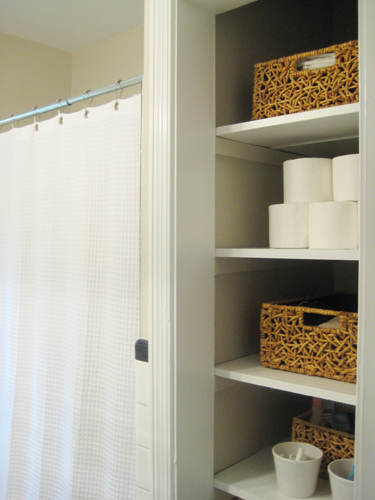 But the entire project wasn't entirely free, we did splurge on two bigger baskets (for a few more towels) to stack on the floor of the closet. Luckily we scored 'em at Michael's for 50% off, so we basically got two large rectangular woven trunks for the price of one (25 measly bucks total). Not bad for the entire bathroom closet project.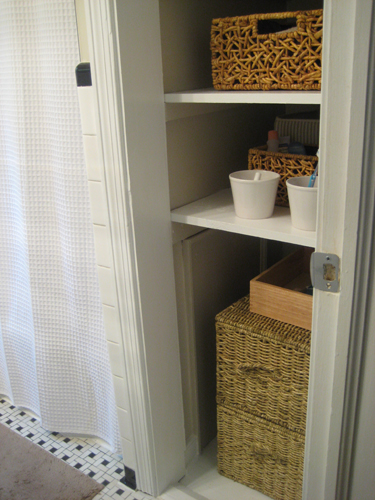 And don't worry, we're totally aware that we're waaay more into open storage than the average bear. Luckily we're also waaaay more compulsively neat than the average bear (to a somewhat insane degree) so it's perfect for us. Whatever works, right?
Thanks from OPC!
This is a great Before and After. I really like how you incorporated the wicker baskets. They're great for storage and add character to a closet. It looks amazing.
Habitat for Humanity Quick Fact
On Habitat Affiliates, from Habitat's Web Site:
Habitat affiliates start when concerned citizens of diverse backgrounds come together to address the problem of poverty housing in their community. These volunteers research the community's affordable housing needs and resources, and evaluate the potential success of Habitat's self-help model in their community. The group then applies to HFHI to become an official Habitat affiliate.

Each affiliate coordinates all aspects of Habitat home building in its local area — fund raising, building site selection, partner family selection and support, house construction, and mortgage servicing.
If your interested in establishing a Habitat Affiliate, contact the HFHI headquarters. Persons calling from inside the United States can call (800) HABITAT or (800) 422-4828. Those calling from outside the United States may contact HFHI headquarters at 01-229-924-6935.
Use the Habitat Affiliate Search Engine to get involved with your local affiliate.
If you'd like to make a financial contribution to Habitat, you can find their online donation page here.
Habitat Summer Event
Time is running out!
Our Habitat Summer Event runs for just over one more month.  Show your support by e-mailing your submission to oneprojectcloser@gmail.com or spread the word with an article on your blog.   If you don't have something to submit (or even if you do), consider picking up a sidebar graphic for your main page.
What do you think? Do you like John's and Sherry's new closet?