If you've been reading here for some time, you know that each Sunday one of us here at OPC posts an article with Before and After pictures from a project we've been working on around our house. If you're new here, or don't remember what we're talking about, take a look at this Before and After article on pressure washing our deck.
Summer 2008 – Supporting Habitat for Humanity
This Summer, we're going to change how Before and After works… to make it more meaningful, to highlight the work of our fellow home improvement bloggers, and most importantly, to raise awareness and support for a great organization: Habitat for Humanity.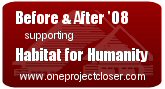 Before you read further, please be aware that we are in no way affiliated with Habitat. This site is an independent home improvement blog run by two families in Baltimore, MD. That said, we believe in what Habitat does for individuals and families in our community; we agree with the way Habitat carries out their work; and, we're impressed with their stewardship of resources that merited a 4-star rating from CharityNavigator.
Also, in case you're curious, we did run this by Habitat's marketing department and got the ok for the project.
How Will Before and After Change?
We'd like you (fellow home improvers) to submit Before and After pictures and a story from a project you've worked on during the late Spring or Summer. Each week, we'll select one submission from those we've received and run that article on Sunday.
If your Before and After article is chosen, One Project Closer will make a donation a $25.00 in your honor to Habitat for Humanity. The donation will be to Habitat's general fund, to be used at their discretion.
At the bottom of each Before and After article, we'll include a link to Habitat's online donation page, encouraging our readers to match our donation, or to donate whatever they are able. We'll also include an interesting fact or other piece of information about Habitat on each post.
A Prize for the Best Submission
At the end of the Summer, we'll open it up to a commmunity vote to choose the best Before and After article of all those we ran.
The winner will receive a $50 gift card to the Home Improvement store of their choice.
Also note that every article that is selected automatically receives at least one link back to the author's blog (if they want it).
What Qualifies as a Before and After Article?
Any house project where you made an improvement to your home, property, or community in a way that can be captured in Before and After pictures. It can be as simple as painting a wall, or as complicated as building an addition.
We think the best Before and After articles are ones that show amazing improvements, and teach the reader how to make that improvement on their own, or offer tips and advice for the project.
How Do I Submit an Article?
E-mail the article to oneprojectcloser@gmail.com.
All Submissions:
When Does the Event Start & Finish?
An article will run each Sunday from June 22, 2008 – Sept. 21, 2008.
We will select a winner of the $50 gift card in early October.
What Else Can I Do to Help?
Before and After 2008 will only be successful if folks from the community participate. There are at least five ways you can get involved:
Submit an article. This event will be fun if lots of folks submit articles.
Write an article on your site telling your readers about the event.
Add a Before and After 2008 graphic to your web site and link back to this article.
Make a monetary or volunteer donation to Habitat for Humanity in your area.
Tell your friends about the event and the prize.
Our hope is that we will generate many submissions, inspire dozens of people to support Habitat along with us, and prepare to make even larger impacts in the future.
What do you think? Let us know what you think of the idea… Please feel free to help us make it better. Either leave a comment below, or e-mail us at oneprojectcloser@gmail.com