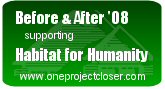 I'm really excited to present this week's Before and After because it's a great project from one of our favorite home improvement bloggers, Todd @ Home Construction improvement.
Todd transforms a plain white fireplace surround into a classy and stylish accent piece that adds value to their home.  As you'll read in his story, this was Todd's second fireplace mantel project.  I think you'll agree he's really got talent.  If you want more information on the project, you can check out Todd's post on the Custom Fireplace Mantel over at his site.
As a result of Todd's submission, One Project Closer will make a $25.00 donation to Habitat for Humanity in his honor.  Todd's also entered into our end of Summer contest for a $50 gift card to the home improvement store of his choice.
Granite Fireplace Mantel Surround by Todd
We installed a gas fireplace in our formal living room when we built the house. The granite installer that we use offered us the granite surround as payment for a small crack in our kitchen countertop. As beautiful as the granite is a fireplace is not complete without a nice mantel. In our previous home I built a custom mantel so I was excited to design and build another one.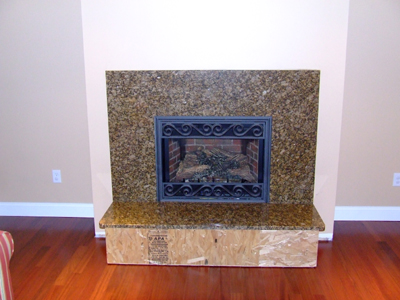 Most mantels have two prominent features; the supporting columns or legs and the head or beam that runs horizontal between the columns. For this house my wife's only two requirements were; a raised hearth so she could sit on it when the fire is going and the top mantel shelf needed to be at least 12" deep so she can place her special Christmas lights on it during the holidays. I've always enjoyed the look of traditional colonial style mantels so the design is my stab at accommodating our design needs with the look of a traditional colonial style mantel.
One of the techniques that I used to make this mantel is a simple method to create the look of wainscoting columns. As you can see from the pictures I started with ½" thick MDF to create the basic box for the columns. Next I used ¾" pine to create the rails and stiles. To finish off the look I used some band molding inside the rail and stiles. (Add photos 2, 3, 4, 5 and 6 however you like)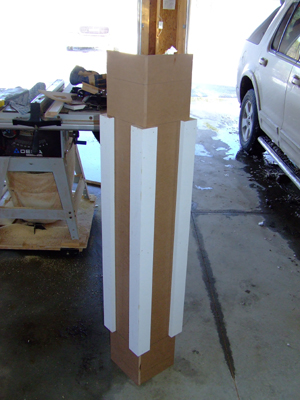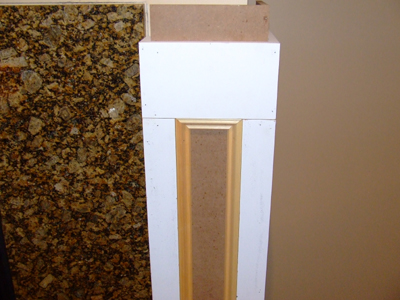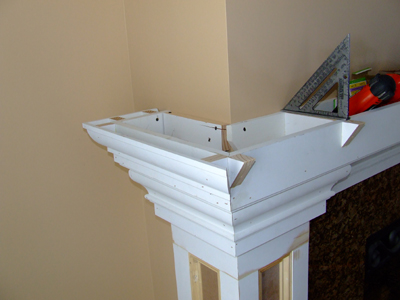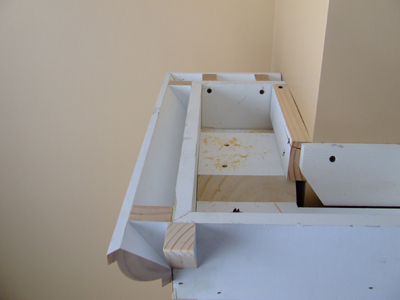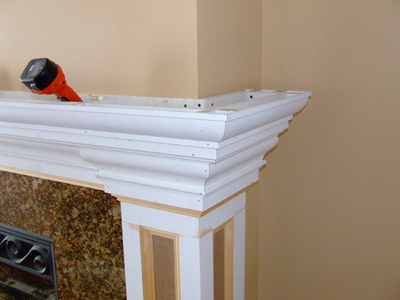 To create the head piece I basically created a box and added layers of molding to build up the section as you see. As you can see I added blocking behind the crown molding sections to give it strength and also to help hold the geometry so the mitered corners would be as tight as possible. Everything is nailed and glued (I really like Gorilla Glue). All of the molding profiles that we used are from Windsor One's colonial collection. They make some really great profiles that you don't find in standard lumber yard moldings these days.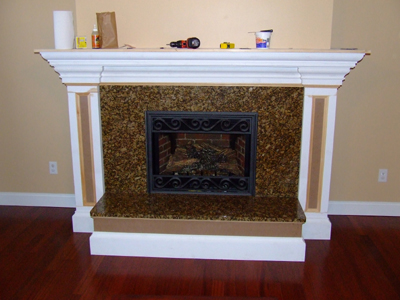 Once all the moldings were installed on the head section I installed a piece of 5/4 finger/jointed pine for the mantel shelf. All the holes were filled with water based filler, all the joints between each piece of molding were filled with latex caulking, the entire piece was sanded, primed and then painted with three coats of Sherwin Williams Semi-Gloss paint. This project took me about 40 man hours to complete and I would say it's an intermediate to advance type of home improvement project.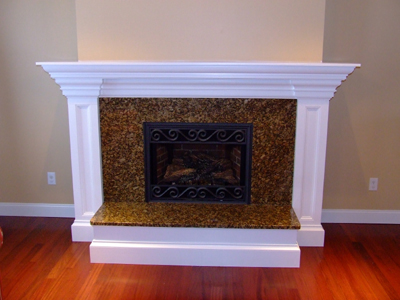 Thanks from One Project Closer
Todd, thanks so much for the submission.  You know we love your site, and this mantel really shows off your talent!  Keep up the fantastic work!
Habitat Quick Fact
While many parts of Lousiana were spared in hurricane Gustav, the damage was still very significant in many places.  This article and picture are from Habitat's site:
August 29, 2008 was supposed to be a day of remembrance and renewed hope for residents of communities across the Gulf Coast, as it marked the three-year anniversary of Hurricane Katrina's landfall in the United States. Instead, these communities had to prepare for the first major hurricane to threaten the Gulf since the destructive 2005 hurricane season.

Hurricane Gustav struck the coast on Labor Day (September 1, 2008) in southwest Louisiana and caused significant damage and destruction to rural communities that are still feeling the toll from hurricanes Katrina and Rita. A number of our Habitat affiliates were affected by Hurricane Gustav and are now beginning to assess its impact on their communities to better serve low-income families.
Please consider matching our donation in the wake of Hurrican Gustav.  The families in that area desperately need the support of their countrymen in other states.  You can find Habitat's donation page here.  Leave us a comment below if you do contribute so that we can honor you in a future post.
There's Just Two More Weeks!
Well, the official end of the Summer is near, and there's just two more weeks to have your article featured in our Before and After event.  We wanted to let you know that we still need at least one more article to finish the year with an article for every week.  I hope you'll consider submitting an article!  Note that if we don't run your article during the Summer contest, we will run it this Fall.  Send your submissions to oneprojectcloser@gmail.com in virtually any format.
What do you think? Isn't Todd's creation great?  Leave a comment here and then bounce on over to his site.