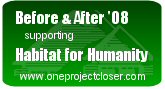 This week's Before and After is brought to you by Beth @ A Cotterpin House.
Beth and husband recently renovated the kitchen in their 1929 midwestern style bungalow.  They've created a beautiful space on a tight budget of only $6000, managing to install fantastic granite tile countertops and a great looking backsplash (two of our favorite parts of their remodel).
As a result of  Beth's submission, OPC will make a $25.00 donation to Habitat for Humanity in her honor. (See below – Habitat is receiving matching donations through June 30, making OPC's contribution in honor of Beth worth $50.00 to the organization.)
Also, Beth's article is now entered into our Before and After contest for $50.00 to the home improvement store of her choice.  We'll select a winner by community vote in October.
Before & After: Bungalow Kitchen Remodel by Beth
Our house was built in 1929 in Milwaukee, and is your typical Midwestern bungalow – small, compact, but efficient.  Everything you could need is all on the first floor, with extra storage upstairs.  We moved in two years ago (almost to the day!) and loved the character and charm of both the house and neighborhood.  The house has had only two previous owners- which was turned out to be both good and bad.  Good in that the owners prior to us took good care of the house because they spent so much time here- but bad that they hadn't changed anything since 1960.
The kitchen was the main example-  with two doorways leading into the kitchen, there was no room for the extra counter space we needed, and no ideal place for the refrigerator.  The wall with the stove was too short to hold both appliances and the opposite wall had two doorways.  The only solution was to place the refrigerator in front of the the double windows looking out over the garden- which cut on the light quite a bit. The counter was also too short, and pitched forward, so anything round placed on the surface would roll to the floor.  Finally, the linoleum- which held up great for 48 years- was a horrible orange pattern.
On a limited budget of $6000, my husband and I knew we would have to do much of the work ourselves.  Luckily, my father and brother-in-law were both great help in installation.
In total, we pulled out flooring, built a half wall to move our sink, put down Pergo flooring, ran electric lines for extra lighting and a new garbage disposal, ripped out cabinets, installed new cabinets, installed large granite tiles for our counter tops, installed back splash, and painted on our own.  The only professional help we've gotten so far was the plumbing lines for moving the sink.  It took a bit longer than we expected (it usually does)- but we're happy how it turned out, and that we stayed in our budget!
Before Pictures: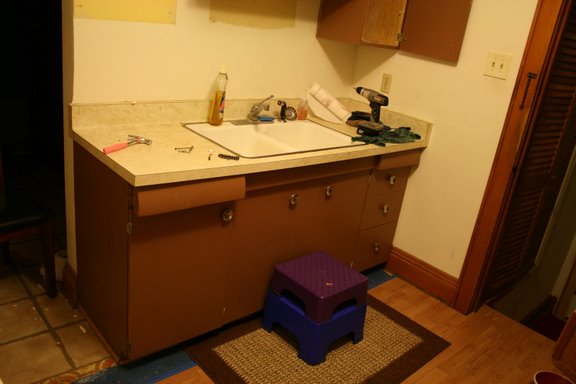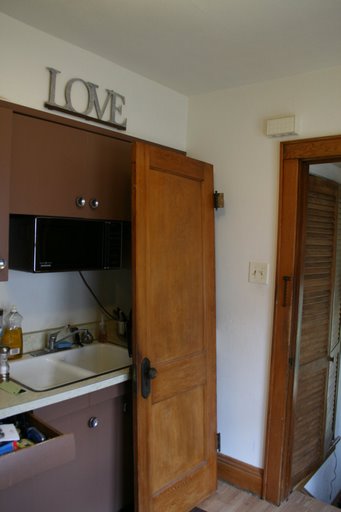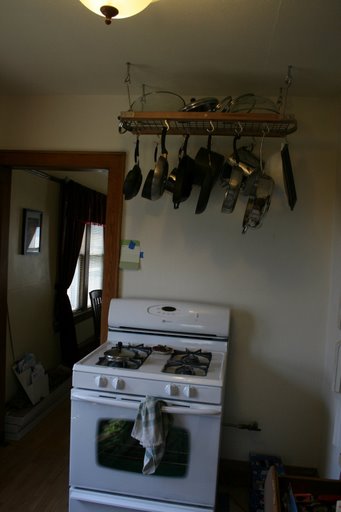 After Pictures: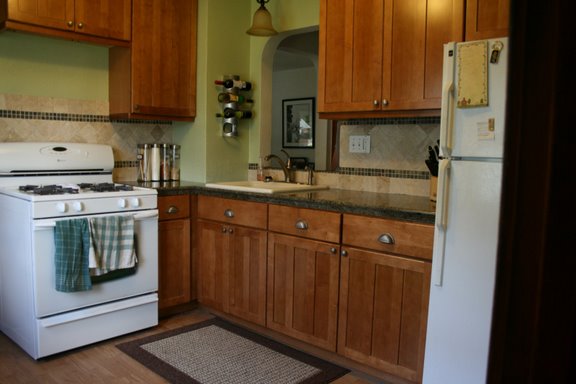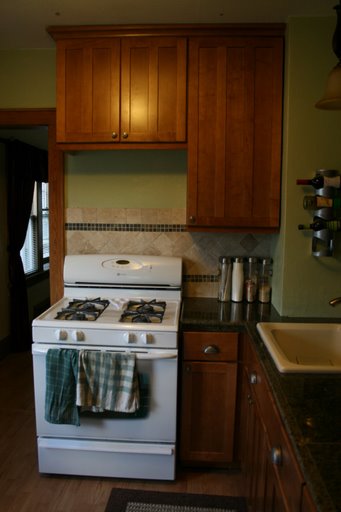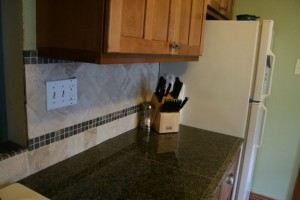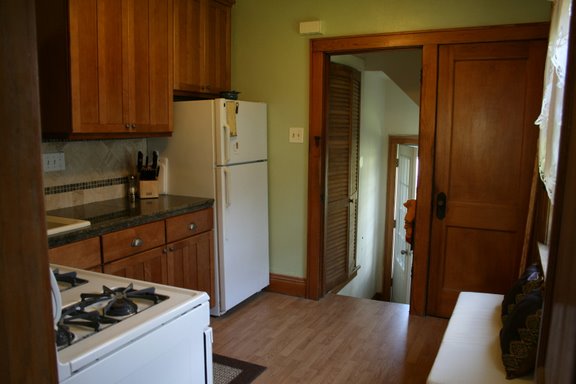 Thanks from OPC
Beth, thanks for submitting an article to us & supporting a great cause. Your kitchen remodel is fabulous!
Habitat for Humanity Quick Fact
Habitat's busiest building season is the Summer.
To encourage donations in early Summer 2008, Habitat has sponsors committed to matching every donation, dollar for dollar, through June 30, 2008. For every $1.00 donated, Habitat will receivee $2.00, up to a total of $3,000,000.
From Habitat's site:

We are working harder than ever in these days of warm temperatures to build as many houses as we can. That's why, as part of the 2008 Habitat Challenge Campaign, every donation we receive will be matched dollar-for-dollar, up to our $3 million campaign goal.
That means that your support right now can help double the resources we have available to serve families in need of a decent, affordable place to live. That's right! DOUBLE! But only until midnight EDT June 30, so don't delay.
If you've been considering donating, now is the time.  There's only 2 days left to take advantage of the matching donation event.
You can contribute online right now, using Habitat's online donation form.
Submit Your Own Article for the Event!
Article submissions can be sent in virtually any format to oneprojectcloser@gmail.com.
You can also show your support for Before and After supporting Habitat by displaying a one of these Before and After graphics in your sidebar.
What do you think? Let Beth know what you think about her project… And let us know if there's any way we can make the event even better!