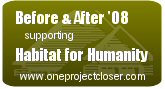 This week's Before & After is brought to you by Rhoda @ Southern Hospitality.   Rhoda & hubby transformed the area under their deck into a beautiful outdoor retreat.  Her unique finishing touches accent the space perfectly.  Best of all, most of the stuff she used they already had around the house.
If you want more after you read below, here's the original decorated patio article that inspired this before and after submission with additional pictures.
As a result of Rhoda's submission, OPC will make a donation of $25.00 to Habitat for Humanity in her honor.  Rhoda's Before and After is also now entered into our contest for a $50.00 gift card to the home improvement store of her choice.
Mud Pit to Decorated Patio by Rhoda
You can see from the before pics that this space below our deck was a mud pit, a completely ugly place that grew weeds and had no useful purpose other than a place to leave the hose reel since that's where the faucet happens to be. We decided to tackle this space and make it not only look better, but this was a way to get rid of the mud and hopefully actually be able to use the space as a functional patio. My dad built a lattice wall first, to sort of hide the A/C unit and to make the space a little more like a room.
Before Pictures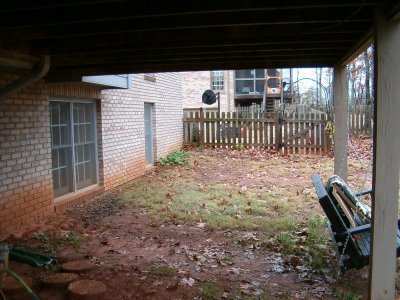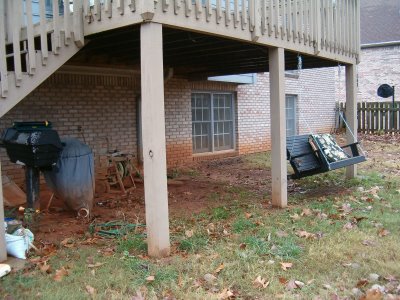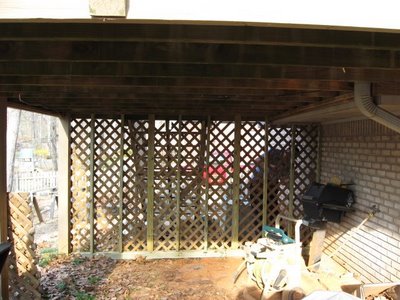 I cleaned the space up completely, getting all the weeds out, then tried to level it as best I could. I edged the area that I wanted to redo in bricks that were purchased from a home improvement store and the main thing we used was 16" patio pavers and pea gravel. My hubby helped with the heavy lifting part. The edgers were put in place, landscape fabric was put down, and then the paver stones were added and the last step was adding the pea gravel. Just like grouting tile, it all came together and now we have a beautiful patio area.
I shop at yardsales all the time and am a very thrifty shopper, so between all my old finds and new ones, I completely redid the area with mostly yardsale finds. I found a teak table and chairs at a yardsale for $20 and covered cushions with outdoor fabric that was on sale and now it's a beautiful space. I think you might agree!
After Pictures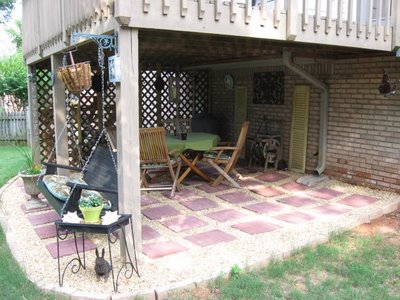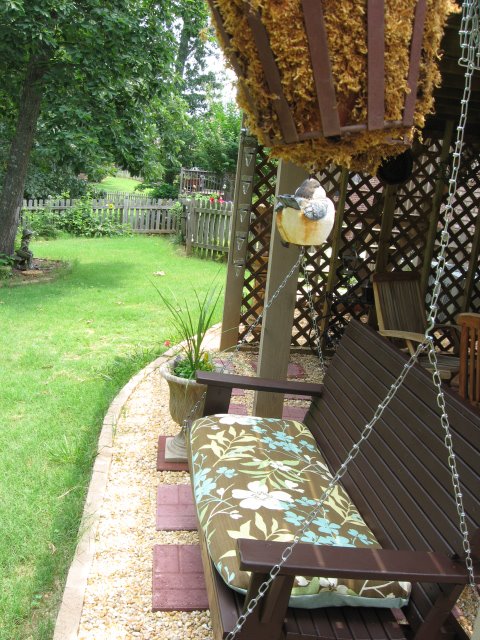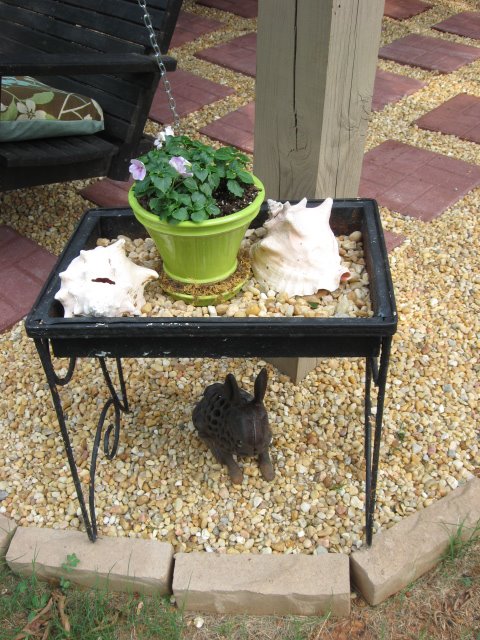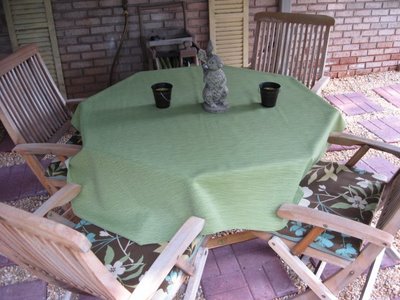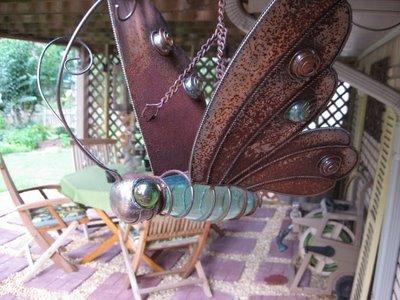 Thanks from OPC
Rhoda, thanks so much for submitting an article and being part of this event! Your patio transformation is fantastic. You've turned an otherwise boring space into a great outdoor area… very nice indeed!
Habitat Quick Fact
From Habitat's site [my bolding added]:
Since its founding in 1976 by Millard and Linda Fuller, Habitat for Humanity International has built and rehabilitated more than 250,000 houses with families in need, becoming a true world leader in addressing the issues of poverty housing.
You can read all about the history of Habitat's formation here.
If you're inspired to give financially, here's Habitat's online donation page.
More on the Summer 2008 Before and After Event
We're 3 weeks into the Before and After event, with 10 more to go before we select a winner. If you're inspired by this article, here's a few things you can do to help us out:
Submit a Before and After article of your own.  It takes only minutes to create and submit, and you just might win $50.00.  Submissions can be sent in (virtually) any format to oneprojectcloser@gmail.com.
Write an article on your blog telling others about the event.  If you'd like to display a sidebar graphic similar to the one at the top of this post, you can find a bunch to choose from here.
Volunteer at your local Habitat and let us know so we can honor you here!
What do you think? Isn't Rhoda's patio space great?  Leave a comment here and then head on over to Rhoda's place.  She's got a truly inspiring decorating blog.