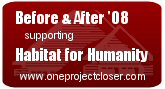 The first article selected for this Summer's Before and After series supporting Habitat for Humanity is brought to you by Mary @ NotBefore7.
Mary (and husband Eric) recently installed Konecto Flooring in the kitchen and family room of their new home, a recent foreclosure in need of some serious TLC.
As a result of her submission, OPC will make a $25.00 donation to Habitat for Humanity in Mary's honor. Also, her article is now entered into our Before and After contest for $50.00 to the home improvement store of her choice.
Before & After: Konecto Flooring by Mary
We recently purchases a foreclosed home, so every room has a Before/After story to tell.
Located in the back of the house was a kitchen and family room area.  The two rooms are basically one big area, but separated by a railing in the middle of the room and different flooring.  The family room had carpet and the kitchen was covered in vinyl flooring.  Both needed to be replaced.
Another issue was the pantry in the back of the kitchen. (located on the far side of the refridgerator)   It was only about 12 inches deep (of usable space) and it made the doorway into the dining room very tight.  In fact, if the pantry door was opened, it blocked the entire entryway into the dining room.
Before (while standing in family room)
Before (while standing in kitchen)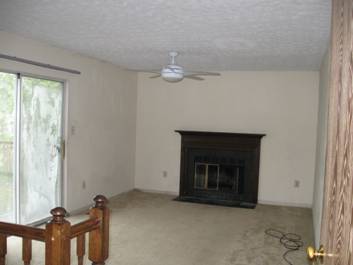 Our goals were to brighten the room and to open up the space in order to create more of a Great Room area.
Brightening up the room wasn't too difficult.  We painted the entire area with Sherwin Williams paint color, Cottage Cream.  It is a very neutral yellow color that brightens without overpowering a room.
Our next step was to paint the trim and molding, as well as the fireplace, with semi-gloss white.  It made a huge difference to have bright white trim, especially at the fireplace.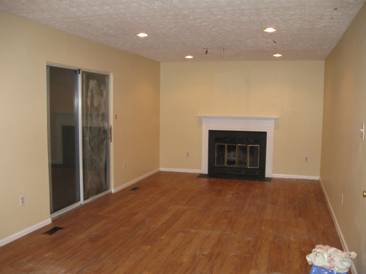 Our final step in brightening up the room, was to remove the ceiling fans and add recessed lighting.  We added 10 lights so far, but are going to add 2 more and install a new ceiling fan.  We are huge fans of recessed lighting and it definitely paid off in this room.
In order to open up the space, we began by taking down the banister which was separating the kitchen and family room.  This helped brighten up the area too because the banister was so dark.  Immediately, we knew we had to choose one type of flooring for both rooms so the two areas could become one large area.
We wanted durable and easy to clean flooring because we have 3 little children.  In the past, we have installed laminate wood flooring (such as Pergo) to achieve these goals.  Unfortunately, laminate flooring is not water-proof and therefore, it will not stand the test of time in a kitchen, especially with little ones.
Konecto flooring was our answer.  It is an easy to install and waterproof laminate flooring.  Each floor plank is flexible and can be cut with an exacto knife.  Adhesive is not required for installation because it comes pre-packaged with adhesive striping as part of each individual plank.  More about the easy three step installation can be found on their site.  Truly, this flooring is amazing.  I can't speak highly enough of it.
We choose a style from the Prestige collection because it has an aluminum oxide finish which will help protect the flooring.  It has a different feel than a traditional laminate wood floor.  It has a "grainy" finish to it with true cracks and crevices in the finish.
I think the finished look is beautiful.  We have been complimented on our "wood floors" numerous times.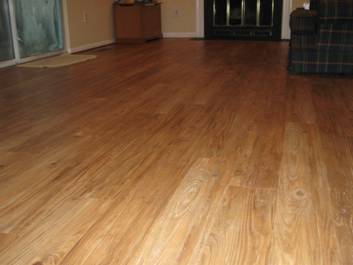 The final step in creating a more "open-space" feel was to remove the useless pantry that was closing in the doorway to the dining room.  Unfortunately, there was an air duct behind it, so we still have a "bump-out", but the open doorway into the dining room was well worth the pantry removal.
After (standing in kitchen):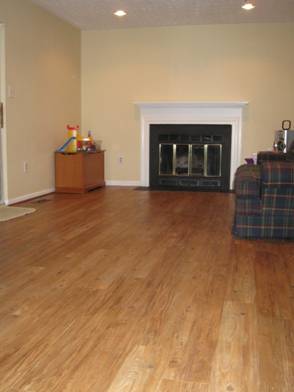 After (standing in family room, complete with kiddos):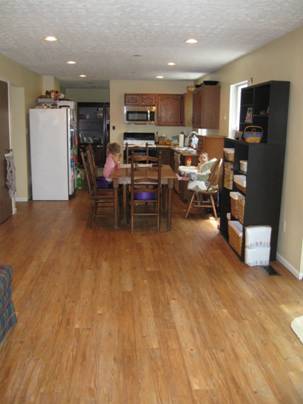 We are very satisfied with the results so far.  Clearly, our 1980's kitchen needs to be the next project on our remodel list, but as Fred states here on his blog, at least we are One Project Closer to the end!
Thanks from OPC
Mary, your floors are fantastic… truly an amazing before and after story, and an excellent one to kick off the event.
Habitat for Humanity Quick Fact
Even with the downturn in the US housing market, in the last three years building costs internationally have risen more than 17%. This increase must be met with increased monetary donations in order for Habitat to continue its oustanding work across the globe.
OPC will donate $25.00 this week in Mary's honor. Admittedly, that small amount only scratches the surface of the enormous need. We hope you will consider donating monetarily or through volunteering with a Habitat program in your area as you are able. If you choose to donate, you can find Habitat's online donation page here.
If this post inspired you to donate or volunteer, please leave a comment below and let us know. We want to honor all those people who are participating with us periodically throughout the summer.
Submit Articles for Early Summer!
There are 12 Sundays left this Summer and we've received very few articles for the first few weekends, with many folks planning to submit articles later in the Summer.
We would very much appreciate additional articles submitted early (even if they technically don't comply with the project being completed in the late Spring/early Summer).
Article submissions can be sent in virtually any format to oneprojectcloser@gmail.com.
You can also show your support for Before and After supporting Habitat by displaying a one of these Before and After graphics in your sidebar.
What do you think? Let Mary know what you think about her project… And let us know if there's any way we can make the event even better.