This penultimate Before and After is brought to us from Nicole at This D*mn House.  Nicole's transformation is pretty fab, check out her article below for the details.
Once again, OPC will make a $25.00 donation to Habitat for Humanity in Nicole's honor.  In addition, she's entered into our end-of-Summer contest for a $50 gift card to the home improvement store of her choosing!
Wood to Vinyl Fence Replacement by Nicole
Vinyl or wood? It took some deliberating to choose our new fence.
Let me be clear, I'm not a big fan of vinyl. (There's just something about a wood fence.) But the fact is, vinyl offers a low-maintenance option that wood, well, doesn't. Wooden fences require: painting, just about every year, for starters. And caulk, lots of caulk, shims to support rotting posts, renailing wayward boards … the list is endless.
Vinyl fencing is taking on more of the look of its wooden counterparts, so I've warmed up to it. Combine that with its low-maintenance – and a good sale price – and you've got me.
My mother was harder to convince. She hates the vinyl, but hated the dilapidated existing fence more.
Then, we debated height. The existing fence, at about 42 inches, let you look from the kitchen window, across the alley, and into the neighbor's yard. I'd have been happy with a vinyl replacement of that height, ut the mother – she wanted a privacy fence.
So, in a total compromise, we got a vinyl privacy fence.
Delivery was one of the most painless experiences I've ever had. While the clerk at Home Depot predicted late afternoon, it was more like first thing in the morning. But, they called ahead and arrived within 30 minutes. The driver used his mini-forklift to place the pallet with both posts and panels in the driveway.
Installation would have been easier if the poles were cut square, but my buddy Lawrence adjusted and we got it to work. Two bits of advice:
Put the hardware on before you cement the post. And leave the cap on the post to measure. Use one post as a guide for all of the other posts, squaring up the brackets before attaching.
Dig the hole not deeper, but rounder than you think you'll need. Standard post-hole diggers don't make the square post in a round hole conversion very easy.
Epilogue: The mother's second-guessing the privacy height, but dealing. She's still not sure it will hold up. Frankly, neither am I. For right now, it looks great. Ask me in a year how I like it …
Before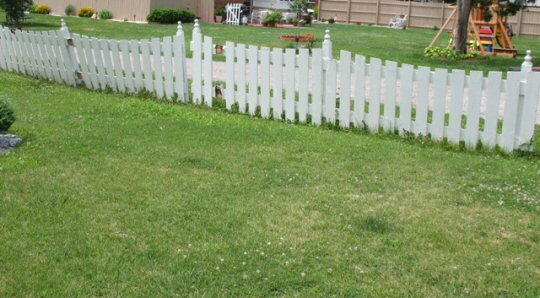 After: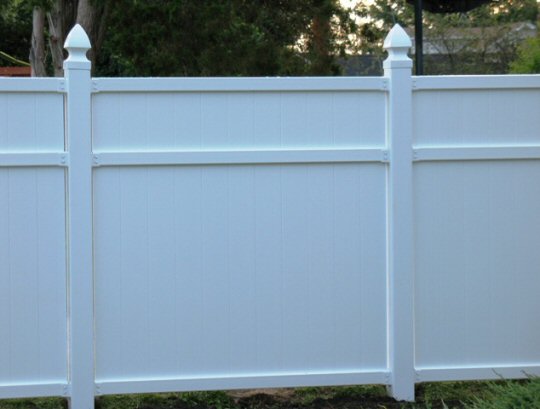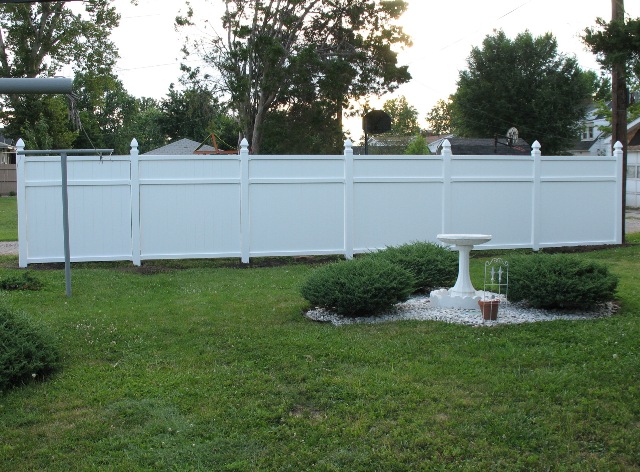 Thanks from OPC!
I've put it on the calendar to ask you in another year… Hope you'll enjoy the fence for some time to come – that's quite an investment, and it looks great.
Habitat for Humanity Quick Fact
Hurricane season is a trying time for Habitat… and this year has been no exception.  From Habitat's site:
With massive Hurricane Ike heading north, battered coastal areas in Texas and Louisiana Saturday began assessing damage the storm left behind. With your help, Habitat for Humanity will work with partner organizations to respond as needed to long-term housing needs.
Please consider matching our donation to Habitat by following this link to their online donation page.
There's Only One Week Left!
Time Flies!
We've used up all the submissions we've received this Summer and there's just one week left to submit your article.  Please send your submission to oneprojectcloser@gmail.com… And don't worry; if we receive more than one more entry, we'll still run yours after the contest is over.
What do you think? Let Nicole know what you think of her fence transformation, then head on over to her blog for more great posts.